Saudi Vision 2030: Larsen & Toubro Saudi Arabia  Inducts 13 Saudi  Engineer Trainees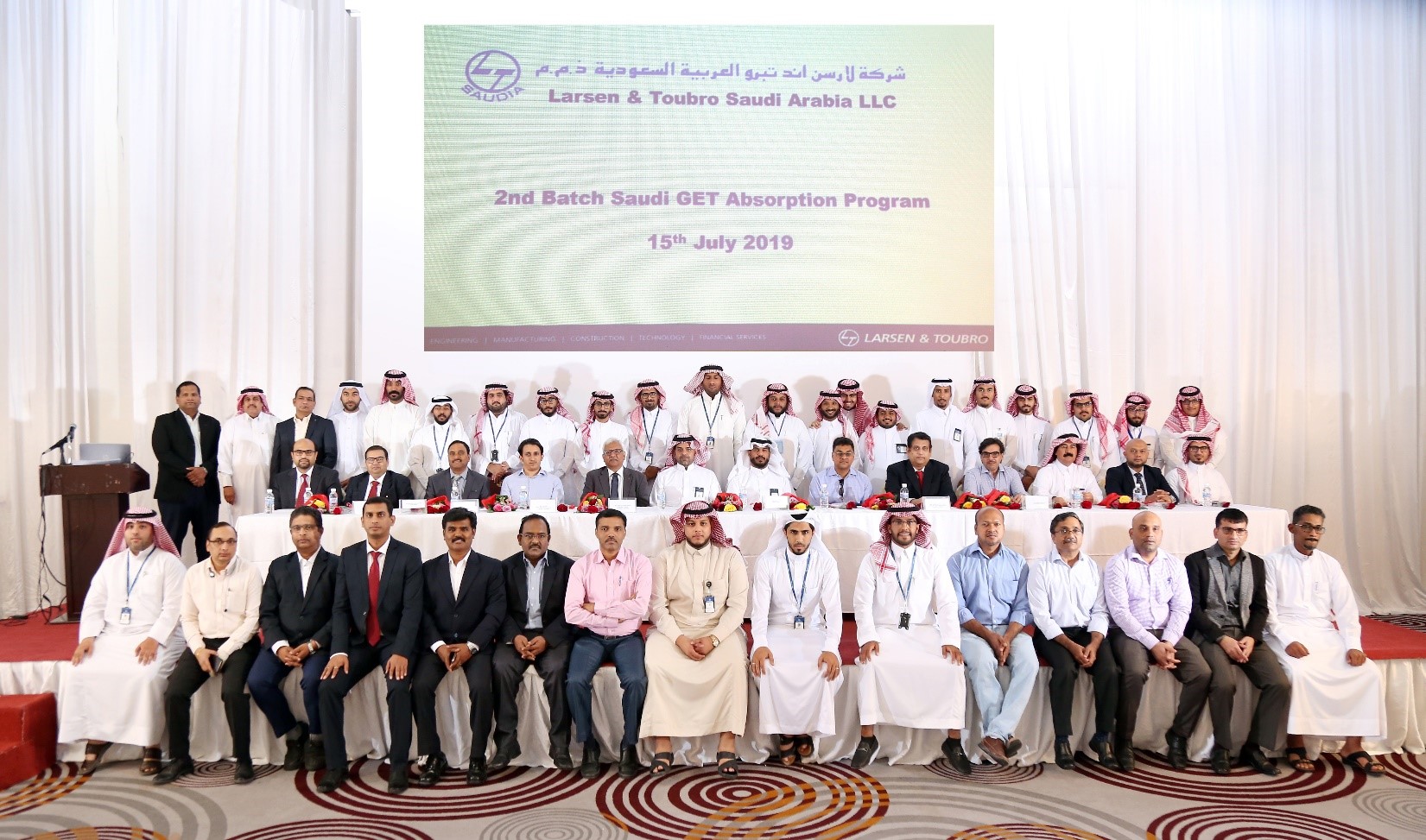 DAMMAM – Larsen & Toubro Saudi Arabia LLC (LTSA), a subsidiary of Larsen & Toubro Limited (L&T), a major Indian multinational engaged in technology, engineering, construction, manufacturing and financial services with USD 20 billion in revenue, recently inducted fresh Saudi engineering graduates as a part of its Graduate Engineer Training (GET) program. The initiative is driven by the Power Transmission & Distribution (PT&D) business vertical of L&T's construction arm.
This Saudi GET Program initiative of LTSA -PT&D has been designed in deference to other important countrywide initiatives like Saudization, aimed to provide more employment opportunities to nationals and integral to Saudi Vision 2030 and In-Kingdom Total Value Add Program (IKTVA), an initiative by Saudi Aramco to support increased levels of domestic value creation and thereby create quality jobs for Saudis.
At a function held recently at Al-Khobar, the second batch of 13 Saudi Engineers were absorbed by LTSA. The first batch of 15 Saudis had been absorbed last year.
The function was graced by Mr. Ahmed Shaikh, Divisional Manager, Mr. Abdullah Al Abdul Kareem, Lead Project Engineer, & Mr. Saeed Shahrani all from Saudi Aramco. Mr. Abdulaziz I. Al Hamoudi, Manager Asset Maintenance Department, and Eng. Fahd Nasser Al Khairallah, Manager Training & Development, all from Saudi Electricity Company & National Grid.
The senior representatives of Saudi Aramco, SEC, & National Grid spoke on the occasion sharing their experiences as one-time-trainees themselves and how they rose to their positions.
Mr. Abdulaziz I. Al Hamoudi : "There are very few companies like L&T who have been working on training and developing young qualified engineers locally for the need of necessary Projects being executed in this country. This is a very good opportunity for all the young GETs to take the initiative and succeed, Do not wait for others to tell you what to do apply your mind and do it your way."
Eng. Fahd Nasser Al Khairallah: "It is a great opportunity to showcase that Saudis have the knowledge, skills and the attitude to do a job. The country has high expectations from all the GETs to successfully implement the Saudi Vision 2030 launched by the Government.  So be responsible and competent to combat the situation."
T Madhavadas, Senior Vice President & Head – Power Transmission & Distribution, Larsen & Toubro: "We, at the Power Transmission & Distribution business vertical of L&T Construction, the construction arm of the conglomerate, Larsen & Toubro, are referred to as the 'Columbus' as we lead the expansion of our business into new geographies and one of the main reasons for our success has been the way we have integrated local talent into our ranks. This GET Induction programme is a vital part of that strategy and we hope that as we move forward, there will be greater infusion of Saudi talent into our workforce as we together work towards the overall development of the Kingdom of Saudi Arabia."
L&T was represented by Mr. Srikant Srinivasan, Vice President & Head HR (PT&D IC), Mr. T. Amareswara Rao, Head PT&D Middle East, Mr. V. Babu, Head-HR (PT&D International) and   Mr. Paresh Prakash-Head, PT&D (KSA) and other senior executives.
L&T operates in over 30 countries worldwide.   A strong, customer focused approach and the constant quest for top class quality has enabled L&T to attain and sustain leadership in its major lines of business for over eight decades.