Ministry of Health & Prevention launches awareness campaign on seasonal flu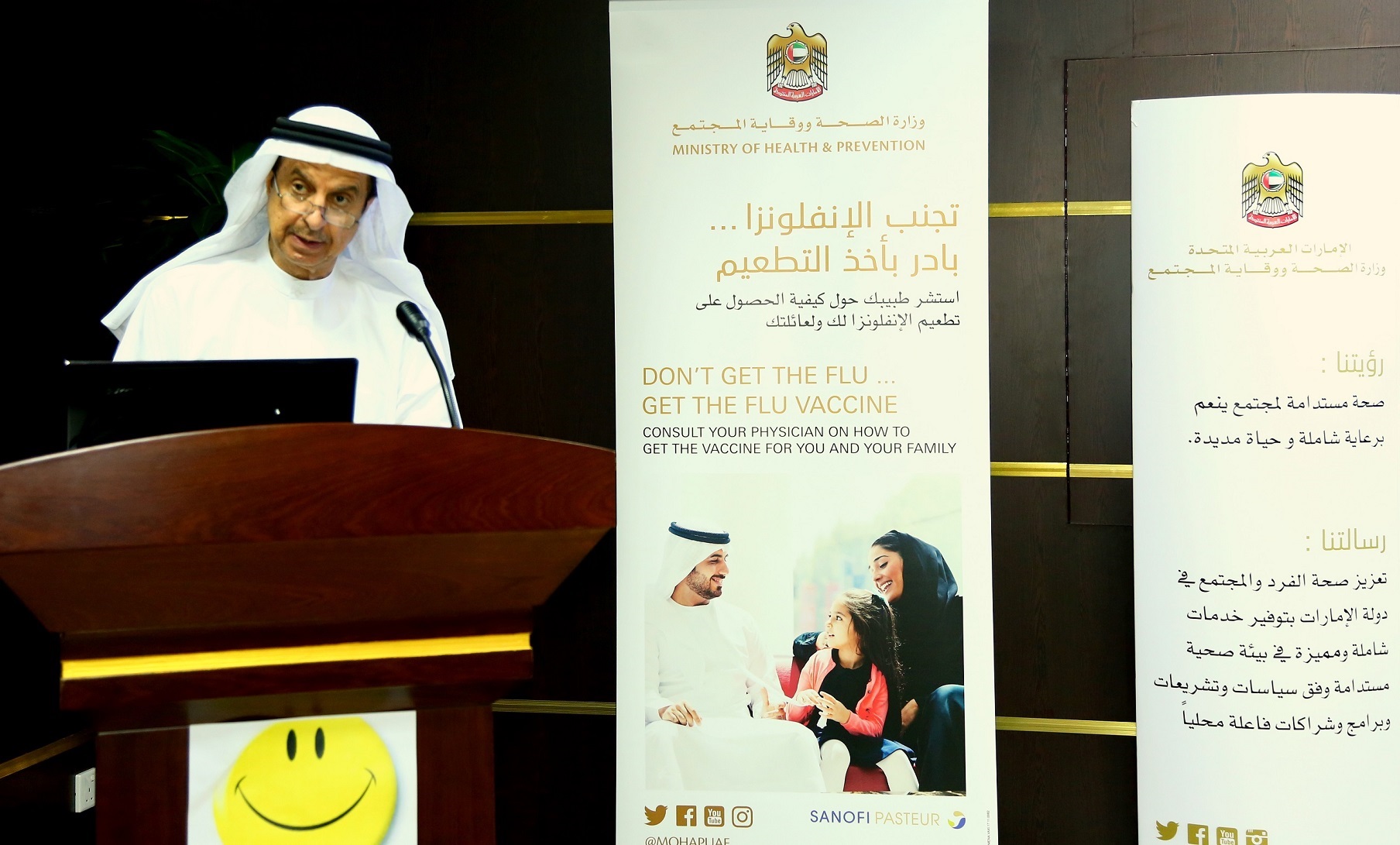 DUBAI- November 8, 2017 – The Ministry of Health and Prevention (MOHAP), Health Clinics and Centers Sector – Preventive Medicine Department launched awareness campaign on seasonal flu which will last until December 8, 2017. The campaign targets the healthcare professionals in the ministry and the private sector in the northern Emirates. The activities of campaign includes lectures and training on updated clinical information of the influenza virus, highlighting its risks, and ensuring the importance and effectiveness of the available vaccine.
During the campaign's launch, Dr. Hussein Abdel-Rahman Al Rand, Assistant Undersecretary for Health Clinics and Centers Sector, said that the initiative is in line with the ministry's strategy to protect the community from communicable diseases and provide universal health coverage and develop the skills of healthcare workers according to the latest international guidelines and increase their knowledge with the latest information of the disease: symptoms, transmission, detection methods, treatment, reporting and preventive steps.
He added that raising awareness will enable community to be aware about the latest updates on diseases and the prevention methods. Additionally, the ministry will enhance awareness among public as part of its education initiative in cooperation with the preventive medicine centers in medical districts.
Dr. Nada Al-Marzooqi, Director of Preventive Medicine Department, said that the launch of the campaign coincided with the start of the flu season and will help raise awareness about the available vaccine. Vaccination is considered to be the best and most effective medical interventions to protect against vaccine preventable diseases. Studies have indicated that influenza vaccination limits the spread of infection within the community and reduces the likelihood of serious complications.
"Vaccine is recommended for healthcare professionals especially those who are in emergency and outpatient clinics, primary healthcare centers, and intensive care units as part of their protection. Also, it is recommended for all people in the community especially pregnant women, patients with chronic diseases such as diabetes and heart disease, as well as the elderly and children under five years old; because they are more susceptible to complications from the flu virus," said Dr. Al-Marzooqi.