Brazil showcases stunning jewellery collection in Sharjah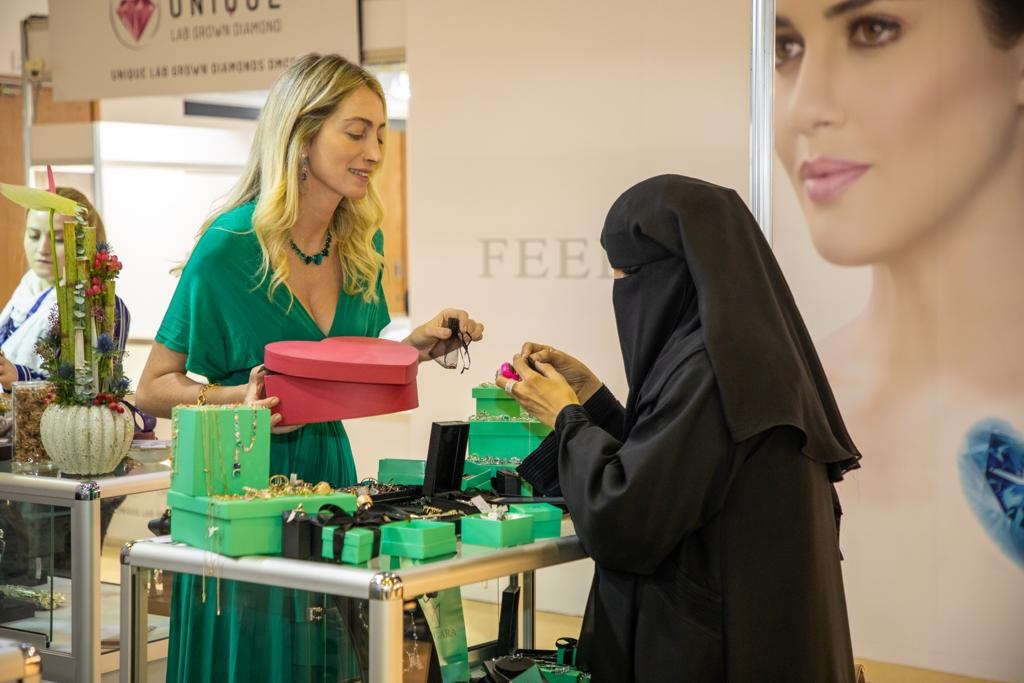 SHARJAH–  For the first time in 26 years, Brazil has participated in the 47th Watch & Jewellery Middle East Show, showcasing more than 400 stunning creations and exquisite masterpieces of jewellery and gemstones with some distinctive collections inspired by the Brazilian culture.
The Brazilian stand was warmly welcomed by lots of visitors who were attracted by its innovative displays and impressive curation of luxury gem and jewellery collections.
Organised and hosted by Expo Centre Sharjah, the autumn edition of the largest and longest running event of its kind, kicked off on Wednesday with the support of Sharjah Chamber of Commerce and Industry (SCCI).
"Brazil's first-time participation has brought a qualitative improvement to the event, which would push it forward and result in many positive outcomes. This is in particular because Brazil is one of the most important markets in the South American continent and one of the leading countries in the jewellery sector", sadi Saif Mohammed Al Midfa, CEO of Expo Centre Sharjah
He said that the exhibition has become a major platform for gold, jewellery and watches trading in the Middle East, and a top preferred destination for key international companies, some of the most popular luxury brands, traders, designers, craftsmen and consumers, looking forward to enhancing their presence in the region's markets.
Juliana Vivara, Director, Brazilian Jewellery Retailer Vivara, stressed Brazil's interests in the show saying: "In Brazil, we are looking forward to entering the middle east markets through Sharjah, particularly the Watch & Jewellery Middle East Show, which has progressed to be one of the most successful events in the world of specialised exhibition. We were very much interested to attend it and unveil the latest designs of Brazilian jewellery.
We are fully aware that the middle east markets are one of the bestselling in the world, Vivara said, adding that Sharjah has become an ideal destination for Brazilian manufactures of gold and precious stones, wishing to enter the regional market.
"Our displayed collection, in which we have mixed unexpected colours making a unique blend, was derived from the famous Brazilian gemstones on which we depend to make fashionable designs. We do know that Arab women are hunter of excellence and luxury and this is what we were keen to put on display", she stated
It is worth mentioning that Brazilian jewellery has gained a worldwide reputation for high craftsmanship and unique designs. Brazil is also known for producing precious stones of international quality, including emeralds, topaz, quartz and tourmaline, making it one of the most important players in this sector in the global market.
More 500 participating local, regional and intentional exhibitors and most prominent companies, designers and brands from Gem & Jewellery Industry are taking part in the current edition of the show. The participating countries include but not limited to Hong Kong, India, Italy, Japan, Singapore and Thailand, besides a large number of new exhibitors from Bahrain, Italy, Japan, Kuwait, Saudi Arabia, Thailand and Turkey, as well as some of the best UAE companies.
The show is open to the public every day from 12 noon to 10 pm, while on Thursday, it will be open from 12 noon to 11 pm, Friday from 3 pm to 11 pm and Saturday from 12 noon to 10pm.