DXH continues to grow Dubai as a global healthcare hotspot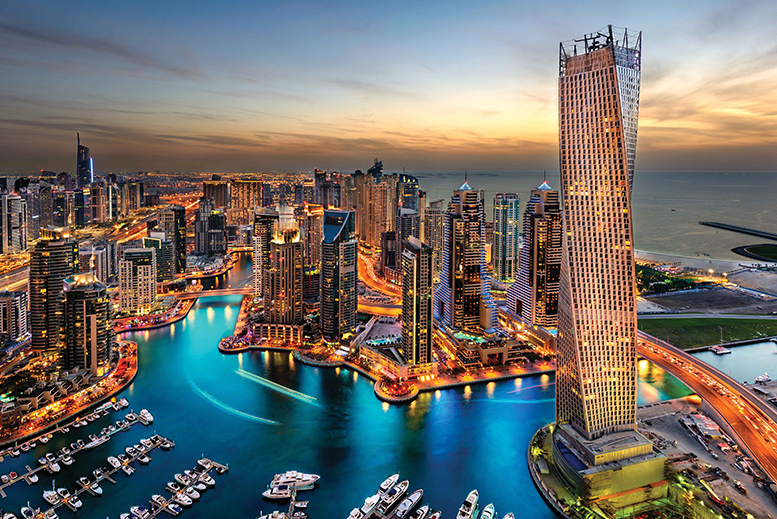 DUBAI- Dubai's attractive location, especially its easy access to the East and the West, along with the availability of talent and technology has enabled the city develop a strong and favorable opportunity to develop its health tourism offerings. Joint efforts between the private and public sector and several key public and government institutions, has contributed to the growth and development of a robust health tourism sector in Dubai.
In 2016, Dubai witnessed an overall growth of 9.5 per cent in the number of medical and health tourists in Dubai – the emirate received 326,649 international medical tourists. A majority of international patients came from Asia (37 per cent), followed by Arab and GCC (31 per cent) and Europe (15 per cent).
Revenue generated from international patients was worth over AED 1 billion, reinforcing the growing contribution of the sector to the national GDP.
Orthopaedic, dermatology and ophthalmology were the most sought medical and health tourism specialties. However, Dubai is also well known for cosmetic, dental and fertility treatments.
Dubai's Top Wellness & Treatment Centres
Today, Dubai is able to appeal to a wider audience who may be on the lookout for more wellbeing-related treatments in line with international benchmarks. Integrated health centres in Dubai like DNA Health for instance, located at the Jumeirah Al Qasr five star hotel, next to the Award winning Talise Spa, offers complete health check-ups along with a holistic written lifestyle plan, consultation with a functional medicine consultant, nutritionist and stress management consultant.  The Retreat Palm Dubai, the regions first holistic wellbeing resort on the Palm, offers health checkups along with three to seven days of a complete detox plan with consultation, food and stay. It also offers wellness packages for adults and children, including weight management. The hotel includes the Rayya Wellness Centre, a homegrown brand, a spa, a recreational centre and a nutrition clinic.
Dubai also offers a range of medical spas and treatment centres that have professionals licensed by DHA and offer various alternative treatments like homeopathy, ayurveda etc.
Many patients from the more developed parts of the world today travel outside their home countries for health-related services. This is due to a number of different factors, including the, better quality of healthcare infrastructure, the opportunity to combine medical treatment with tourism, low cost of travel and readily available information on the internet.
The objective is to provide patients with a unique experience, the highest medical service standards using state-of-the-art technology accompanied by highly specialized and educated staff, following only the leading global standards.
Creating a Caring Experience Through www.dxh.ae
With the availability of modern technology and infrastructure, each patient can investigate and arrange healthcare facilities remotely using a trusted website and medical facilitators.
Dubai's effort are aimed at easing the entire patient journey starting from the time a tourist plans to access healthcare outside his home country. DXH.ae, the official health tourism website of Dubai, gets average of 10,000 visitors on a monthly basis looking for various types of information to help identify desired medical treatment.
The website also provides medical tourists the opportunity to compare and choose from over 400 healthcare packages that are designed to meet each individual's requirement. The packages clearly outline the cost, inclusions, and exclusions. The comprehensive packages listed on the portal combine both leisure and health including, hotel accommodation, visa and insurance along with the selected medical treatments. The portal also offers options to request an appointment and 24X7 live chat.
To make the experience even more convenient, DXH also launched the mobile app, which is, designed to allow health tourists access to information about hospitals and clinics, doctors and DXH medical packages at any time. Medical tourists can download the DXH app from both Android and Apple stores.
Patients Wellbeing Taken into Consideration Every Step of the Way
Dubai's strategy for health tourism is designed to keeps the interests of the patient at heart. It includes a charter of patient's rights and responsibilities with which medical tourists can understand their rights before arriving in Dubai for healthcare.
Additionally, DHA has created a medical complaints procedure for anyone with a medical related complain for health professional or facility in Dubai. The process has been designed to address issues based on the level of severity, and provide families with a clean timetable for resolution.
To facilitate the arrival of medical tourists, the DHA works with a third party company to provide coverage. This policy, according to the DHA, is an important "safety net" in the event of any unforeseen complications that may arise from treatment in the emirate.
The insurance policy – which is underwritten by Alliance Insurance Company and is backed by Alliance Global and Lloyds of London – provides cover while in the UAE for a variety of situations, including emergency medical expenses and up to $50,000 for each insured individual. Any individual receiving treatment is automatically covered for additional expenses in the event of an unexpected complication stemming from a planned procedure in any facility included in Dubai's medical tourism programme. The policy is made available at the time of booking an initial appointment, and accompanying family members can buy the protection at the same time for Dh150 per person.
DXH on Its Way to Becoming a World Renowned Brand
Dubai Health Experience (DXH) was launched in April 2016 by His Highness Sheikh Hamdan bin Mohammed bin Rashid Al Maktoum, Crown Prince of Dubai and Chairman of the Executive Council, as a Hallmark of the 'Dubai, a Global Destination for Medical Tourism' project. The Health Tourism Council continues its efforts to enable Dubai to become a global health tourism destination and a gateway to the finest medical experts and premier accredited healthcare facilities while providing a unique experience to visitors in the iconic city of Dubai.
This vision has now become a reality as Dubai continues to be a one stop medical tourism destination in the region and 16th medical tourism destination globally. Dubai has also been elected to the position of 'Chairmanship of the Global Healthcare Travel Council' in recognition of the Emirate's leading position in the global medial tourism sector. The position also enables the Emirate to share knowledge and best practices with other destinations in an effort to move towards a new era of globalizing medical and health tourism.
Dubai was previously recognized for its medical tourism capabilities as the Emirate received the 'Innovation in Medical Tourism' in Greece in May 2015. In September 2015, Dubai received 'The Best Integrated Destination for Medical Tourism' during the Tenth International Exhibition and Conference on medical tourism.  Dubai was also named in the 2016 'Highly Commended Destination of the Year' from the prestigious International Medical Travel Journal (IMTJ) Award in Spain.
Dr. Layla Mohamed Al Marzouqi, Director – The Health Tourism Council, DHA commented: "Our goal is to continue to position Dubai as the prime destination for health tourism through a combination of world class infrastructure, cutting edge technology and expert medical practitioners. We believe that Dubai has what it takes to become the preferred destination for medical and health treatments, and our objective now is to create wider awareness about the facilities and services that DXH Group members provide and showcase the length and breadth of their expertise to an international audience".
Collaborating for Healthy Partnerships
The Health Tourism Council is constantly collaborating with vital partners, including the private and the governmental sector to create an experience for the incoming medical tourist. The objective is to identify the key areas of the journey, and look for ways to enhance the patient -experience.
In this regard, the Dubai Health Authority (DHA) and the General Directorate of Residency and Foreign Affairs Dubai, GDRFA-Dubai, signed a Memorandum of Understanding (MoU) to promote medical tourism in Dubai, exchange knowledge and elevate the health services offered at DHA facilities. It aims to strengthen Dubai's position as a global destination for medical tourism by easing visa procedures for medical tourists entering Dubai.
The Health Tourism Council is working with Emirates Airlines as a strategic partner of the initiative, this partnership aims to cultivate Emirates Airline's international status and widespread travel routes to fulfill DXH goals of attracting medical tourists from across the globe.
DXH also signed a Memorandum of Understanding (MoU) with The Health Bank this year with the aim to drive medical tourism in the region. DXH SmartCare by The Health Bank, is an exclusive product for DXH and provides health tourists with a single point of contact, seamlessly combining healthcare coordination, flight booking, visas, accommodation, airport transfers, leisure activities and post-treatment support. DXH SmartCare transcends far beyond a simple health tourism service. Medical tourists are now able to see the features of The Health Bank on DXH's website www.dxh.ae, and they can opt for three types of membership and consultation services.
DXH Group's Growth in Supports Government Initiatives
One of the main pillars of the initiative is private healthcare facilities. The strategy is focused on building strong ties with Dubai's finest healthcare providers to create an unparalleled experience for medical and health tourists. The listed healthcare facilities are currently all developing packages for medical tourists and enhancing their existing services.
Starting with 26 DXH Group Members, the DXH Group today embraces 45 of Dubai's leading healthcare providers from hospitals, specialised clinics, to day-surgery centres.
All the participating group members go through an evaluation process which involves each facility meeting rigorous requirements and standards, on-site inspections and ongoing reviews by DHA's Health Regulation Department to ensure quality, safety and service standards for Dubai's inbound medical and health tourists.
Furthermore, the Health Tourism Council actively promotes the packages listed by the DXH group members on the website and other marketing collaterals and campaigns. The recent specialty campaign was targeting dental, orthopedic, wellness and fertility treatment packages in the GCC market.
Dubai has recently participated in trade-related events along with the DTCM (Department of Tourism and Commerce Marketing) and the Ministry of Economy to promote the Dubai Health Experience to the travel and business sector, driving awareness and interest in Dubai as a destination that goes beyond the 'medical' aspect and now includes the overall 'health' and wellbeing of visitors.
Investment in the Health Industries Infrastructure
One of the key attributes of a city that makes it competitive is its infrastructure. In the health and wellness sector too, it is imperative that the infrastructure that supports the industry is robust and constantly expanding to keep up with growing demand.
Ms. Linda Abdullah, Consultant – The Healthy Tourism Council, DHA said, "We have recently broadened our portfolio to include health and wellness, in order to attract the tourist seeking a holistic wellness experience. We want health tourists to embrace their wellness journey in the city of Dubai , via our wellness offerings that include preventive health screenings, DNA tests, detox and weight loss programs, anti- aging treatments ,diabetes management and alternative medicines to name few ".
Dubai has around 3,000 private health facilities ranging from hospitals, specialised clinics to day-surgery centres with around 35,000 health specialists from more than 110 different nationalities working in the sector. These numbers are expected to grow to 40,000 specialists and 4,000 health centres by 2020.
In addition to these internationally accredited healthcare institutions, the city has evolved to become a modern megapolis, with some of the most breathtaking tourist attractions including The Palm Jumeirah, the Burj Khalifa, Dubai Mall, among others. Combine this with luxury hotels, and an excellent transport system, and the allure of Dubai as a destination for health and wellness tourism cannot be disputed.
As Dubai and DXH look at the next stage of health and wellness tourism – the future looks very bright. The strategy for the rest of the year and in 2018 is to continue to drive awareness of Dubai as a destination for health and wellness tourism through international trade events and wider collaboration with health and medical institutions, medical professionals and government bodies.