The Turkish Pizza – Lahmacun makes it way to UAE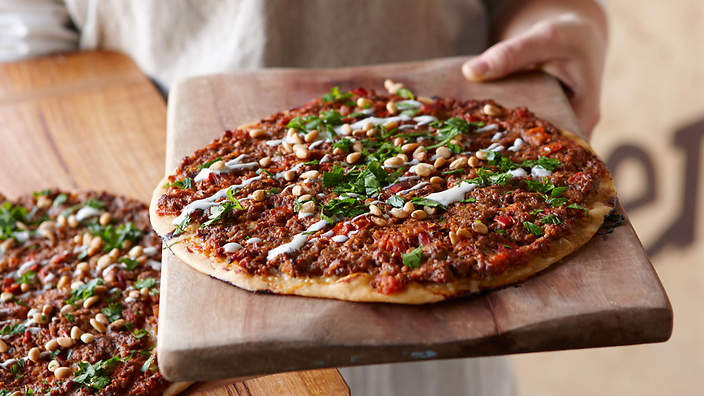 DUBAI- International franchiser German Doner Kebab has introduced the Turkish street food -Lahmacun in its menu. German Doner Kebab, with 9 operational stores in the UAE and an additional 12 stores to open shop in Dubai, is the premier restaurant that offers authentic German kebab preparations.
Lahmacun is commonly known as the Turkish pizza, and is an all-time favourite with people of all age groups. It is, however, prominent amongst the younger age demographic. It's easy to order and carry, and not too heavy on the wallet, which makes it all the more desirable.
The Lahmacun is a thin crust base topped with minced meat, either veal or chicken, additionally capped with minced onions, tomatoes, parsley and herbs. The base preparation is then baked, which would appeal to the health conscious since it does not involve deep frying. Lahmacun is served with a salad on the side with a healthy mix of vegetables either tossed or roasted.
"We are excited to announce the arrival of the Turkish Pizza – Lahmacun, in German Doner Kebab's menu. It is a fairly inexpensive offering in Turkey, which appeals to the youth. We intend to keep it that way for the region, to give everyone a chance to enjoy the Lahmacun. Also, it is a health food and we urge our customers to give it a go without worrying about calories," commented Farshad Abbaszadeh, CEO, German Doner Kebab.
Pricing and availability        
The Lahmacun will be available at German Doner Kebab's JLT outlet in the first week of September, with a nationwide rollout in the following week. Meanwhile, the Turkish fast food cookery will be available across the GCC towards the end of September. Starting at AED 15 for the base Lahmacun,you can get it with a salad for an additional AED 5. The Lahmacun with a mix of veal or chicken costs AED 25. A full-option combo is also available for AED 30, which is accompanied by either fries or salad and a beverage.