Palestinian filmmaker Farah Nabulsi screens her short films..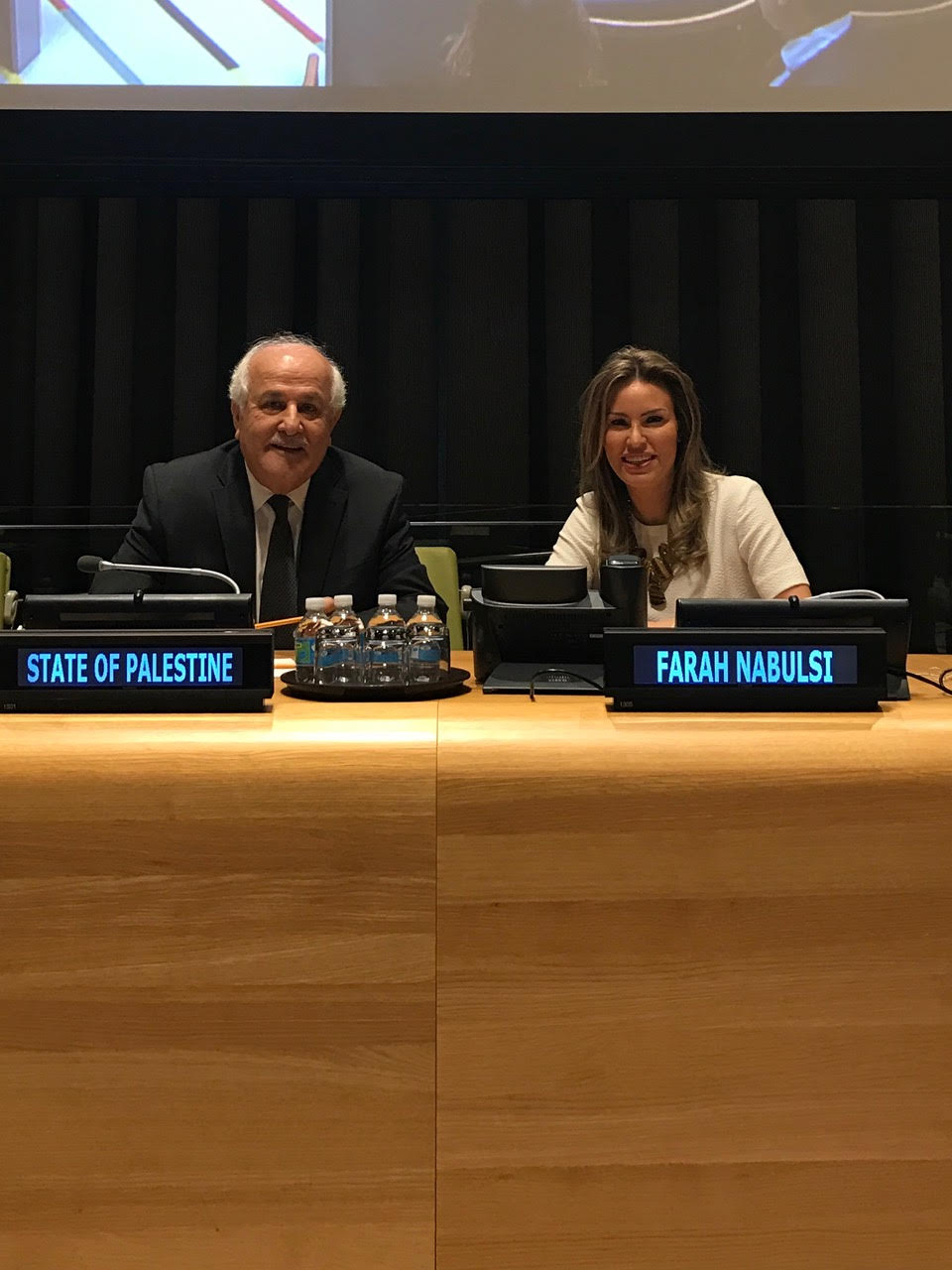 Farah Nabulsi, the filmmaker and the daughter of Palestinians living in diaspora, has today screened her three short films in the trustee council chambers at the United Nations in New York, where she also addressed attendees, by invitation from Ambassador Riyad Mansour, Permanent Observer Mission of the State of Palestine to the United Nations.
The three short films that were screened earlier today, Thursday, 1st June, included "Today They Took My Son", which focuses on a mother coping with her young child being taken away by a military system. This imprisonment which involves cruel and inhumane treatment is sadly something which happens to more than 700 Palestinian children a year. Farah's recently released film "Oceans of Injustice" will also be shown.
The films were introduced by Farah and shown to ambassadors and dignitaries from all over the world. This event is particularly poignant, as this month, June 2017, marks the 50th anniversary of the Israeli military occupation.
Ambassador Riyad Mansour, Permanent Observer of the State of Palestine to the United Nations, said: "We are honored to share Farah's work with the United Nations community as it reflects some of the immense suffering, injustice and oppression endured by the Palestinian people under decades of Israel's brutal foreign military occupation."
Farah Nabulsi said: "I had always thought I understood the injustices suffered by my people. However, witnessing it first-hand during a visit to the Occupied Palestinian Territories changed me in a deep and overwhelming way and I instinctively knew that offering sympathy and the occasional charity was no longer enough. 
"Over the past century, the Palestinians have suffered oceans of injustice and when you visit Occupied Palestine you truly come to understand the depth and breadth of how deliberate, systematic and institutionalized the occupation really is. You come to recognize what is happening and has been happening for decades is, at its essence, a settler colonial enterprise. I hope my films are able to give the audience even just a glimpse into the very real humiliation, pain and suffering experienced by Palestinian men, women and children every day at the hands of that ideology."
In 2016 Farah founded Native Liberty, a not-for-profit Media Production company, andOceansofinjustice.com, an online educational platform, that together aim to re-humanize the Palestinians and draw attention to the injustices they face.
Farah continues to showcase her groundbreaking work at film festivals, universities and events around the world.