CLIX Climate Innovations Exchange to Unlock Business Growth for Green Tech Start-Ups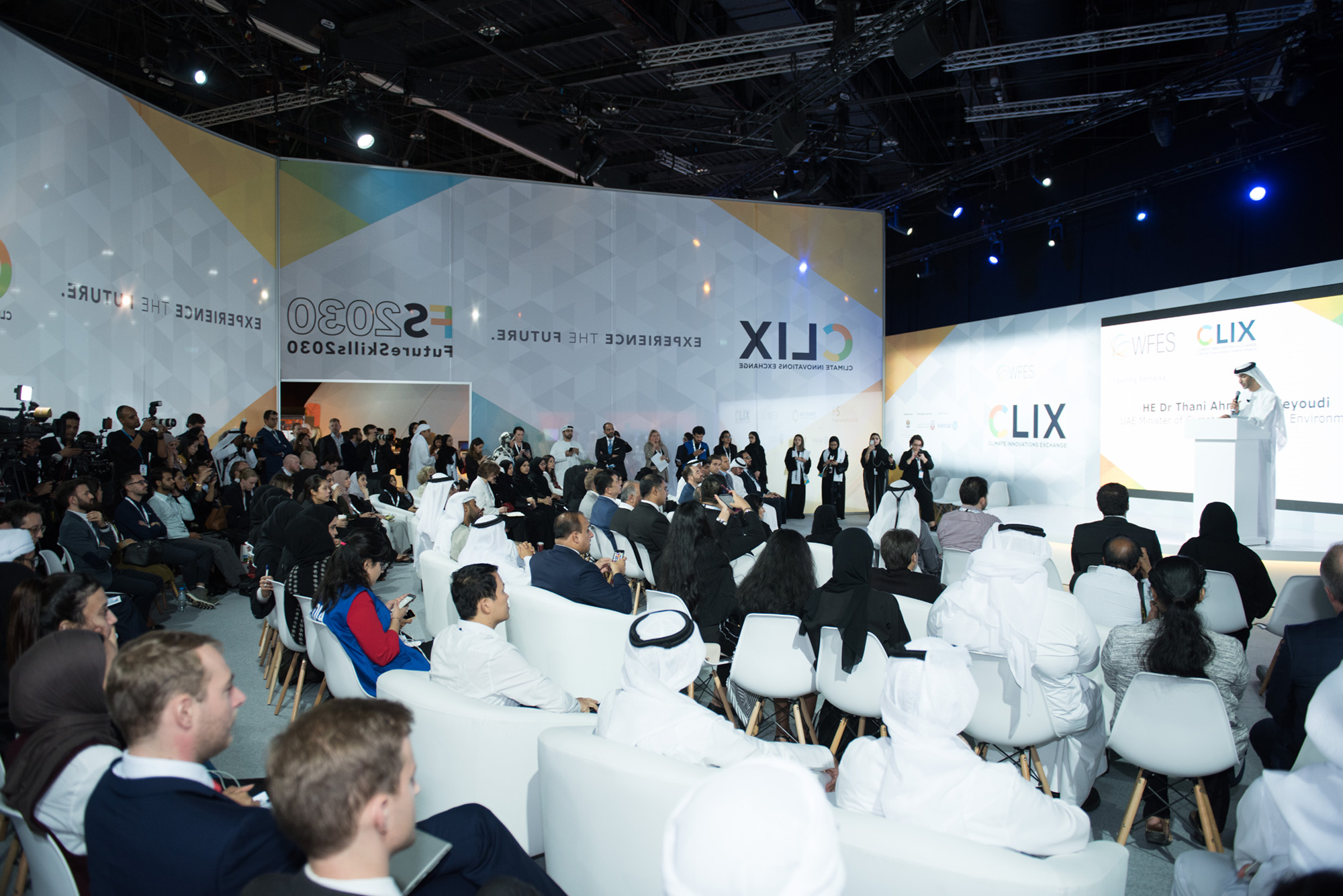 Abu Dhabi: Applications to take part in 'CLIX' will close on Thursday, 29 August. The innovative marketplace for green tech start-ups at the World Future Energy Summit, hosted by Masdar and part of Abu Dhabi Sustainability Week, offers sustainability entrepreneurs in the Middle East and worldwide a unique chance to accelerate their business growth.
CLIX, short for 'Climate Innovations Exchange', is hosted by the UAE Ministry of Climate Change and Environment (MOCCAE), and is aligned with the UAE Vision 2021 and Ghadan 21 to support diversified economic growth and foster the start-up community. CLIX connects entrepreneurs, innovators, and investors to source and fund climate change innovations in sustainability in space, future of food and agriculture, future of energy, and future of mobility.
Taif Al Amiri, Director of Government Communication Department at MOCCAE, said: "In line with our ongoing efforts to encourage youth to actively pursue green entrepreneurship, the Ministry is pleased to host the third edition of CLIX. The platform invites trailblazing start-ups and innovators from all over the globe to spotlight their out of the box solutions to environmental challenges. Every year, this platform continues to disrupt climate and sustainability action worldwide and has now achieved a proven track record of facilitating successful partnerships between start-ups and forward-thinking investors. Furthermore, it reinforces the UAE's transition to a green economy through facilitating direct funding worth millions of dollars into green projects."
In 2019, CLIX reported an estimated US$53.9 million of potential investment in regional projects and innovative solutions, across the 41 finalists who showcased their inventions at the World Future Energy Summit. Finalists included EcoSync, a UK-based smart temperature and building control company; Laaavatech, an international smart lighting company for vertical farming; and Al Maha Systems, a Saudi Arabia-based start-up that leverages the internet of things to improve animal healthcare.
"We had interest from various potential customers and partners at CLIX, showing very good market potential in the area of smart retrofitting of existing buildings," said Rosario Di Dio, CEO, Ecosync, UK. "We would like to put some serious thoughts into establishing a presence in the GCC area."
Abi Ramanan, Co-Founder and CEO, ImpactVision, a USA-based machine learning company in food supply, added: "CLIX gave us the opportunity to meet with investors from the UAE and across the globe to understand the funding landscape from a different perspective. We made valuable connections, not only with investors, but also with potential partners."
In 2020, CLIX has four pillars: Sustainability in Space, which features technology that can be deployed from space to help sustainability on Earth and, in turn, innovations on Earth that can promote sustainability in space; the Future of Food and Agriculture, the Future of Energy, and the Future of Mobility. Finalists will benefit from a free showcase area, financial support, and the opportunity to pitch their ideas to incubators and accelerators, angel investors and venture capitalists, and other institutions such as banks.
"At CLIX, World Future Energy Summit visitors can experience a showcase of the world's most innovative sustainability start-up entrepreneurs and technologies," said Grant Tuchten, Group Event Director, World Future Energy Summit. "By bringing together entrepreneurs, investors, and thought leaders, CLIX drives the business case for sustainability innovations, and creates a unique experience for evaluating how technology can accelerate sustainable development."
CLIX supports start-up innovations ranging from early seed stage up until growth stage, offering exposure to investors, high level government officials, and industry professionals, among the nearly 33,500 sustainability professionals attending the World Future Energy Summit.
Start-ups can register for CLIX 2020 via the website www.clixmarketplace.com. Judges will include senior representatives from Hyperloop, Khalifa University of Science and Technology, Masdar, NYU StartAD, Solar Impulse Foundation, and UAE Space Agency.
Robyn Brazzil, Director, NYU StartAD, and one of the CLIX 2019 judges, said: "It was the best organised and highest quality start-up event I have ever been a part of."
The World Future Energy Summit, hosted by Masdar and part of Abu Dhabi Sustainability Week, a global platform for accelerating the world's sustainable development, runs at the Abu Dhabi National Exhibition Centre (ADNEC) from 13-16 January 2020.
Abu Dhabi Sustainability Week will take place from 11-18 January 2020.