An array of activities and exciting experiences blooming at Hudayriyat Leisure and Entertainment District this Spring season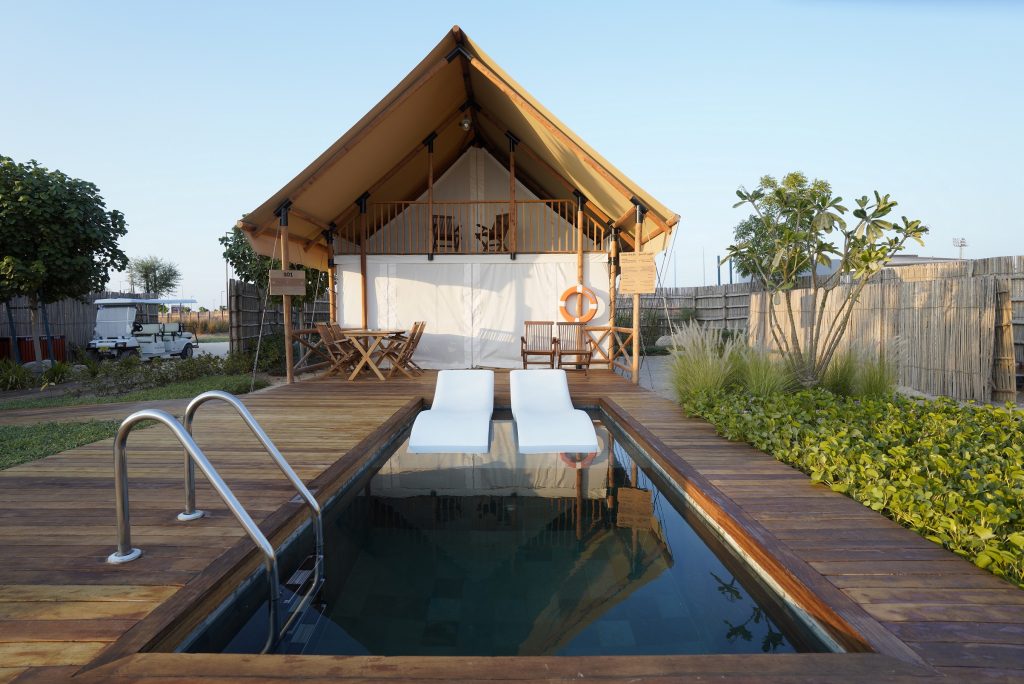 Hudayriyat Leisure and Entertainment District by Modon Properties is welcoming the spring season with a variety of exciting activities to enjoy with friends and family.
Circuit X Adventure Park has joined the exciting #ChooseToChallenge global campaign for International Women's Day. Whether you choose to grab your group of besties to challenge each other or wish to celebrate the day with Mother-Daughter-style bonding, one thing is guaranteed – your day will be filled with fun, laughter and lots of fresh air! Join the excitement at Circuit X on 8th March 2021, for an exciting 2-for-1 special offer.
Celebrate International Women's Day camping out under the stars with your best friends. On March 8th, Bab Al Nojoum is offering a 10% discount on tents in a private plot for ladies only. Enjoy the mesmerizing waterside experience and access to bonfire areas, communal bathrooms and kitchens and a beach that's home to a beach cinema, juice bars and food outlets.
The Falcon Daman Series will be a thrilling evening consisting of three Australian Pursuit Races. Australian Pursuit Races are handicapped road races, which give all participants a chance to shine and compete within a friendly competitive atmosphere. This is your only chance to be part of this cool and inspiring activity which will take place on March 8th from 5:30 PM till 8:30 PM at Gate B Parking – cycling track opposite Marsana.
Who said that family outings are reserved for just the weekend? With the 321 Sports Community Ride, you can spend more time with your family or friends enjoying sports activities. For those looking to build up a sweat by a breezy waterside environment, this weekly event is just for you. Meeting at 321Sports car park, the event takes place March 15th, 22nd, and 29th from 6:45PM – 8:45PM.
With Mother's Day approaching on the 21st of March, try something a little different this year and treat your mom to a weekend of fun that the whole family can enjoy. Circuit X is offering all mothers free entry into the park on the weekend of the 19th and 20th of March. During this weekend, for every family of three or more, moms enter for free!
Keep the kids entertained during their spring holiday at Circuit X thrilling Kids' Spring Camp on the 28th of March 2021. This 5-day, ultra-engaging program, available for children aged 7 to 15 years old, will teach your kids essential outdoor survival skills, challenging them in the thrilling High Ropes Park. The program will also help them to master their abilities in the BMX and Skate Parks. For avid skaters aged 5 to 15, Circuit X is also offering basic to intermediate skateboarding skills to boost their capabilities.
 People of Determination can now dedicate one day of their week to get their blood flowing in the Special Olympics – 'Learning to Cycle Program'. Organized by Gulf Multi Sport, the Learn to Cycle Program at Hudayriyat Courts offers opportunities to cycle regularly and enhance their commitment to improving their skills. The program takes place every Tuesday from 5PM-8PM at the Old Cycling Track at Hudayriyat Island. For more info, stay tuned with Gulf Multi Sport.
What better way to celebrate Women's Day than inviting your friends to participate in a Womens' Only Cycling Race every Tuesday at Hudayriyat Island. Organized by the Abu Dhabi Cycling Club, women ages 12 and above are invited to participate in the community ride. With free helmets and bicycles provided, come and enjoy a ride in the outdoors without a care.  The ride takes place every Tuesday from 6PM-8PM meeting at Gate A of OCR Park's parking lot.
Providing you with the most convenient experience ever, OCR Boot Camp offers daily classes according to the class timetable at the OCR Park. The Boot Camp includes a track for adults with eight different obstacles as well as eight fitness stations along with challenges dedicated to kids to improve their physical capabilities and help them learn the importance of discipline.
Hudayriyat Leisure and Entertainment District
Bab Al Nojoum
Enjoy the ultimate glamping experience just 20 minutes from downtown Abu Dhabi. Bab Al Nojoum offers a range of overnight options for friends and families to escape the busy city. From luxury tents with private pools to deluxe tents, beach tents with views of the water, and camper vans, there's something for everyone. Enjoy fun in the sun at the beach and barbecue areas, participate in watersports activities, then relax at the outdoor cinema while taking in a soothing night under the stars around the bonfire.
OCR Park
Test your skills at the OCR Park, the largest permanent obstacle course site in the country. The exhilarating experience features a track for adults with eight different obstacles as well as eight fitness stations. Children can also join the fun with six smaller obstacle challenges made just for kids.
Circuit X
Enjoy the thrills of the Skate Park, BMX Track and High Ropes course at Circuit X for a memorable day of adventure. The Skate Park offers the perfect mix of terrain and challenges for all skill levels and provides rentals for skateboards and scooters. The BMX Park is a treat for both aspiring and experienced cyclists featuring an asphalt pump tracks and an outer dirt track. The High Ropes course offers activities with varying stages of difficulty featuring three levels of challenges including a course just for kids.
 321Sports
Discover a diverse range of amenities at 321Sports. Get your friends for friendly matches on the 5-a-side football pitch or the indoor facilities for tennis, badminton, and basketball. Those looking to build up a sweat can also enjoy the jogging track and six 400m running tracks. The space also features a yoga studio, kids' nursery, fitness stations, gym, a sports retail store as well as a café with terrace views over Hudayriyat island and Abu Dhabi.
Marsana
Hudayriyat's vibrant waterfront promenade, Marsana, is a beautiful seaside getaway filled with several sports and leisure attractions. The enticing variety of over 17 food and beverage outlets sets it apart as a haven of casual dining experiences. With added easy access to the public beach, an outdoor gym, cycle paths, and a marina with a wooden pier, the atmosphere can't be beat.
Hudayriyat Heritage Trail
Reconnect with nature and history at Hudayriyat Heritage Trail. Sprawled along the waterfront, the stunning destination offers visitors the opportunity to enjoy tranquillity and learn of the historical and cultural significance of the island that was once home to Arabian pearl divers.