Unbox Amazing: Abu Dhabi Welcomes Shoppers Back to Malls with Mega Campaign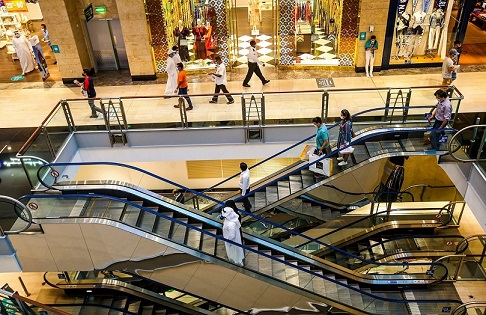 Abu Dhabi: Amid the Covid-19 restrictions, Abu Dhab kicked off the much-awaited'Unbox Amazing', its mega retail bonanza campaign, with much fanfare and glitz on Thursday. With over 3,500 retailers from across multiple malls attending, the season-long event has an incredible collection of unbeatable promotions, brand discounts of up to 80 per cent, a series of shop & win rewards, major prize giveaways, and rewarding shopping experiences.
Brought to life by the Department of Culture and Tourism – Abu Dhabi (DCT Abu Dhabi), alongside Visa, the world's leader in digital payments, the emirate's leading malls and retailers, and four leading banks, including Abu Dhabi Commercial Bank, Abu Dhabi Islamic Bank, Al Hilal Bank and First Abu Dhabi Bank, the Retail Abu Dhabi 'Unbox Amazing' campaign will welcome shoppers back to malls for an exciting seasonal shopping until August 31.
Featuring something for every shopper, 'Unbox Amazing' will showcase a series of unique exclusive collections from major brands, as well as unique promotional offers only available in Abu Dhabi Emirate. The massive Shop & Win contactless promotion will see all eligible Visa cardholders with the four participating banks that spend AED 200 or more in participating outlets automatically enter prize draws held throughout the campaign. Shop & Win prizes include Mercedes Benz cars from Emirates Motor Company and the latest technology products from Sharaf DG, amongst others.
"Abu Dhabi's diverse retail sector is back in business with the emirate's most ambitious and economically impactful summer season promotion to date which, thanks to our landmark partnership with Visa and four leading banks, will provide a stimulus for a retail sector intent on recovery," said HE Ali Hassan Al Shaiba, Executive Director of Tourism and Marketing, DCT Abu Dhabi. 
"From Abu Dhabi city and Yas Island to Al Dhafra and our heritage heartland of Al Ain, the emirate's entire retail ecosystem is united for 'Unbox Amazing', giving consumers the chance to enjoy and enliven their summer by taking advantage of huge value deals, rewards and savings." 
Shahebaz Khan, Visa's General Manager for UAE, said: "We are delighted to partner with DCT Abu Dhabi on the 'Unbox Amazing' campaign, which is a central to Retail Abu Dhabi's exciting seasonal campaign. This strategic partnership is also in line with Visa's commitment to supporting local businesses and accelerating the recovery of the UAE's retail sector. 
"Equally, through our partnerships with Abu Dhabi's leading banks, we are pleased to offer eligible Visa cardholders exclusive deals so they can enjoy a more rewarding, secure and seamless shopping experience as they adapt to the 'new normal'."
As per DCT Abu Dhabi's recently launched Go Safe Certification, which enforces global safety and cleanliness standards across the emirate's hotels, attractions, malls, restaurants, theme parks and public venues, comprehensive health and safety measures will be implemented across participating malls during the 'Unbox Amazing' campaign. Consumers are encouraged to take individual responsibility by adhering to safety guidelines to ensure a safe and enjoyable shopping experience for all. Safety measures include thermal scanning at entry points for shoppers, who will be asked to wear protective masks; the implementation of social distance shopping throughout malls, stores, cafes and restaurants; and regular cleaning and disinfection of all participating outlets. 
Contactless transactions will also be widely encouraged to limit person-to-person contact and exchange. To further ensure shoppers' safety, all staff working in Abu Dhabi's retail sector will undergo regular Covid-19 testing. 
"Our reopening strategy has been developed over several weeks in close co-operation with DCT Abu Dhabi, the retail sector and all relevant government departments, and is in-line with best-practice safety guidelines issued by local and global authorities," said HE Hamad Abdullah Almass, Executive Director of Abu Dhabi Business Center, Department of Economic Development – Abu Dhabi. 
Participating malls in Retail Abu Dhabi's 'Unbox Amazing' campaign include Abu Dhabi Mall, Al Ain Mall, Al Foah Mall, Al Jimi Mall, Al Raha Mall, Al Wahda Mall, Barari Outlet Mall, Bawabat Al Sharq Mall, City Center Masdar, Deerfields, Fotouh Al Khair, Galleria Al Maryah Island, Hili Mall, Khalidyah Mall, Marina Mall, Mazyad Mall, Mushrif Mall, Ruwais Mall, World Trade Centre Mall and Yas Mall.