UAE School Children Treated to a Golfing Masterclass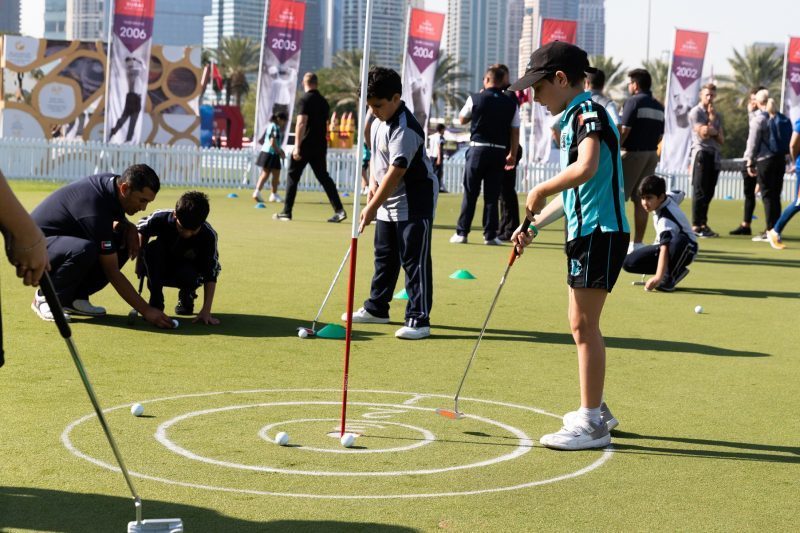 Dubai: School children from across the UAE took part in the build-up to the OMEGA Dubai Desert Classic, by participating in the annual ODDC School's Day, while tournament organisers also confirmed that children aged 17 and under would be able to visit for free in order to sample the family-friendly entertainment on offer.
The programme which continues to go from strength to strength saw 80 kids take part. The 2020 edition included fun activities with two of the world's best golfers present leaving the youngsters impressed with this once in a lifetime experience. Organised by Falcon Golf, the programme looks to promote the development of golf at a grassroots level while showcasing the new Kids Clubhouse and all the activities contained within.
The day saw seven schools from the region, including Dubai English Speaking School, American School Dubai, Nord Anglia International School Dubai, Abdullah Al Salem School, Rashid Bin Humaid Model School, Sharjah Model School and the Islamic Scientific Institute bring their school children along to partake in a number of activities to learn more about the sport and try something they wouldn't ordinarily have access to.
The pupils took part in the day's proceedings, which kicked-off with golfers Erik Van Rooyen and Matthias Schwab leading an introductory golf clinic in conjunction with Peter Cowen Academy and Emirates Golf Federation, allowing some of the children to be lucky enough to meet their idols. The players spoke to the children about the value of remaining fit and healthy, as well as promoting the sport of golf.
Watching on was Simon Corkill, the Executive Tournament Director, who commented: "Our annual schools programme is a great place for the kids, who can come and try not just golf but other sports too. Tournament Town has plenty of activities for children to engage with, so they can whack a few golf balls around and hopefully enjoy playing the game. I feel it's important to promote the sport to kids, in whatever format because if they have the opportunity and the accessibility to try new sports then they're more likely to be become interested in that particular sport and stick with it. Golf is most definitely a game for life and there are so many different aspects to it that you can enjoy, so hopefully today will have played a small part in developing that."
After their clinic with the players, the children were lucky enough to be visited by an illusionist, as well as being able to try out all the activities on offer in Tournament Town, such as the bouncy castle, Tri Sports arena, PlayStation booths and face painting challenges. The children also tried their hand at some of the art activations by leaving their mark on the Art Attack wall, which saw the school children unleash their creative flair on a blank canvas.