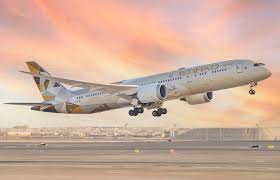 Emirati airlines are renowned for the luxury offerings and hospitality they incorporate into their flights, transporting passengers from around the world comfortably. In the ongoing Arabian Travel Market, the airlines continue to showcase their commitment to providing passengers with the best possible experience.
Etihad Airways is introducing a new interior for its Boeing 787 Dreamliners that will join the fleet in the third quarter of this year. The carrier has announced that it is the first airline in the world to introduce the Elements seat manufactured by Collins on the Boeing 787. Each of the 32 Business seats has direct aisle access with the cabin designed in a 1-2-1 configuration. The seats recline to a fully lie-flat-bed 78" in length and feature a 17.3" 4K TV screen, Bluetooth headphone pairing, multiple charging ports and wireless charging, and storage.
Flydubai has also unveiled its latest premium business class seat, the Business Suite, which is designed exclusively for single-aisle aircraft. The new seat will offer all passengers in Business Class direct aisle access. Ten suites will be introduced to a number of the carrier's latest aircraft before the end of 2023. Flydubai is the launch customer for this brand-new seat.
(Compiled by Naseel Voici)