Two Cirrus SR22 G6 aircraft make their way from Duluth to Dubai, passing through 11 stops in 10 countries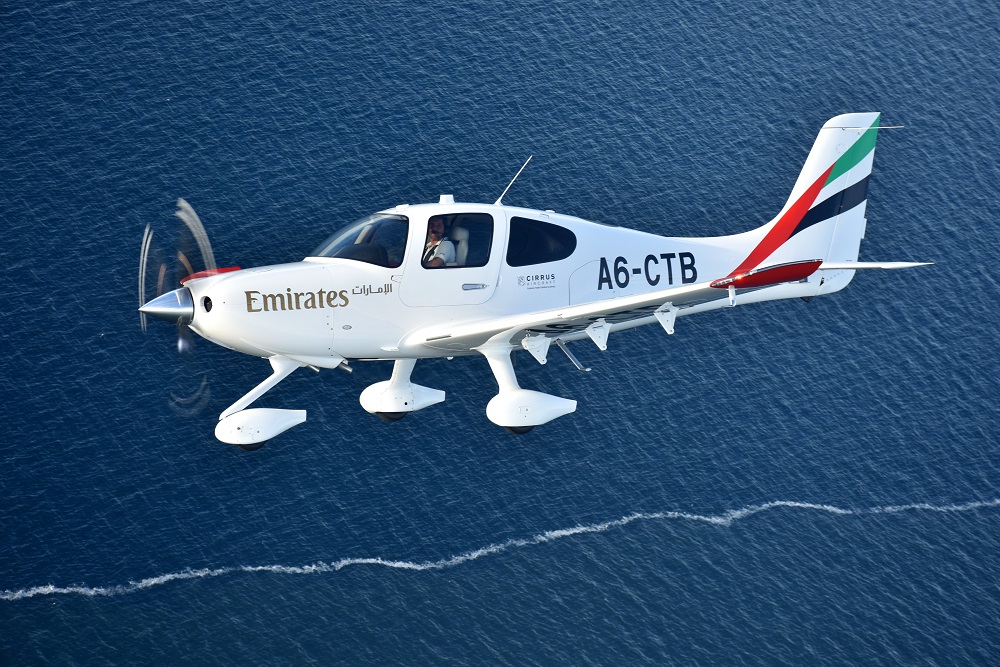 DUBAI- Emirates Flight Training Academy, the state of the art flight training facility being developed by Emirates to respond to the global aviation industry's need for pilots, has taken delivery of its first two Cirrus SR22 G6 training aircraft in Dubai. These are the first of the 22 single-piston engine Cirrus aircraft that have been ordered by the Academy to train ab initio pilots.
The two Cirrus SR22 G6 aircraft, A6-CTA and A6-CTB, landed in Dubai following a transatlantic journey spanning over 13,000 kilometres.  Given the size of the aircraft and other restrictions including the size of the fuel tanks and range, the journey from Cirrus' manufacturing facilities in the USA to Dubai had to be split into multiple segments.
Upon completion of manufacture, the two aircraft were flown from Duluth, Minnesota to Knoxville, Tennessee – the location of Cirrus' aircraft delivery centre.  Once at the delivery centre, the aircraft were inspected and teams from Cirrus and Emirates Flight Training Academy went through a series of pre-flight appearance, functionality checks and test flights. The two Cirrus planes then embarked on an 11-stop transatlantic journey transiting through 10 countries flying an average of over 5 hours a day.
Flying out from Knoxville, A6-CTA and A6-CTB stopped at Portsmouth, New Hampshire, USA followed by Sept Iles and Iqaluit in Canada. From Iqaluit the two aircraft set out to cross the Atlantic Ocean in two stretches, stopping first at Nuuk in Greenland, then at Reykjavik in Iceland and completing the transatlantic sector at Wick in Scotland. These flights were also the longest segments in the aircraft's journey from the US to Dubai.
Once in Europe, the two aircraft made their way from Scotland to Sywell in Northamptonshire, England and from thereon to Venice, Crete, Aqaba, Bahrain and finally to Dubai. All the flights were done in daylight and the two aircraft flew in loose formation throughout the entire journey allowing for easier air traffic clearances.
The Cirrus SR22 G6 aircraft will form the backbone of the training fleet of the Emirates Flight Training Academy. The aircraft has a modern composite airframe; two large 12" flight displays; a flight management system keypad controller and an integrated engine indication and crew alerting system. The aircraft has a range of up to 1,207 nautical miles (1,943 kilometres) at speeds of 183 knots (340Km/H) TAS True Air Speed.
In addition to the 22 Cirrus SR22 G6 aircraft, Emirates Flight Training Academy has also placed an order for five twin-jet Embraer Phenom 100EV aircraft, becoming the first flight training organisation in the world to use the Phenom 100EV platform for training cadets.
The Emirates Flight Training Academy, located near Dubai World Central (DWC) airport in Dubai South, is designed to be one of the most advanced flight training facilities in the world. Scheduled to open in November 2017, the facility will be spread over an area of 200 football fields and will include ground school classrooms, ground based simulators, a young and modern training aircraft fleet, a 1,800 sq. m dedicated runway, an independent air traffic control tower and a maintenance centre in addition to accommodation and recreational facilities for cadets