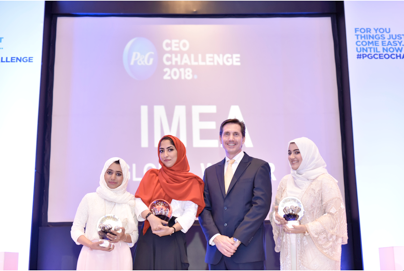 Dubai– A team of three female engineering students from Saudi Arabia's King Abdulaziz University in Jeddah have become Procter & Gamble's Global CEO Challenge Winners. Linah Hussain, Malak Mously, and Rawan Baik beat out over 3,500 prospective participants from across India, the Middle East and Africa, before going on to compete in the global leg of the competition against participants from across the world in Panama, where they were required to present business solutions for a real-life case study to P&G's CEO, David Taylor.
"The future in Saudi Arabia is underpinned by technology, and bolstering its youth participation in STEM related studies, as well as STEM related careers is imperative for the progress of the country. Procter & Gamble is committed to developing the next generation of business leaders and supporting talent development in Saudi Arabia, and our CEO Challenge provides the opportunity to develop the required skills by stepping into the shoes of a P&G business leader," said Hani Ismail, Saudi Country Manager for Procter & Gamble. "Today, we witness firsthand the way in which innovation is flourishing amongst Saudi youth, and especially its young women, and we are proud to be a part of this evolution."
P&G's annual CEO Challenge gives participants an opportunity to set out a high-level strategy for a billion-dollar brand, undertaking in-depth business case studies that test their skills in marketing, general management, human resources, strategy development, and budgeting skills.