Sharjah Cat & Dog Shelter Takes In 483 Cats and 106 Dogs in 2019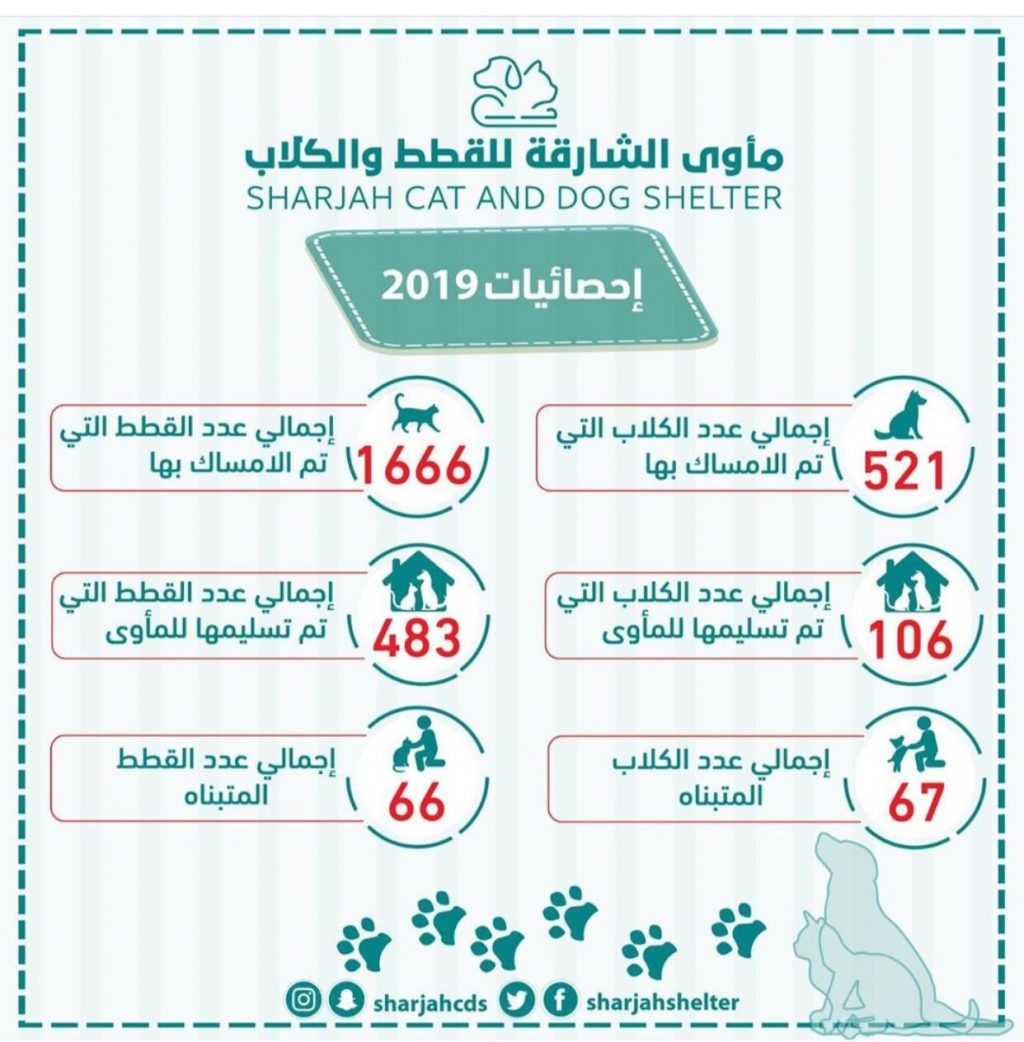 SHARJAH-  The Environment and Protected Area Authority's (EPAA) Sharjah Cat & Dog Shelter reached 1,415 reports last year, taking in a total of 589 animals including 483 male and female cats and 106 dogs, and homing 66 cats and 67 dogs with people who met the criteria for adoption. The Shelter caught 1,666 cats and 521 dogs, and a total of 1,262 cats were trapped, neutered and released.
Hana Saif Al Suwaidi, EPAA Chairperson, said, "The specialised teams at Sharjah Cat & Dog Shelter exerted considerable effort and performed their duties perfectly, resulting in a number of important achievements that helped to create an environment suitable for stray dogs and cats. EPAA's teams promote animal welfare by encouraging the ethical treatment of animals and providing information about animal healthcare. They provide animals with care and the proper nutrition and healthcare. The Trap-Neuter-Return (TNR) programme is the most humane and effective way to control the number of stray cats outdoors."
Mrs Al Suwaidi explained that there is a high level of cooperation and coordination with Sharjah Municipality and various other municipalities in the Emirate, especially with regards to catching stray dogs and cats. She said that stray cats are ones that have not found anyone to feed them. They may have been born outdoors and never lived with a family, or they may have been domestic cats that got lost and became feral over time. Stray dogs, which live outside urban areas and may be lost or abandoned pets, can pose problems for the communities that they inhabit.
Sharjah Cat & Dog Shelter is a cage-free modern building with 8 suites that can accommodate up to 6 cats each. The Shelter, which encourages the local community to get involved, educates visitors about animal welfare. It will run a programme to assist with the treatment of animals and build a centre to teach people about the ethical treatment of animals.
People can contact the Shelter's administration about stray cats and dogs by calling (06) 545 3054 or (056) 329 9669 or e-mailing cdshelter@epaa.shj.ae. After the complaint is logged, staff visit the location and talk to the complainant. If the cat or dog is in the area, it is captured and taken to the Shelter. Otherwise, a special humane trap is left and the animal is taken to the Shelter the following day.
After a cat or dog has been caught, it is registered by the Shelter's administration. The animal is then taken to the veterinary department for any necessary treatment. Under the TNR programme, cats that are disease-free or only slightly unwell are vaccinated, sterilised and returned to the areas in which they were found. Dogs that are disease-free or only slightly unwell are sterilised, vaccinated and put up for adoption at the shelter.