Sharjah Airport Receives First Delegation of Pilgrims Returning from The Holy Land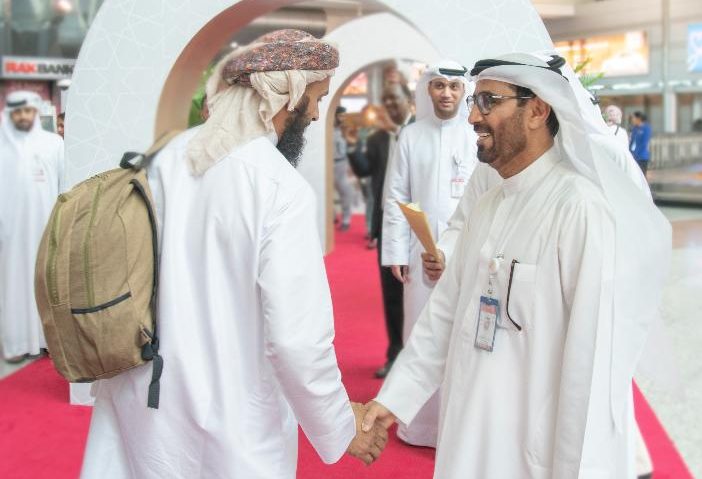 Sharjah: Sharjah Airport, on Wednesday 14th August, received the first delegations of pilgrims returning from the Holy Land, where they were greeted with flowers and Arab hospitality.
The airports dedicated efforts for the pilgrims meant they offered many facilities, with an aim to ease the troubles of travel, with speedy completion of procedures, from (Number) regular and irregular flights with hundreds of pilgrims,  returning from King Abdulaziz International Airport in Jeddah, as well as Prince Mohammed Bin Abdulaziz International Airport in Madinah and Taif International Airport in Saudi Arabia.
The pilgrims were received within the arrivals building, in the presence of dedicated airport staff. They took the initiative to finalise the procedures of entering the pilgrims within record time, in addition to providing excellent services, such as; dedicated tables for the processing of their passports, as well as waiting areas to provide them with the best facilities
During the Hajj (pilgrimage) season, Sharjah Airport was keen to implement an integrated plan, which was prepared in cooperation with various tactical partners within the airport. It undertook all the necessary measures to receive the pilgrims, with the strategy taking into account the summer season, and the intensity of passenger traffic throughout.
The pilgrims have expressed their happiness with the quality service, and the special facilities provided by the airport, thus contributing to the smooth completion of all travel procedures. This was achieved by the precise integrated plan by the allocated team of staff, who also facilitated the receipt of their luggage, in addition to the allocation of specific areas to enable the passengers to receive Zamzam water bottles in conjunction with their belongings conveniently.