Middlesex University Dubai hosts 2017 Graduation Ceremony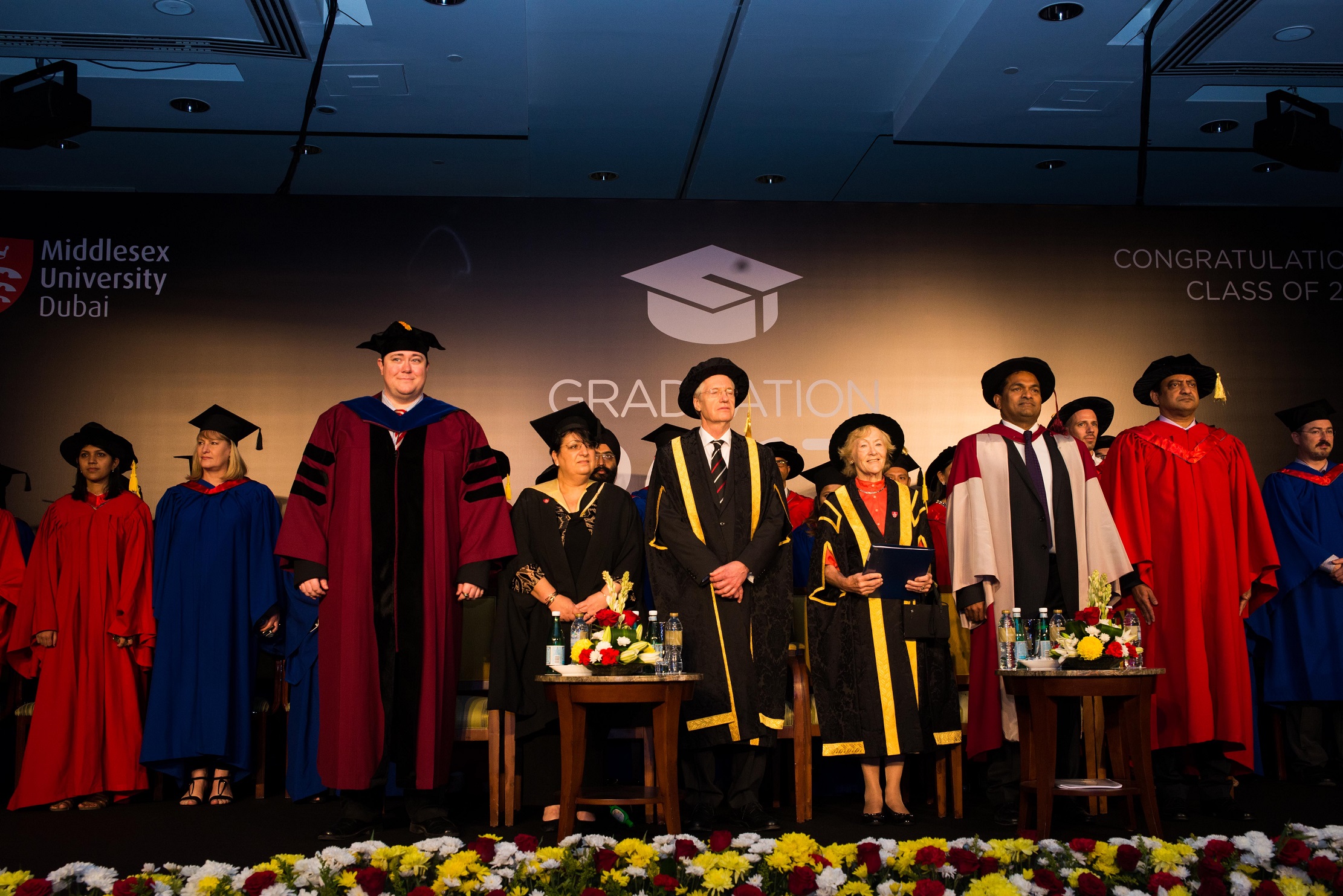 Dubai, United Arab Emirates, 9 November 2017: Middlesex University Dubai has celebrated the academic success of more than 800 students during its 2017 Graduation Ceremony held on 4th   November 2017 at the Jumeirah Beach Hotel's Safinah Ballroom.
Hailing from more than 90 nationalities, graduating students were awarded degrees across a range of disciplines, including film and media, business, IT, engineering, education, law and psychology.
The ceremony also honoured, Mr. Colm McLoughlin, Executive Vice Chairman and CEO, Dubai Duty Free for his contribution to UAE society. A key player in the region's retail sector for nearly 35 years, Mr. McLoughlin was awarded an Honorary Doctorate of the University (DUniv) in recognition of his outstanding service to the sector and the community.
Guests of honour at the ceremony included Middlesex University Chancellor, Dame Janet Ritterman and Middlesex University Vice Chancellor, Professor Tim Blackman.
"The first overseas campus of Middlesex University, we are now marking the 12th year of operation in the region. Graduation represents everything our students have worked towards during their time at University," said Dr Cedwyn Fernandes, Director, Middlesex University Dubai. "On behalf of the Middlesex University Dubai faculty and staff, I would like to congratulate our 2017 graduates. Each student should be proud of their achievements."
"Having worked in the region's retail sector for nearly 35 years, I've seen Dubai transform into the city it is today and much of the credit goes to the Government of Dubai and its forward thinking leadership", said Mr. McLoughlin. "I am honoured to be recognised by such a prestigious institution as Middlesex University Dubai, for my work and I dedicate this to my wife and family, to my Chairman Sheikh Ahmed bin Saeed Al Maktoum and to the wonderful team of employees at Dubai Duty Free."