Middlesex University Dubai Holds ERPBSS Conference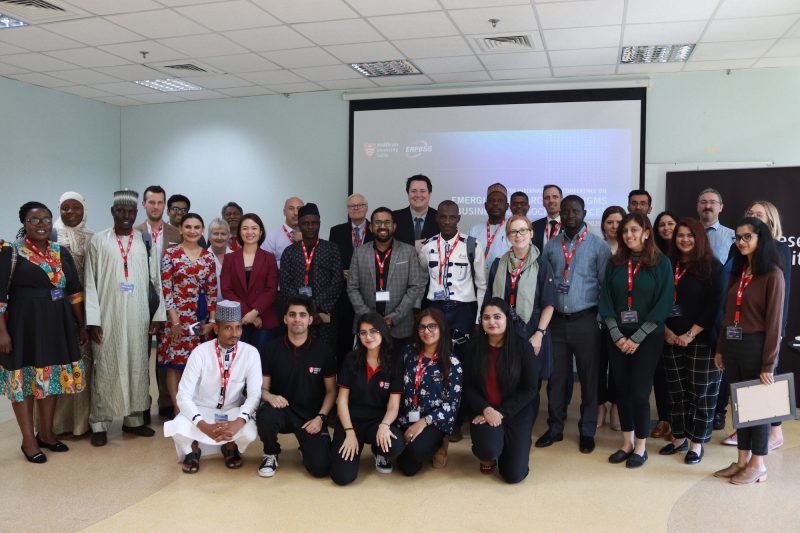 Dubai:  Middlesex University Dubai hosted the Emerging Research Paradigms in Business and Social Sciences (ERPBSS) conference at Middlesex University Dubai on the Dubai EXPO 2020 themes of Sustainability, Mobility and Opportunity, from 14th to 16th January 2020.
Building upon the success of its previous editions, this unique fifth edition provided a platform for academics to discuss new concepts, progressive methodologies, and innovative practices in line with the conference themes and sub-themes that included Inclusivity, Tolerance, Empowerment, Creativity, Happiness, and Innovation. This event saw over 180 delegates including  Researchers, Practitioners and Professionals from various disciplines, representing over 60 universities and institutions from the UAE and around the world.
The introductory morning of ERPBSS 2020 included inspiring keynotes from Hugh Ragg, Senior Manager Learning & Development at Expo 2020 Dubai and Janya Chanchaichujit, Director Logistics and Business Analytics Center of Excellence – Walailak University Thailand. Across the three days of the conference, there were over 90 research papers and case studies presented along with several plenary and panel sessions, and student poster presentations.
The delegates were seen communicating their discoveries while securing a meaningful discussion with other professionals from different fields to address the increasingly complex global and local challenges in a sustainable manner. The conference wrapped up with an excellent and stimulating industry panel session on Sustainability, and a ceremony that presented delegates with 'best research paper' and 'best student poster' awards.
Speaking on the successful fifth edition of ERPBSS, Dr Cedwyn Fernandes, Pro Vice-Chancellor and Director of Middlesex University Dubai said: "Middlesex University Dubai takes pride in concluding another successful edition of ERPBSS Conference. I have been hugely impressed by the diversity and the high standard of papers presented by extremely talented and informative professionals from this region and beyond. I want to thank the conference Chair, Dr Sreejith Balasubramanian, and all the members of the organising committee for putting together a fantastic programme. We hope to continue this run of success in the next edition of the conference in 2022"
Commenting on the success of the conference, Dr Sreejith Balasubramanian said: "The conference received excellent feedback from the delegates and was able to extend the dialogue towards a sustainable future by leveraging the multitude of opportunities afforded by technological innovations, globalisation, and economic development".