Mall of the Emirates and City Centre Me'aisam join Dubai Fitness Challenge with complimentary high-energy workouts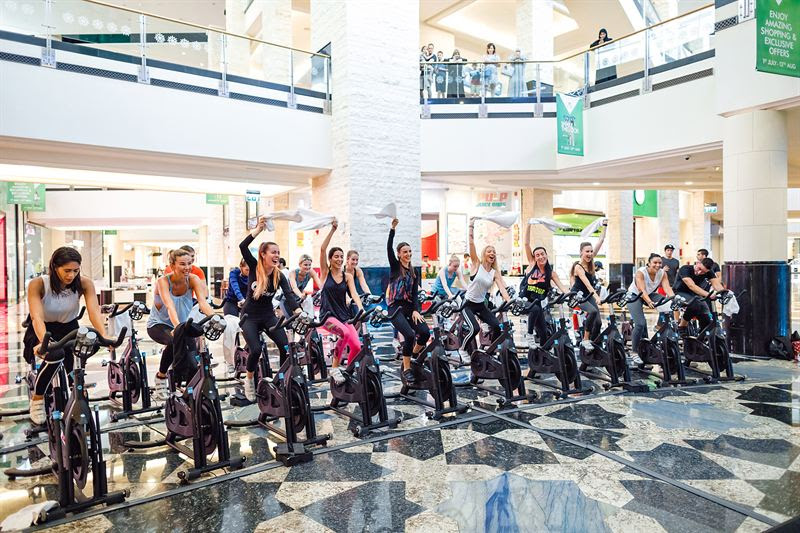 Dubai, UAE; November 8, 2017: Have you signed up for the 30×30 Dubai Fitness Challenge this month? If you are looking to shake up your fitness programme with exciting workouts, head to Majid Al Futtaim malls in Dubai where there are plenty of opportunities to stay on track with fun, social fitness activities for free.
His Highness Shaikh Hamdan Bin Mohammad Bin Rashid Al Maktoum, Crown Prince of Dubai and Chairman of The Executive Council of Dubai Government and Dubai Sports Council, launched the Dubai Fitness Challenge last month to encourage the public to stay active for good health. The challenge is to take on 30 minutes of physical activity daily for 30 days.
Majid Al Futtaim malls are supporting the government's efforts to make Dubai the most active city in the world by inviting shoppers to participate with their family and friends in the free mall walking, spinning and bodyweight training sessions.
Residents and tourists can challenge themselves by signing up for the MOE Active schedule on moe-active.malloftheemirates.com. Fitness enthusiasts can enjoy complimentary fitness classes throughout the week with a variety of exercises to suit varied fitness levels. Visitors can get moving before they begin their work day with all classes taking place before store opening hours at 8.30am and then grab a hearty breakfast at the mall to refuel afterwards.
There's no reason to skip your training session on a busy day. Squeeze in that 30 minutes workout while you run errands at City Centre Me'aisam. The mall will have a pop-up gym with daily fitness classes from November 16 to 18. Visitors can also end their stressful workday with an hour-long calming yoga session every Friday, Saturday, Tuesday and Wednesday at 9pm at City Centre Me'aisam
Studies show that exercising for as little as 30 minutes daily provides a host of physical and mental benefits. A new international study conducted by the St Paul's Hospital in Canada states that people who exercise for 30 minutes significantly reduce their chances of cardiovascular disease and live a longer and healthier life.
Physical activity can include walking, cycling, games, sports or planned exercise.  According to the World Health Organisation, adults aged 18 to 64 should be involved in at least 150 minutes of moderate-intensity aerobic physical activity throughout the week. Research has also found that regular exercise promotes the health of nerve cells and boosts brain power.
"It's proven that 30 minutes of daily exercise not only keeps diseases at bay but keeps you energised throughout the day. Majid Al Futtaim's efforts to get the community moving with its active programme complements the Dubai government's initiative to promote a healthier society. The Dubai Fitness Challenge provide a great encouragement to young people and the elderly to begin their wellbeing journey. We are excited to be supporting this with complimentary fitness classes and create great moments every day for our visitors," said Fuad Mansoor Sharaf, Managing Director for Majid Al Futtaim Properties, Shopping Malls (UAE, Bahrain & Oman).
MOE Active schedule:
Join the Mall Walkers on Sunday for a brisk walk around the mall with a group, with an instructor demonstrating stretching exercises before and after the walks. Participants meet at the Ski Dubai Foyer at 8.30am.
For some interval training to raise the heart rate, visitors can join the Mall Circuits where they can learn stretching exercises and get a full body workout. Session take place every Monday at 8.30am at the Ski Dubai Foyer.
Mall of the Emirates has also teamed up with FlyWheel to create exclusive classes set to an up-tempo playlist to keep you energized on Tuesdays and Wednesdays.
Reserve a bike for the FlyWheel experience at the Ski Dubai Foyer on Tuesday at 8.30am. Riders train on a stationary bike, working their legs and arms in climbs and descents with weighted bars.
For resistance training, visitors can join the FlyBarre sessions on Wednesday at 8.30am that are led by a dynamic instructor who will keep participants on their toes with a high-energy workout. Participants will be taken through movements that tone their muscles and strengthen the core. Classes take place in the mall's Ski Dubai Foyer.