Plane crash: 18 dead after Air India plane breaks in two at Calicut Airport
August 7, 2020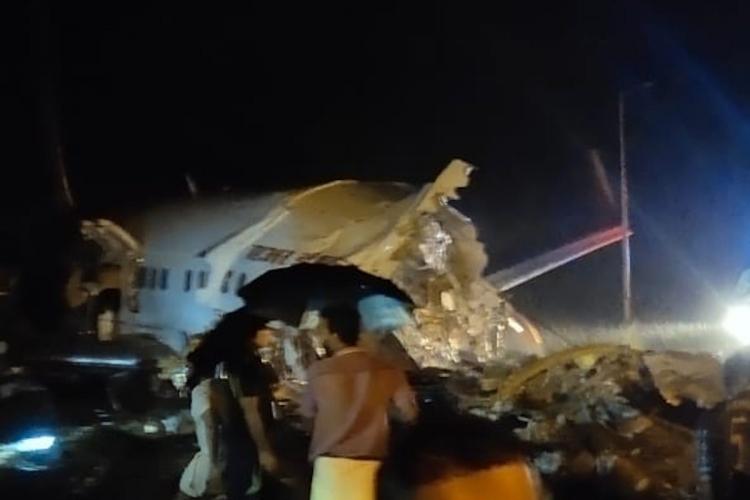 KOZHIKODE: An Air India Express Flight from Dubai to Kozhikode in Kerala crashed at the Calicut International Airport — also known as the Karipur airport — while landing on Friday night. While it is unclear how many people were on board, according to reports several people have been injured in the incident. The injured have been taken to hospitals near the airport, which is in Malappuram. The incident happened around 7.40 pm on Friday. The aircraft seems to have overshot the tabletop runway and plunged 30 feet down. This resulted in the aircraft splitting with serious damage to the cockpit area. There were around 140 people on the flight including passengers and crew.
Currently, it's raining heavily in Kozhikode. According to sources, flights are usually diverted to nearby airports if the weather is bad at the Karipur airport, since it's a tabletop airport. However, it wasn't done on Friday.
pilot and two passengers were killed after an Air India Express plane with more than 180 passengers on board skidded off the runway on Friday at the Karipur airport in Kozhikode in Kerala. At least 24 ambulances and fire tenders have been rushed to the airport.
According to officials of the Kerala Police, at least 35 people have been reported injured and shifted to various hospitals.  "We are still searching for around 100 people," said officials who said that shortage of torches and incessant rain were causing the rescue process to halt. India's top aviation body, the Directorate General of Civil Aviation (DGCA), has ordered a detailed inquiry into the matter.
The Dubai-Kozhokode flight X1344, a Boeing 737, had 184 passengers on board and landed at 7:41pm at the airport. According to airlines sources, it appeared to have overshot the runway.
"The Air India flight (IX-1344) from Dubai carrying 174 passengers skidded during landing at Karipur Airport in Kozhikode (Kerala) today. There were six crew members onboard, including two pilots," Air India Express said in a statement. Chief Minister Pinarayi Vijayan said he has instructed the police and fire Force to take urgent action. "Have also directed the officials to make necessary arrangements for rescue and medical support," he added in a tweet.
Former Minister of State for Tourism Alphons KJ said it was the second tragedy of the day after at least 15 people lost their lives in a landslide in Idukki district.  According to DGCA sources, the plane landed in heavy rain and after landing at Runway 10, it continued running until the end of the runway and fell down in the valley and broke into two. The Karipur airport is a table top one
Passengers' list and their age:
Laila razak 51
Emrin mohammed 1
Fathima vadakkayil 28
HADIYA VEEDIKA MANNIL 21
FATHIMA NAIRA KARIMBANAKKAL 1
Ummukulsu Ali 32
Muhammed Hamdhan 6
Abdul Rafee Abdul Hameed 39
Abdulla Rihan 10
Ayshath Saleena Abdul Rafee 35
Abdulla Shehran 4
SUMAYYA THASNEEM 27
AYSHA DUA 2
Tara Sankar 29
Ayana Ravisankar 4
Parameswaran Azhakath 30
Ravisankar Azhakath 34
Arjun 29
RENJITH PANANGAD 34
SREEMANIKANDAN THAZHATHE MELEDAM 50
Adhisree Puthuparambil 4
Sreejith Puthuparambil 32
Reshma Sreejith 26
Nishad kalankuzhiyil 38
Vijesh Mulamukkil 33
MOHAMMED SALEEL MALAYIL MARAKKATTIL 29
Mohammed Zidan Faisalbabu 5
Shanija Faisalbabu 28
Shahla Shajahan 21
Rineesh Thalappoyil 34
NAFILA #N/A
NAZRA FATHIMA #N/A
ANSAD PITHAPPERI 26
Fathima Nuha 3
Ayisha Faroona 22
Manoj Kumar 58
SANTHA MARAKKAT 59
MUHAMMED MUSTHAFA 28
Muhammed Riyas VP 24
Nizamudheen vp 28
Abdul Kareem kuzhikattu chola 36
Shafeeq kulirithodi 29
Youjin Pulikkathody 30
laiba fathoom 2
SALEEKHA #N/A
ROSHITH 30
MUHAMMED SAHIL 10
SHENZA AYISHA 2
saifuddeen padipatta chalil 43
SANA FATHIMA 13
FASALUNNISA SAIFUDDEEN 36
Ashik Puthan Peediyekkal 41
Muhammed Ali 36
Mohammed sahin puthenpeediyekkal 40
favas kp 31
LATHEESH MUTTOOLY 31
Zeya kundottu parakkal 10
Zain kundot parakkal 7
Ziyan kundot parakkal 14
Zamil kundot parakkal 7
SHAHINA #N/A
Shamsuddeen Thalekunnil 49
hudaifah anas naranchirakkal 2
fidha anas naranchirakkal 4
saheer sayed chevappara saidutty 38
faiza saidutty chevapra 30
Mariyam naluparambil 57
SHADIYA NAVAL C 27
ADAM FIRDOUS NEELAMBRA 5
ABDUL KABEER
Mohamed Irfan 30
Kadeeja Nasrin Mohamed Irfan 24
THAZHATHU VALAPPIL SEKKEER 39
sudheer variyath 45
FATHIMA PUTHIYA VEETTIL 62
UNNI #N/A
Murshida musthafa 21
SATHI KOODANCHERRY CHENAMPARA 60
ARAVINDAKSHAN KUTTIPPURATH KAKKADATH 67
NAJIYA SABIK 36
BILAL SABIK 4
HIFZA SABIK 10
HANNA SABIK 14
KUNHI MOHAMED PAINAT 50
Ismail 51
Lailabi kv 51
Mohamed rabeeh k 22
MOHAMMED REHAB VADAKKAN 12
JAZAA VADAKKAN 5
Jaseela Nargees Chembreri 30
MUHAMMED AZAAN VATTAKANDATHIL 1
FAIHA VADAKKAN 7
MANHA VADAKKAN 10
FATHIMA RAHMA PACHEERI 25
THAHIRA #N/A
FARHANA 18
FAHIS AK 23
Muhammed Fasil Kottammal 28
HAMZA CHOZHIMADATH 51
MUJEEB RAHMAN KALARIKKA PARAMBIL 31
AYSHA SHAMEELA THOYADI VAYAL 30
Ashraf moodora 36
MUHAMMED SHAFAF C 28
sidheek 53
NOUFAL MON VETTAN #N/A
JANAKY KUNNOTH 55
MUBASHIR #N/A
MUHAMMAD SUHAIL 12
MUNEERA 43
ABDULRAHMAN KUTTY 50
MOHAMMED SAREEF 38
Cherikka Parambil Rajeevan 61
MOHAMMED RIZIN 3
NADEERA 25
Sheza fathima 2
Shahad banu 26
Mohamed shaheem 5
VATTAPARAMBIL MOIDUTTY 64
NOUFAL #N/A
ZHENOBIA PUTHIYAPANTHAKALAKAM 40
AZAM ALI 15
AHMED ALI 5
SAHIRA BANU MANCHARA 29
Inaaya Mariam 2
AZAM MUHAMMED CHEMBAYI 1
Ruksana Padayan 26
MARIYAM BINTH MUHAMMED 4
LAHAN MUHAMMED CHEMBAYI 8
VIJAYAMOHAN MUTHU 68
JEMIMA KAMMALAPARAMB MICHAEL 59
NIHMATHULLA ABDUL MAJEED 31
Muhammed shafi 30
Remya muraleedharan 32
Muraleedharan Remya shivathmika 5
MANJULAKUMARI #N/A
Peedika kandiyil yadhudev 10
VAHIBA CHEMBAN ABDUL AZEEZ CHEMBAN 24
Anoop kulangarath narayanan 36
MOHAMED JASIR THUPPATH 29
Manal Ahamed 25
mufeeda MANATHAN kandy 29
Laiba zainab cholakka parambil 3
purushotaman 51
PRASANTH PLACHIKKAD MOHANAN 33
Sulekha Kizhakke Peediyakkal 66
RIYASUDHEEN #N/A
Sharafudheen 35
Fathima Izza 2
Ameena Sherin 23
MUHAMMED JUNAID 25
KENVAL AISHA 2
Rishana Koothradan 25
MOHAMED ZISHAN CHULLIKULAVAN 9
ISHAL CHULLIKULAVAN 17
INSHA CHULLIKULAVAN 12
SHAMILA MOHAMEDSULFIKARALI 36
mohamed basheer 50
ASHARAF ATHALAN 66
Muhammed Nias 26
MUHAMMAD #N/A
Muhammed ashik 23
Remshad panikkandy 28
Sufaira remshad 24
Shaiza irene 4
Jayamol Thakarappally Joseph 46
EBRAHIM VALIYA PEEDIKAKKAL 53
FATHIMA NAJIYA PALAKKAN 27
MUHAMMED EMIN PALAKKATHODUVIL 1
Nikhil 27
Afsal Para Kkodan 27
Ratheesh 39
Kunnatheri parambil Sajeev Kumar 48
RIYAS 28
Asharaf Kappumala 45
Sareefa Nazar 43
MADAPARAMBATH RIYAS 30
ASHARAF #N/A
JIBIN NADUVIL CHATHOTH 29
ASHRAF PULIKKIYATH 55
Mohammed Anas Seethangoli Patta 31
Muhamed Rafeeque 39
Thajina Kottayil Para 32
Hadiya Kuttiyamakkantakathu 7
Muhammed Hisham Kuttiyamakkantakathu 11
MALIYEKKAL #N/A
AJMAL ROSHAN 28
Abubacker valiya valappil 40
ABBAS #N/A