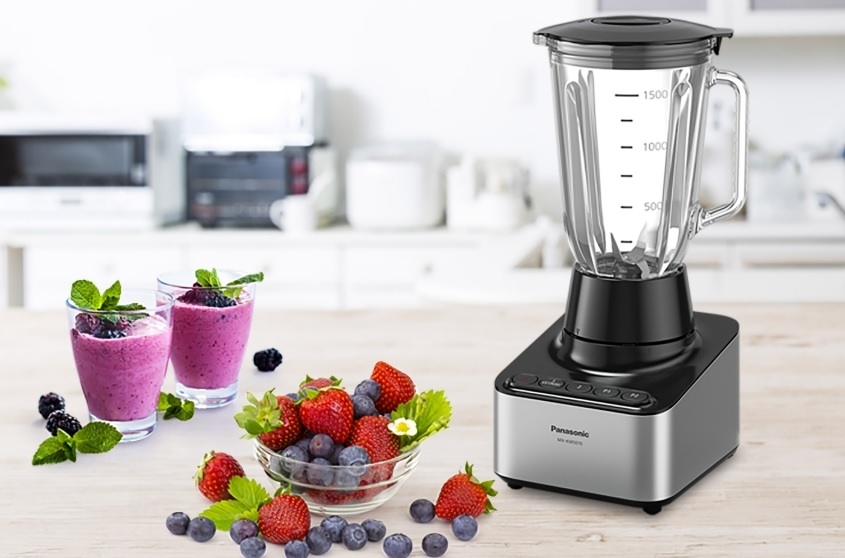 If you are looking for a blender, be it for yourself or as a gift, you need to make sure you get the best quality product in the market for the money. So, before you decide to buy a blender, it is important to consider the features, specs, and options available.
The only reason anyone prefers store-bought juices is to avoid the mess blending a juice at home creates. We all know that a good blender involves smooth and even blending, including hard items like ice cubes or frozen fruits. Another key factor to consider is the powerful Japanese sawtooth blade, powerful motor, and speed options to crush, liquidise and grind the toughest ingredients.
Speaking of the best product, we cannot go further without talking about Panasonic MX-KM5070 ice-crushing blender. The durable and extremely helpful kitchen appliance comes with a powerful motor and has what it takes to meet your expectation for a great blender.
Motor Power
Your blender should be able to produce a blending vortex perfect enough to lift and drop food to the bottom of the blades, churning out a smooth product in the end. The 800W powerful motor with durable sawtooth blade extracts nutrients and goodness from the toughest ingredient effectively to make preparations ultra-smooth. It's worth considering the power and capabilities of the motor used in the blender, especially when crushing hard ingridients.
Multipurpose options
Designed to prepare a variety of foods, beverages and icy treats, this blender combines powerful crushing and fine cutting for the perfect result. Having the perfect height, the blades come in contact with the ice perfectly. Their thickness and sharpness ensure ice blocks are crushed efficiently, resulting in a smooth final product. Dual speed options available is perfect for making a variety of items –
Speed 1 – Ice crush, Pudding, Baby food.
Speed 2 – Soup, Juice/smoothie, Brownie.
Design and attachments
MX-KM5070 combines four ribs on the jug and the finely shaped Japanese blades to blend food convectively, allowing hard and small items to be crushed effectively.  The blender comes with a tough glass jug that can withstand solid ice crushing.  It comes with a capacity of 2.0litre and has a working capacity of 1.5litre. Two additional dry mill attachments make it an all-rounder kitchen help for grinding, blending, crushing and much more. It is so versatile that it will quickly become an essential appliance in your kitchen, helping you create delicious recipes.
Innovative Mixing Tech
One most common complaint you have about any conventional blender is when fruit shreds and crumbs stick to the jug walls on top, needing you to open the lid and push them down with a spoon or spatula. That is where the Panasonic MX-KM 5070 works its magic. The ingredients are lifted, they hit against the jug wall and then drop into bottom blades in a V&M movement. This ensures the food is blended perfectly without making any compromise on its quality.
More handy features
Those of you who use blenders regularly will know that from time to timepieces of ingredients can get inconveniently stuck. The detachable jug base and an easy to clean spatula enable convenient cleaning. In addition, the blender lid comes with four sealing lips that ensure zero spilling during operation.