Locus Chain to Open Digital Asset Exchange in Dubai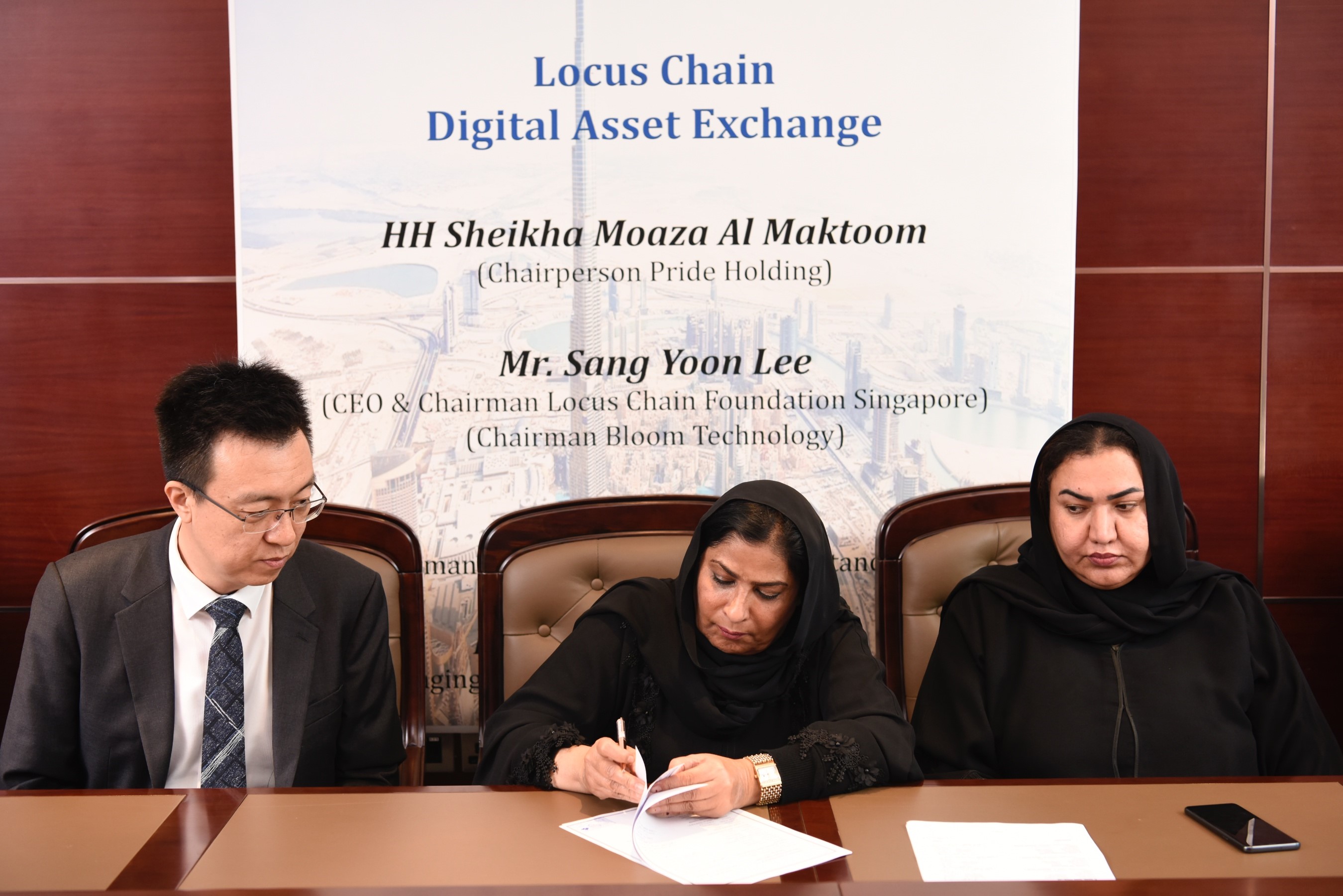 By Stephan Saxena, Special Correspondent
ABU DHABI: Locus Chain,​​the next generation blockchain technology and digital currency platformdeveloped by Bloom technology, South Korea, announced its plan to establish themost innovative digital asset exchange 'Locus DAX' in Dubai, the financial hub of Middle East.
Her Excellency Sheikha Moaza Obaid Suhail Al Maktoum, Co-Founder of the newly establishing Digital Asset Exchange and Mr. Sang Yoon Lee, CEO of Locus Chain Foundation jointly announced the name of the new Digital Asset Exchange 'Locus DAX' (Locus Digital Asset Exchange), during the signing ceremony for the establishment and operation of Locus DAX
H.E Sheikha Moaza said: "I have been a Senior Advisor of Locus Chain Foundation, Singapore since its inception and now we are happy to establish our innovative Digital Asset Exchange in Dubai using the Locus Chain Block Chain Technology. We strongly believe that our exchange can bring in several foreign investments into the UAE economy, especially Dubai which has been a fascinating business hub for the entire world,".
"Being the world is completely transforming into digitalization so quickly, the government and private organisations in the region are seriously implementing blockchain technology and started to use digital payment systems. Locus DAX will be one of the first Digital Asset Exchange in the region", Her Excellency added.
Due to the abundance of liquidity capital in Gulf countries, it is predicted that, the Locus Digital Asset Exchange will quickly attain a significant global ranking with mass adoption and widespread usage.
Sang Yoon Lee, CEO of Locus Chain Foundation, said: "Under the strategy of building an e-government system by 2020, the United Arab Emirates is more active than any other country in introducing blockchain technology. Now, I am very excited about the fact that the establishment of 'Locus DAX' is at its final stage, and I believe that Locus DAX, a digital currency exchange in Dubai will soon catch the attention of the global blockchain market. I would like to thank God, the wise leadership of UAE, our local partners, and friends in supporting our idea of Locus DAX. With Locus DAX, we plan to transform Dubai into the world's financial capital of digital currency,".  
"We look forward to train and hire ambitious local citizens to be part of our team. Our expertise from South Korea and Japan offices will be training the locally hired staff for the exchange," he added. Bloom technology South Korea, the parent company of Locus Chain Foundation is a well reputed IT Company with technical offices in South Korea, Japan, UAE and Mauritius. Locus Chain Foundation has entered into agreements with more than 30 organisations from different countries in the MENA and APEC region to implement the Locus Blockchain Technology and use of Locus Digital Currency