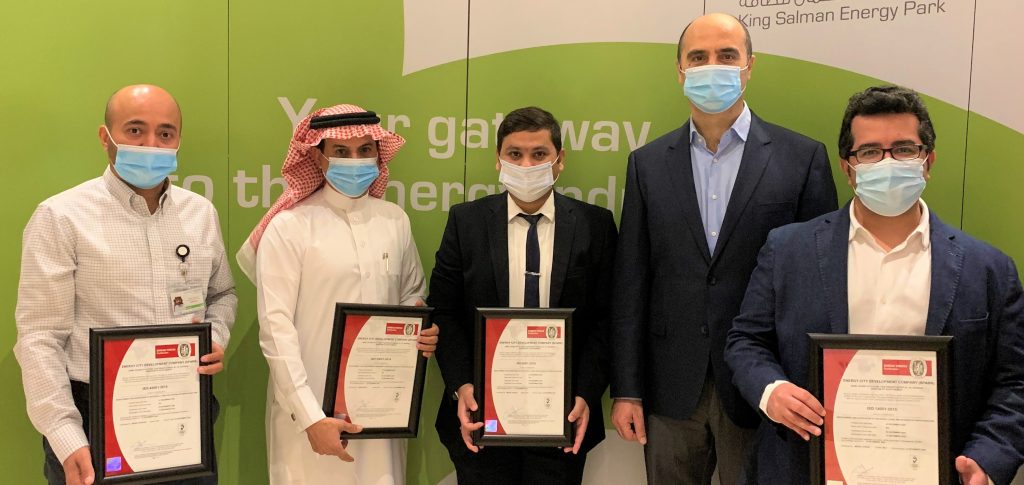 Bureau Veritas, a world leader in testing, inspection and certification, announces that King Salman Energy Park (SPARK) has been awarded by ISO 9001, ISO 14001, ISO 45001 and ISO 55001 certificates. With these certifications, SPARK has adopted an integrated management system approach to business risks, including quality, health & safety, and environmental management. SPARK has protected the value of their physical and non-material assets.
 King Salman Energy Park (SPARK) is a fully-integrated industrial city under development. Spanning an area of 50 square kilometers, SPARK is being developed with a vision to become the leading gateway to the regional energy sector, offering a complete spectrum of services to support business growth in the Kingdom. SPARK offers infrastructure with international specifications for global investors in crude oil & gas industry and refining, petrochemical industries, electric power, and water production and treatment. SPARK will be comprised of five focal areas: Upstream, Downstream, Petrochemicals, Conventional Power, and Water & Wastewater.
Bureau Veritas has contributed to the sustainability agenda of SPARK with integrated management system certification and asset management system certification. Our integrated management systems certification program (ISO 9001 Quality Management System Certification, ISO 45001 Health and Safety Management System Certification and ISO 14001 Environmental Management System Certification) offers a holistic view of risks to develop effective mitigation strategies. With ISO 55001 Asset Management System Certification, Bureau Veritas helps companies to lower costs, maximize return in investment and optimize growth throughout the asset life cycle.
Through independent auditing, certification and verification, SPARK has been successfully completed certification process. SPARK has set priorities for asset management that balance cost efficiency and risk, and embedded a culture of continual improvement throughout the organization. SPARK has taken proactive action to establish a culture of continual improvement that leads to enhanced efficiency and reduced risk.
"We at SPARK are extremely proud of achieving ISO certification, showcasing to our customers, investors and partners that our services operate at the highest quality standards. SPARK and its employees are committed to continuous improvement, ensuring that we are dedicated to developing and improving the processes and systems required to maintain our ISO accreditation." says Saif Al Qahtani, President and CEO, at King Salman Energy Park (SPARK).
"Since 1828, Bureau Veritas' mission has been to shape a world of trust. We are very proud to strengthen our relationship with SPARK for their strategic project by supporting them to adopt best practices in line with the most recognized international standards  while safeguarding assets, maintaining value and ensuring customer trust and personnel safety." says Hanna Jabour, Director for I&F MER District  at Bureau Veritas.