MoHAP Signs (MoU) to Provide Support for Hemophilia Patients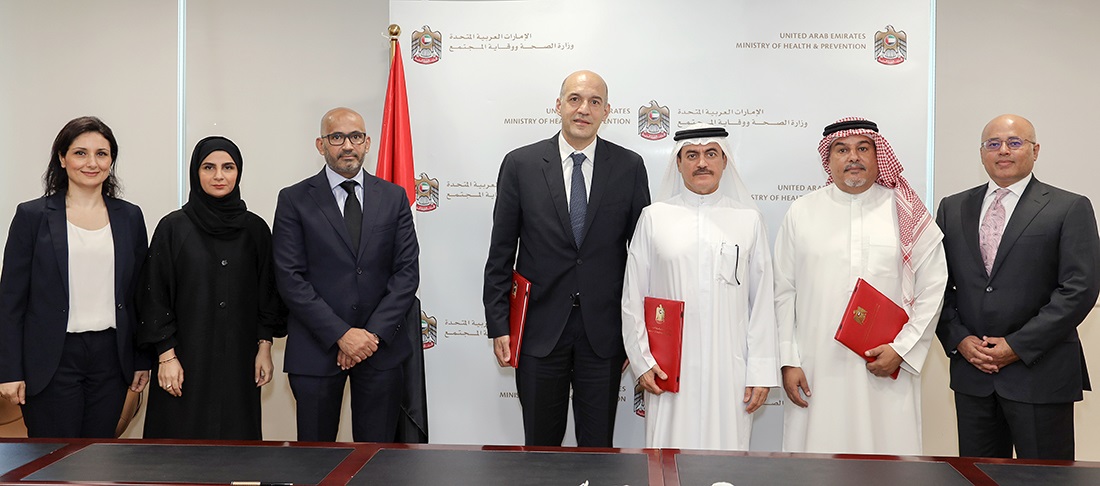 Dubai, 23rd July 2019:  Ministry of Health & Prevention (MoHAP) has signed a Memorandum of Understanding (MoU) with Sobi Middle East and Bayti Home Healthcare. The initiative covers all patients with hemophilia "A" and "B" in all the Emirates of the Country, who have difficulties in visiting the medical centers, in order to improve their adherence to the treatment protocols prescribed by their doctors.
The MoU was signed at MoHAP headquarters by HE Dr. Amin Hussein Al Amiri, Assistant Undersecretary of the Ministry of Health and Prevention's Public Health Policy and Licenses, Ahmed Abu El Dahab, Director-General, Sobi Middle East and Rajiv Nakani, Executive Director, Bayti Home Healthcare.
Dr. Ruqaya Al Bastaki, Director of MoHAP's Drug Department, said: "The one-year renewable MoU is part of MoHAP's ongoing humanitarian initiatives to bolster low-income patients. Such initiatives would help achieve the community responsibility in cooperation with the government and private authorities and also enable patients to find out early healing solutions, considering the confidentiality of patients' information registered in the program."
Al Bastaki went on saying: "The importance of this initiative lies in providing a competent, highly-qualified and well-trained nursing staff on home healthcare and licensed by MoHAP or local health authorities as well. Through this initiative, we aim to provide more services for patients with hemophilia at home, in accordance with a treatment plan for each patient. This plan includes educating patients on this disease, explaining in detail the drug mechanism and how to use it and acquainting patients with how to take and store medicines properly."
Sponsored by Sobi Middle East and implemented by Bayti Home Healthcare under the supervision of MoHAP, the initiative highlights the importance of the strict adherence and commitment to the treatment plan, as well as the importance of providing patients with the necessary psychological support and the regular communication with the doctor to follow-up the patient medical conditions through the assigned nurse.
The representatives of Sobi Middle East and Bayti Home Healthcare stressed the importance of MoHAP's supervision of the initiative, in order to promote community responsibility, alleviate patients suffering and enabling them to follow up their treatment, as per the treatment plan for each patient by his doctor.
Hemophilia is a chronic hemorrhagic disorder in which blood can't clot normally and causes prolonged periods of bleeding more than normal due to the lack of proper clotting factor in the blood. Hemophilia A is the most common type of the disease.