Emirates Airline Festival of Literature reports more than 117,000 people engaged with its first hybrid event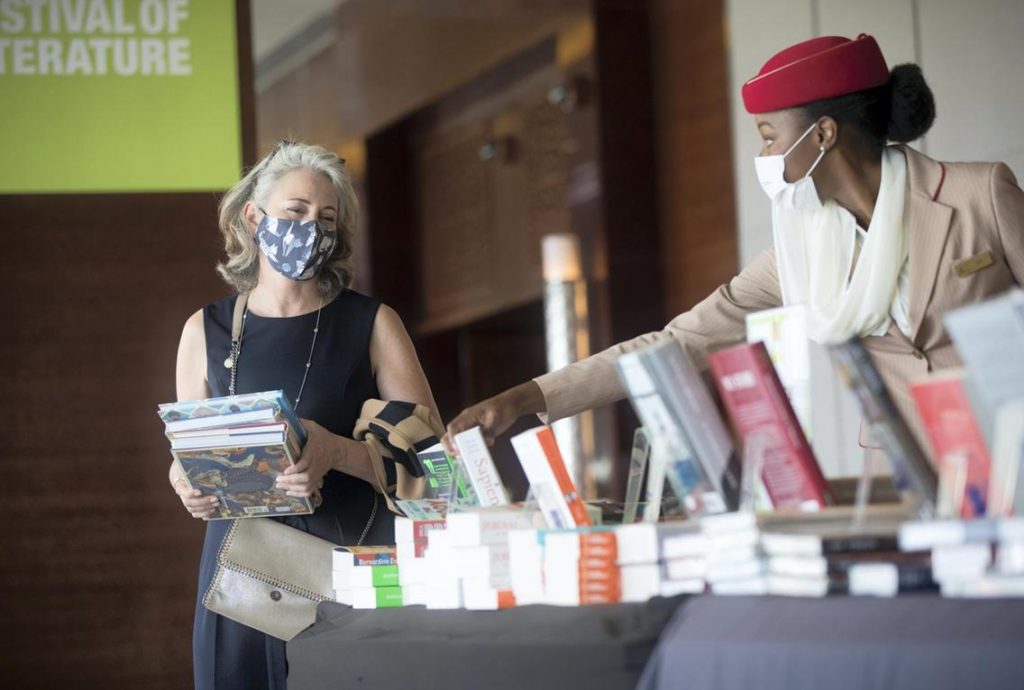 10 March 2021, UAE: The Emirates Airline Festival of Literature (29 January-13 February) is celebrating a hugely successful edition after reporting strong engagement for its first hybrid festival, staging a blended programme of virtual and physically present authors across three venues.
More than 90 authors took part in this year's festival, of which almost a third were Emirati. The balanced programme offered an equal split of Arabic and English language sessions. Socially distanced measures meant audience numbers were restricted compared with previous years, but thousands of visitors were still enabled to enjoy the live sessions in person, with others engaging via the digital pass.
International authors from 26 countries joined the Festival virtually, including Nobel Prize winner Malala, Elif Shafak, Amin Maalouf and Lemn Sissay, all of whom had sold-out live audiences attending the sessions with a locally based moderator on stage in Dubai.
The Festival has been praised for enabling many of the events to be enjoyed live, in a safe and socially distant way. The Festival's digital ticket, giving access to a dozen live streamed sessions including Malala and Elif Shafak, and a dedicated creative partnership link enabled creative professionals from as far afield as Algeria, Bahrain, Kuwait, Iraq, Saudi Arabia, Morocco, Jordan, and the USA to view the sessions.
Festival director Ahlam Bolooki said: "It has been an exhilarating few weeks, with some unprecedented challenges. Our amazing team rose to these beautifully, and I am so proud of them for making the Festival possible. The audiences who came during the three weekends were thrilled to be able to once again enjoy our unique Festival atmosphere and experience it safely as a live event. We've also had a wonderful response to the mix of sessions which enabled authors from all parts of the globe to be part of the festival virtually, when they couldn't join us physically."
Thousands of pupils from 82 schools throughout the UAE benefited from the Students' Edition of the Festival, featuring exclusive sessions from Ali Sparkes, Isabel Thomas, Julia Johnson, Ben Baily Smith & Sav Akyüz, Sam Copeland, Fatima Albreiki, Sanaa Chabbani, Obada Takla, and Nafya Alyasi, which were available to view from 7 February – 4 March 2021 for schools that registered to participate.
The Festival was held with the support of Founding Partners Emirates Airline and the Dubai Culture & Arts Authority, the Emirate's dedicated authority for culture, heritage, arts, and literature.
Badr Abbas, Senior Vice President, Commercial Operations Africa, Emirates Airline said: "This year's festival took place in a changed world, and even if part of the event went virtual, the community still managed to safely get together outdoors for live sessions, workshops and performances. This will always be one of Dubai's most dynamic events, and we look forward to supporting many more years of festivals that include a diverse range of topics and speakers, supported by the energy and enthusiasm of literary lovers."
For the first time the Festival took place across three weekends and three venues – Jameel Arts Centre (29-30 January), the big middle weekend at the Festival's home, the InterContinental Dubai Festival City (4-6 February) and Alserkal Avenue (12-13 February).
Dubai Culture & Arts Authority sponsored a 'Spotlight on Emirati Talent'.
HE Hala Badri, Director General of Dubai Culture, praised the great success of the Festival this year and the remarkable interaction of audiences. She said: "The Emirates Airline Festival of Literature once again embodied a great model for cooperation and integration in support of cultural and creative industries and creative talents. The event presented an innovative platform for cultural dialogue that allowed the world to be witnesses from different perspectives, enhancing Dubai's position as a thriving global hub for culture, writers and thinkers. Our Emirati talents stood out in this year's edition through a rich and fun programme that we had devoted to these distinguished talents on Emirati Day, as part of our efforts to enable participation everywhere and for everyone while also supporting local talents. We were very pleased to see the remarkable interaction of various groups of society with this day, with more many visitors having attended its activities, reflecting the vitality of our society and their interest in culture and creativity as well as providing a promising and bright future for the Emirati community based on knowledge and thought."
The 'Spotlight on Emirati talent day' included a discussion between HE Hala Badri and HE Major General Mohammed Ahmed Al Marri on the UAE's cultural visa for creatives. H.E. Noura Al Kaabi also spoke on the future of the Arabic language.
A highlight of the middle weekend of the Festival was the celebration of the new children's books from His Highness Sheikh Mohammed Bin Rashid Al Maktoum. There was also the launch of the book Young Voices of Arabia, celebrating the first regional winners of Voices of Future Generations.
The opening events at Jameel Arts Centre (29-30 January) included the 2020 Booker-nominated novelist Avni Doshi, art and design workshops and exhibitions, poetry, creative writing and more. The final weekend included HE Omar Ghobash, Lemn Sissay in conversation, and an inspiring festival finale celebrating poetry, with Dana Dajani, Lemn Sissay, Afra Atiq, Mark Fiddes, Shamma Al Bastaki, Danabelle Gutierrez and Zeina Hashem Beck.
The Emirates Airline Festival of Literature will return in 2022.
eThe Festival is held under the patronage of His Highness Sheikh Mohammed Bin Rashid Al Maktoum, Vice-President and Prime Minister of the United Arab Emirates and Ruler of Dubai.