Dialysis Centre to be built in Dubai.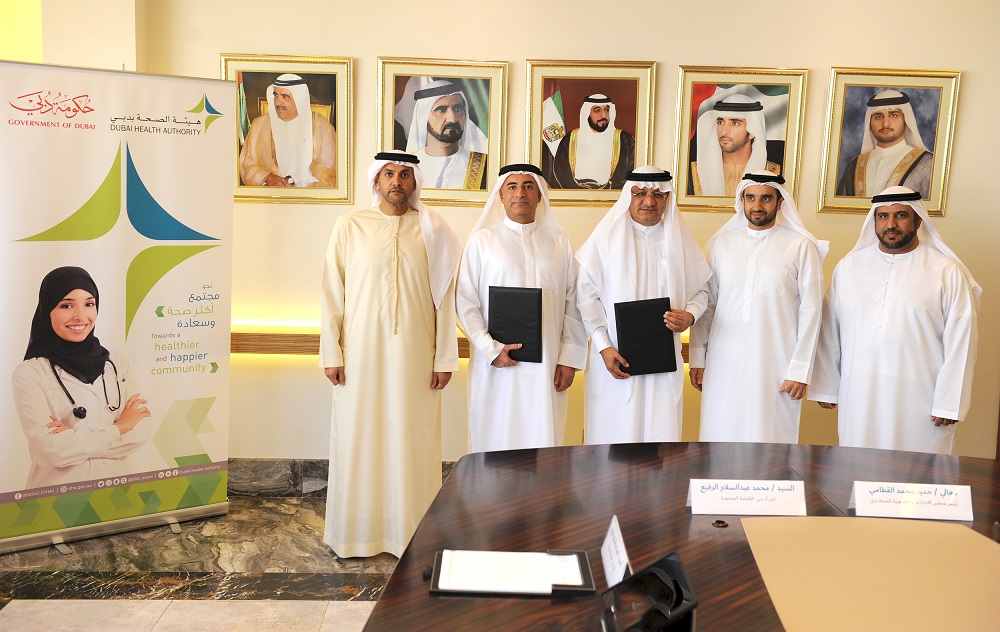 DUBAI-: The Dubai Health Authority (DHA) signed today an agreement with SRG Holdings Limited to build a specialized dialysis centre in Al Barsha area in Dubai. The funds for the design and construction of the Dubai Dialysis Centre will be donated by SRG Holdings Limited.
The Centre will have 60 rooms, of which 42 will be patient rooms and 18 will be private rooms to serve the needs of patients who are suffering from kidney failure and need dialysis. The centre will also provide state-of-the-art preventive services in the field of nephrology.
The agreement was signed by His Excellency Humaid Al Qutami, Chairman of the Board and Director-General of the Dubai Health Authority and Mohamed AbdulSalam AlRafi and Fahad Abdulsalam AlRafi of SRG Holdings Limited.
Al Qutami praised the corporate social responsibility initiative of the group and said it will directly help in improving patient access for such an important medical service. He said, "Health is an important sector and one that directly impacts all of us. The wellbeing of the community is of fundamental importance and providing them with specialized services across all medical specialties is in line with our strategy. We apprecaite the gesture of private sector entities that carry out such philanthropic initiatives for the betterment of the sector and to improve patient care."
The humanitarian philosophy of late Abdulsalam Al Rafi is an example for all and it is heartening to see his sons Mohamed and Fahad carry on his father's vision and philanthropic services."
Mohamed Abdulsalam AlRafi of SRG Holdings said:  "I am fulfilling my father's wishes to continue his humanitarian efforts especially in the  health sector and we hope to add more projects in the future."
His brother Fahad Abdulsalam AlRafi of SRG Holdings Limited seconded his opinion and reiterated the need to focus on projects in the health sector. Presently, in the DHA health facilities network, Dubai Hospital has a dialysis unit. As per 2016 statistics, the hospital performed about 33,000 dialysis sessions for about 250 patients. Of these, diabetics make up 45 to 48 per cent of the total number of patients on dialysis.