DHA and DP World launch state-of-the-art blood donation bus.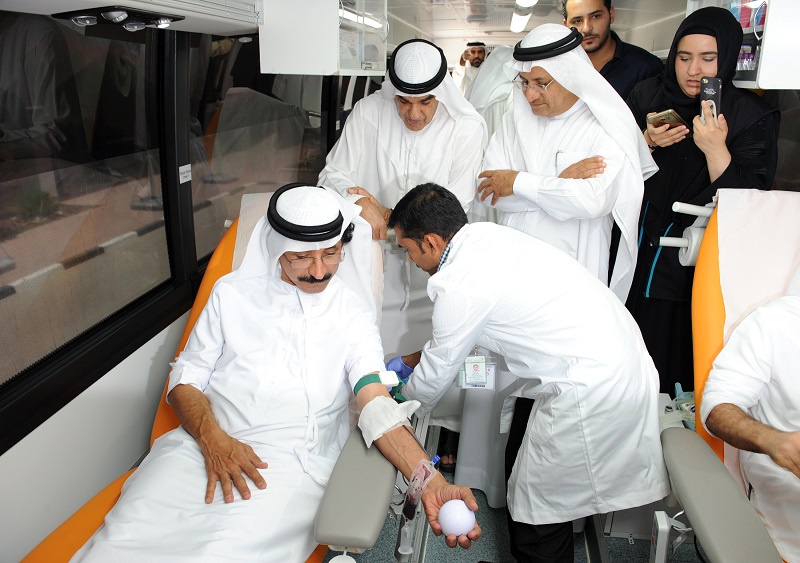 DUBAI- The Dubai Health Authority (DHA) and DP World launched today a fully-equipped mobile blood donation bus aimed to enhance blood donations and provide donors with added convenience. DP world donated the AED 1.79 million bus that will be used by the DHA-run Dubai Blood Donation Centre to collect blood during its mobile blood collection campaigns.
Humaid Al Qatami, Chairman of the Board and Director-General of the Dubai Health Authority, praised this humanitarian initiative and said that this partnership symbolizes true collaboration between the government entities in the Emirate. He expressed his appreciation for entities such as DP World, which undertake such initiatives, which are aimed for the benefit of the community.He highlighted that the mobile blood donation bus will help the Centre reach out to different sections of society interested in blood donation and will make it convenient for donors to give blood.
Sultan Ahmad bin Sulayem, Chairman of DP World, said: " In line with the vision of His Highness Shaikh Mohammad Bin Rashid Al Maktoum, Vice-President and Prime Minister of the UAE and Ruler of Dubai, we are keen to undertake initiatives that serve the interest of the community in Dubai. The health and rehabilitation sector is particularly important to ensure the wellbeing of our community and we want to contribute to develop this sector. We hope this initiative will help provide a further impetus to blood donation drives in the Emirate."
Al Muallem highlighted the importance of this donation, which will directly help increase the number of blood collected through mobile blood donation campaigns.Dr May Raouf, Director of DBDC said this state-of-the-art bus would help in collecting additional 70-80 units of blood per day.Al Raouf said: "This mobile bus will help us collect additional units of blood, which will directly benefit those in need of blood, especially Thalassemia patients."
The Blood Donation Centre is the central blood donation centre for the Emirate of Dubai. It supplies blood and blood products to all private and governmental hospitals in the Emirate of Dubai, this includes over 40 private and government hospitals in Dubai.
In 2016, the DBDC collected approximately 50,000 units of blood, making it the Centre to collect the highest units of blood in the country.Since the establishment of the Centre in 1986, it has been committed to serving the needs of the local communities by saving lives through voluntary un-paid donation.
The centre undertakes the responsibility of ensuring safe blood for thousands of people who receive life-saving blood transfusions every year. It is accredited by AABB and follows the highest level of quality standards for blood collection, processing and storage.
The Centre is located in the premises of Latifa Hospital and individuals interested in donating blood may contact the centre at 04 2193221 or alternately they may contact the DHA toll free number 800 342.