DBWC's Dare To Dream Summit concludes on a high note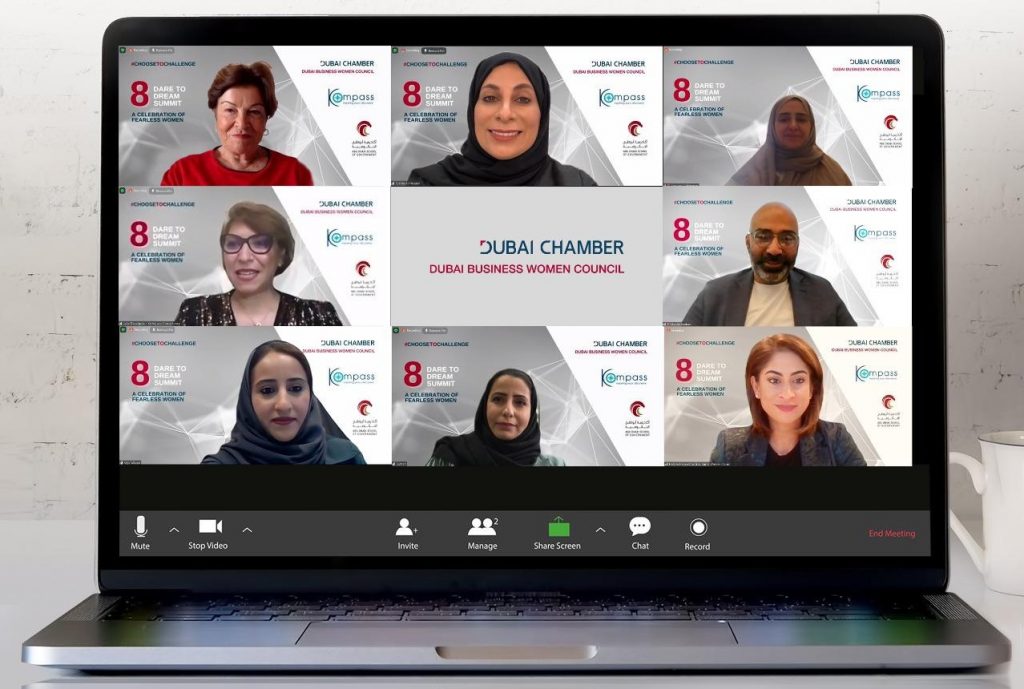 Dubai, March 9, 2021 : To mark International Women's Day and in recognition of the social, economic, cultural, and political achievements of women, the Dubai Business Women Council (DBWC), concluded the virtual summit "Dare To Dream: A Celebration of Fearless Women", which was held in cooperation with Kompass Consultancy and the support of Abu Dhabi School of Government (ADSG).
The theme for the summit is aligned with the United Nation's theme for IWD 2021, "Choose to Challenge", which encourages everyone to challenge and call out instances of gender bias and inequality. The Dare To Dream Summit featured women and men from different cultures and various walks of life, including the Middle East, Africa, Turkey, and Kosovo to highlight women's achievements and celebrate the men who have accelerated women's equality, diversity, and inclusion.
The full-day virtual event included interviews, panel discussions, case studies, presentations, and networking opportunities for the participants. 50% of the digital forum's ticket sales will be donated to IMBUMBA Foundation in South Africa, in support of their Caring 4 Girls, an initiative which provides sanitary products to vulnerable girls in South Africa.
The summit was a perfect platform for diverse speakers to share their accomplishments and highlight the challenges they have faced along the way, as well as to reinforce the importance of supporting women's personal and professional growth and demonstrating the difference women can make to the world when they feel empowered and supported. It was also an opportunity for participants to expand their networks by connecting with like-minded women who they otherwise wouldn't have the opportunity to meet.
The summit ended with a pledge by all participants to commit to the "Choose to Challenge" slogan and to support other women in 2021 and beyond to make the change.
The welcoming and opening remarks were delivered by Nadine Halabi, Business Development Manager, DBWC, and Leila Rezaiguia, Co-Founder & Managing Partner, Kompass, followed by an interview with Nurtan Kizildel, Ex Chairwoman of Ozkasikci Group, while Dr. May Laith Altaei, Acting dean, Abu Dhabi School of Government, and Zabna Amer, Programs Support Manager, ADSG, reviewed the ADSG's corporate culture in service of women's growth.
The summit's first-panel discussion was held under the theme "Current & Future Challenges for Various Industries", with the participation of Dr. Farida Al Hosani, Official Spokesperson for Heath Sector;  Farah Foustok, CEO Middle East & Board Member Lazard Gulf, UAE & Lazard KSA; Lamah Al Khayyal, Head of Management Development Services Division, Saudi Aramco, KSA; Serra Monnier Borancili, Restaurant Owner, France; Mihane Sadiku, Director Yalihan International, Turkey; Mucha Hazel Nyandoro, Founder & Principal Manelith, UAE.
For his part, Khodor Badran, Chief Human Officer at AZADEA, highlighted how he chose to challenge the Retail Sector in MENA to support women. Themed "Mindsets and Assumptions", present at the second-panel discussion were Micheline El Housseini Timbrell, Founder & CEO, Phi Management Group, Lebanon;  Anwaar Al Shimmari, Chief Innovation Officer, Ministry of Energy & Infrastructure, UAE; Fatima Bencheikh, Chief Technology Officer and Co-Founder of Koala Tech  Japan; Assala Ibrahim, International Master Dance Teacher, Researcher & Choreographer, Switzerland; Shahad AlWahaibi, SME in Retail Business, Oman; Özden Yiğit, Head of Human Resources Middle East, Bayer, UAE.
Another panel discussion on "Successful Millennial Women On Daring To Dream" was held with the participation of Suzan Shedid ElSayed, Senior Associate, BCG's Centre for Public Impact, UK; Alaa' Mansour, Regional Field Clinical Specialist, Johnson & Johnson, Kuwait & Lebanon, UAE; Sabine Kuhn, Co-founder of Talent & Truth, Namibia.
In turn, Richard Mabaso, Founder of IMBUMBA Foundation, South Africa, shed light on the significance of philanthropies in accelerating gender equality, while Ben Bengougam, SVP HR EMEA, UAE, discussed how he challenged the hospitality sector to support women.
Nadine Halabi, Business Development Manager, DBWC, said that International Women's Day is a global day celebrating women's status in various walks of life and recognizing the great role of women in building families, societies, and nations, commending the tremendous role the Emirati and expat women play in achieving the wise leadership's vision in fostering leadership and sustainability concepts.
Stressing the DBWC's commitment to supporting and empowering women in all personal and professional areas, Halabi explained that the summit has clearly demonstrated women's ability to succeed and compete at various levels and how they can overcome the challenges they face along the way, adding: "The Choose To Challenge theme is a realistic slogan that reflects women's ability to get through hardships and challenges and to pursue, like men, their professional success and growth in all corporate positions."
Leila Rezaiguia, Co-Founder & Managing Partner, Kompass, "For 8th March 2021, I chose to challenge myself and dared to dream big to bring this virtual summit to life with like-minded professionals in my network. My purpose in life is about supporting and inspiring the current and future generation of female leaders through coaching and mentoring as we are all born with a gift and if you can dream it, you can do it."
Established in 2002, under the umbrella of the Dubai Chamber of Commerce and Industry, the DBWC is the UAE's leading platform for the personal and professional development of businesswomen in the Emirate of Dubai. Since its establishment, the Council has dedicated its efforts to encourage women to play an active role in building the country and stimulating sustainable development.