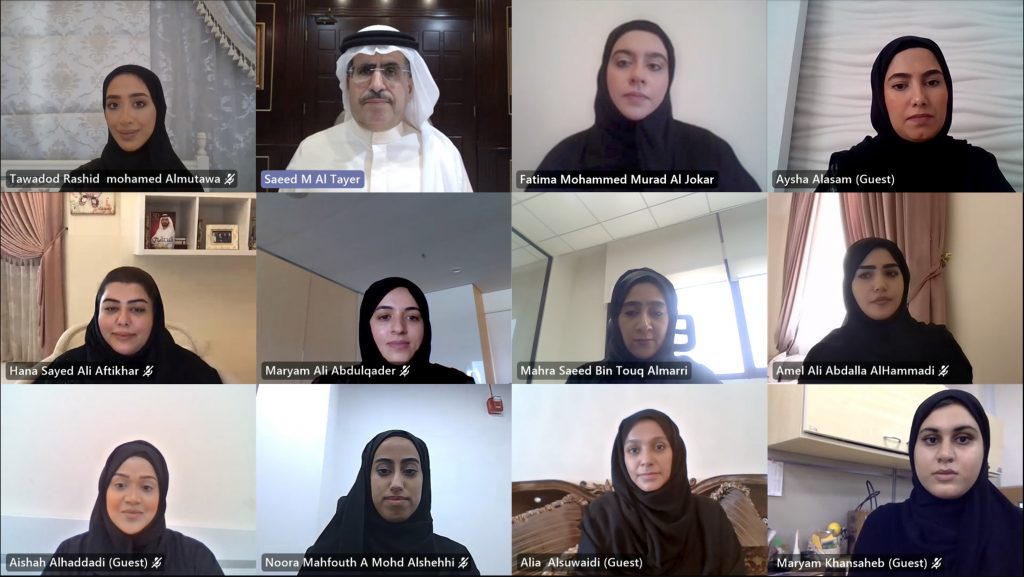 Dubai, UAE, 9 March 2021: HE Saeed Mohammed Al Tayer, MD & CEO of DEWA, has launched the 'Choose to Challenge' programme to highlight the success stories of DEWA's female employees and their achievements. It aims to highlight successful and inspirational female employees. The launch was during HE Al Tayer's meeting with DEWA Women's Committee virtually to review the Committee's achievements and listen to its ideas, suggestions and opinions.
At the beginning of the meeting, Al Tayer congratulated the Committee on International Women's Day, which is observed on the 8th of March every year. He praised the efforts of female employees in supporting DEWA's leadership and excellence as well as consolidating its global position. Al Tayer affirmed his support for providing all capabilities for women. DEWA is one of the most prominent national organisations that support women in the energy sector, especially renewable and clean energy and sustainability. It provides competent opportunities for men and women and focuses on empowering women in top and technical positions. This makes DEWA a role model for all utilities and entities in the UAE and abroad.
"DEWA follows the approach of the late Founding Father Sheikh Zayed bin Sultan Al Nahyan, may his soul rest in peace. This approach is supported by the vision of His Highness Sheikh Khalifa bin Zayed Al Nahyan, President of the UAE; and His Highness Sheikh Mohammed bin Rashid Al Maktoum, Vice President and Prime Minister of the UAE and Ruler of Dubai; Her Highness Sheikha Fatima bint Mubarak, Chairwoman of the General Women's  Union, Supreme Chairwoman of the Family Development Foundation, and President of the Supreme Council for Motherhood and Childhood (Mother of the Nation) to empower society through empowering women, promote gender equality, inspire a competitive environment based on competency, excellence, dedication and recognition. This is according to the highest local and international standards," said Al Tayer.
Fatima Mohammed Al Jokar, Chairperson of DEWA Women's Committee, briefed Al Tayer on its activities over the past years to empower women. DEWA female employees have received more than 50,000 training opportunities over the past three years in addition to 63 educational scholarships. DEWA also mitigated the financial burden of marriage for 45 female employees through the Mass Wedding (Anwar Dubai) organised annually by DEWA and helped 35 female employees perform Hajj. Moreover, DEWA's female employees run 50 social programmes among a total of 67 social programmes at DEWA. DEWA's female employees manage 60% of awareness, environmental, conservation and community communication programmes. DEWA was one of the first government organisations to establish nurseries in support of working mothers. Today, it has the largest number of kindergartens among government entities in Dubai with a capacity of 175 children.
Al Jokar noted that DEWA currently has 1,949 women in its workforce, 80.5% of them are Emirati. This includes 671 female engineers and technicians at DEWA, while 266 women hold managerial positions. 32% of employees at the R&D are Emirati female employees, with most of them highly educated in scientific and engineering areas.
"DEWA's female employees participate in several volunteering activities inside and outside the UAE. The total number of volunteering hours in 2020 has reached more than 7,999 hours in 22 social and humanitarian initiatives. Thanks to the top management's support, the Women's Committee continues its efforts to motivate the female employees to succeed and turn challenges into opportunities. This helps them keep pace with all changes and balance between their professional and personal lives. The happiness of female employees towards the Women Committee's activities reached 96% in 2020," said Aysha Al Asam, Vice Chairperson of DEWA Women's Committee.