Cleveland Clinic Abu Dhabi's Academic Office Launches New Programs for Healthcare Professionals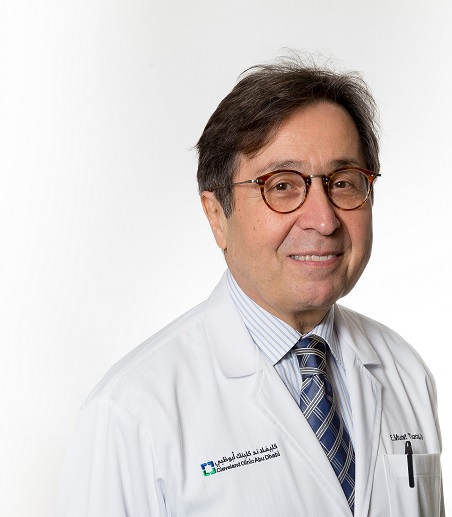 ABUDHABI- Cleveland Clinic Abu Dhabi is enhancing its academic program throughout 2018, as it aims to create more learning opportunities for clinicians and encourage more young people to pursue careers in medicine.
The hospital, which opened in 2015, was officially designated and licensed by the Department of Health as a research and teaching facility in 2017, a key moment in its journey to become a pioneering Academic Medical Center in the region.
In the United States, Cleveland Clinic has a nearly 100-year-old history of academic research excellence, dating back to 1921, the year it was founded.
Dr. Murat Tuzcu, Chief Academic Officer at Cleveland Clinic Abu Dhabi, said: "Our founders realized the importance of research and education and believed they are cornerstones of excellence in patient care. Their vision positioned Cleveland Clinic as a world leader in healthcare and made possible breakthrough advances in the diagnosis and treatment of complex medical problems. Working with our partners in Abu Dhabi, we believe we are in a strong position to contribute to the development of a sustainable healthcare system in the long term."
Dr. Tuzcu joined Cleveland Clinic Abu Dhabi from Cleveland Clinic's main campus in 2015 to help build the hospital's academic infrastructure and lead its research and education operations. He has nearly 40 years of clinical experience, has co-authored more than 400 peer-reviewed publications, and was named by Thomson Reuters as one of the most highly-cited researchers (top 1%) in the world for the last decade.
Cleveland Clinic Abu Dhabi's Academic Office has successfully recruited a world-class faculty to lead a range of programs for healthcare professionals at all stages of their careers. Since receiving designation as a teaching hospital, it has launched a series of programs aimed at students in high school through to practicing physicians.
The first program to launch was the observership program that enables candidates – ranging from healthcare students to practicing clinicians – to shadow the hospital's experts and observe firsthand the day-to-day tasks and responsibilities of a specialized trained clinician.
Cleveland Clinic Abu Dhabi has also started a clinical placement program that gives health professional trainees with competitive academic credentials the opportunity to join one of the consultant physicians, nurses, allied health professionals, or pharmacists. Trainees can spend four to twelve weeks at the hospital receiving hands-on clinical training under direct supervision and gaining exposure to the unique Cleveland Clinic model of patient-centered healthcare delivery at the cutting edge of medicine.
The third program is the research elective program that provides health professional students with the opportunity to be paired with a clinical investigator and to take part in clinical research conducted at Cleveland Clinic Abu Dhabi. The program duration is also four to twelve weeks under supervision, and provides trainees with valuable and insightful clinical research experience.
Cleveland Clinic Abu Dhabi has launched a physician internship program in 2017 and is currently planning the launch of physician residency programs later this year. CCAD has also launched an international physician internship that takes place in Cleveland Clinic USA. Currently the program has two UAE national medical students who were at the top of their medical school class and selected by their deans to apply.
"Cleveland Clinic Abu Dhabi's vision from day one has been to uphold Cleveland Clinic's mission of providing better care for the sick, investigating their problems through research, and further educating those who serve. We've been very fortunate to attract a high volume of exceptional students at different stages of their academic careers to the programs we've launched to-date. This has enabled us to be selective and stay true to Cleveland Clinic's standards when offering students spots in our programs," said Dr. Sawsan Abdel-Razig, Director of Medical Education at Cleveland Clinic Abu Dhabi.
In addition to clinical training programs, Cleveland Clinic Abu Dhabi has formed partnerships and collaborated with several healthcare and educational institutions in the UAE to increase the number of UAE national healthcare professionals and contribute to a sustainable healthcare sector in the country.