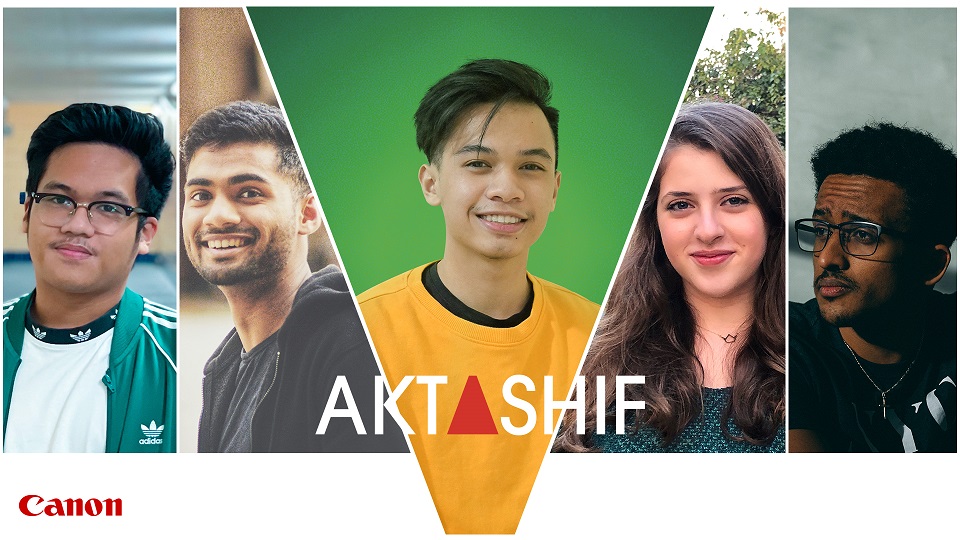 Dubai, United Arab Emirates, March 10th, 2021:  Canon Middle East (CME), a provider of imaging technologies and services, has announced the winners of its first season of the AKTASHIF program during a virtual awards ceremony held recently and attended by members of Canon executive team, the judging panel, the runner ups and the grand prize winner of Aktashif.
The one-of-a-kind program is aimed at recognizing the potential of the next generation of storytellers, content creators and print enthusiasts in the region to help turn their passion for photography, videography, as well as printing into a rewarding business and career. The program helps winners to explore business opportunities or define a career path based on their passion and interests.
Mai Youssef, Corporate Communications and Marketing Services Director, Canon Middle East, said: "We congratulate the winner and all of the participants and runners-up of this year's AKTASHIF program. We are proud of their achievements, having bested over 90 submissions which emerged from over 400 registrations. The success of AKTASHIF is a testament to the vibrant and creative youth community in the UAE and the region, and we are keen to continue supporting them reach their dreams by unleashing their creativity."
"Leading with our Kyosei philosophy, which means living and working together for the common good, Canon believes in the importance of investing in the younger generation and providing them with the support and opportunities to fully realize their potential. We believe this initiative effectively attracts the young generation to pursue their passion in photography, videography as well as printing. We look forward to seeing the winners shape their career paths, and to expanding the program in the coming years," Youssef added.
Richard Galapate, a 19-year-old university student who works as a part time graphics editor, was announced as the winner of the competition. He won AED 15,000 worth of Canon products, AED 15,000 in cash, and a one-year membership in a local entrepreneurship incubator to help kickstart his creative business idea.
On winning the competition, Galapate said: "I found out about AKTASHIF through a Facebook Ad, and I joined because I really like to create and work on videos. When I saw there is also a business aspect to the competition, I was even more convinced to participate as it is a topic that I am interested in. This has been a really enriching experience, during which I have learned a lot of things and gained confidence to pursue a career in photography and videography"
Over 60 per cent of the regions' population is comprised of youth under the age of 25, making it one of the youngest in the world and a driving force for development and growth in both the economic and social sectors. Today's youth face the challenge of complementing their education with necessary skills required to ensure success in their chosen careers. The AKTASHIF program was launched to drive the entrepreneurial spirit of the youth across the region to discover their passion, and to equip them with the tools and techniques to unleash their creative side by providing them with the necessary training, mentorship and guidance to kickstart their future.
Judges of the competition included Mitch Sinclair, Executive Design Director, IDEO/Creative Director, Palmwood; Mark Stobbs, Director of Programming and Outreach, Dubai Design District; Thomas Dominguez, Senior Manager – Strategy & Industry Development, in5; and Muhammed Muheisen, National Geographic photographer, Canon ambassador and a two-time Pulitzer Prize winning photographer.
Apart from Galapate as the grand prize winner of the programme competition, three UAE residents namely, Yedhu Gopan from India, Yosef Futsum from Eritrea, Hanz Villarba from the Philippines, and Tracy Khawand, a Lebanese based in Saudi Arabia were the finalists of the four modules.