BMW AGMC launches the BMW M Experience at Dubai Autodrome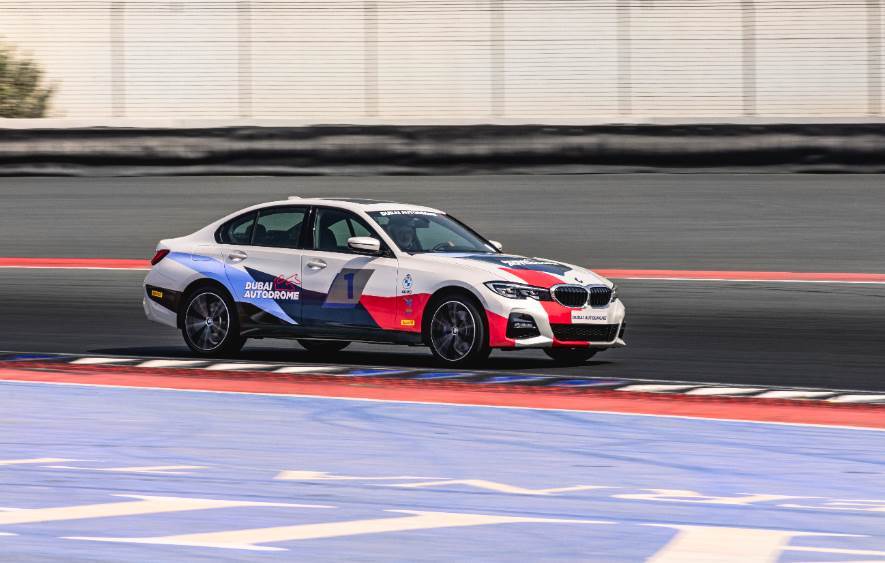 Dubai, UAE: AGMC, the official importer of BMW Group vehicles for Dubai, Sharjah, and the Northern Emirates, has expanded its engagement in local motorsport announcing its one-year partnership with Dubai Autodrome.
The new partnership will see AGMC providing the facility with a total of 10 vehicles comprising of the BMW M2 Competition, the BMW M3 Competition, the BMW M4 Competition, the BMW M5 Competition and the BMW 330i.
Located conveniently next to AGMC's Motor City Showroom, Dubai Autodrome is an ideal location for sports car enthusiasts to try out BMW M, BMW's motorsport range, in a safe and controlled motoring environment.
Equipped with an FIA sanctioned 5.39km circuit, Dubai Autodrome has hosted world-class race car events, including rounds of the FIA GT Championship, European Touring Car Championship F3 Asian Championship, Asian Le Mans and the renowned Hankook 24H Dubai Endurance Race.
This partnership reinforces BMW's long-standing involvement in the motorsport community and the legacy of BMW M. Not only are the models praised for their incredible performance on the racetrack dating back to the 1960s, but over time they have evolved into a world-class household name and one of the most sought-after sports cars in the automotive industry.
The BMW M Experience at Dubai Autodrome will provide guests the opportunity to experience the joy of driving the impressive models across a range of driving experiences. The venue will also be home to exclusive events for BMW and MINI club members and brand enthusiasts.
With a focus on safety, guests can also participate in an in-depth three-and-a-half-hour safety driving course. Here, instructors will teach and guide guests to become even better drivers while pushing the BMW M vehicles to their limit in a controlled environment. During the course, guests will practice essential motorsport driving techniques, such as seating position, posture,  accelerating, braking and cornering ,, Upon completion, participants will receive feedback and a certificate.
Each experience has been specially curated to highlight the power, adrenaline, key features of each vehicle. Guests can also opt to experience the models from the passenger seat. The M5 Competition will be used as the perfect family experience – for the first time in the region the famous Nürburgring Ring Taxi is now at Dubai Autodrome for all to enjoy!  Individuals and families can book their spot and put their bodies through g-forces that only a roller-coaster can compete with. For larger groups looking for the ultimate driving thrill, BMW M Experiences will also cater to corporate and incentive groups and can be used as a teambuilding activity, making this a very unique MICE offering.
Ayhan Olcer, CEO of AGMC, says, "We are thrilled to announce this fruitful partnership with Dubai Autodrome. The BMW M philosophy underpins a perfect blend of outstanding driving dynamics, agility and precision, suitable for the racetrack and everyday use. With a strong motorsport heritage, BMW AGMC is an ideal vehicle partner for Dubai Autodrome, attracting automotive enthusiasts from the UAE and around the world."
"Additionally, partnering with one of the region's most renowned motorsports facilities will bring tremendous value to both parties in multiple areas. Perfectly situated across from our new Motor City showroom, we can now ensure both our loyal customers and everyday car users are able to fully experience everything BMW and MINI have to offer."
Motorsport remains an integral part of BMW AGMC's DNA and this partnership continues to underline its contribution to the UAE's ever-growing motorsport community. Deliberately positioning itself as the home of UAE national motorsport, Dubai Autodrome, continues to develop and promote UAE motor racing at a national level, thus AGMC is proud to partner with Dubai Autodrome to support this overall goal together.
Faisal Sahlawi GM of Dubai Autdrome added, "Dubai Autodrome proudly welcomes BMW AGMC both as our new neighbour in Motor City and as our partner on track.  This collaboration introduces an exciting new range of BMW experiences for our guests to enjoy, further enhancing Dubai Autodrome as one of Dubai's top entertainment venues."
The BMW M Power Experience at Dubai Autodrome was designed to show off the power and adrenaline that BMW M Vehicles embody. Perfect for anyone looking for an adrenaline rush and to fully experience BMW's most sought-after vehicles at the region's first fully-integrated motorsports facility, it is sure to leave guests with a smile on their face and a host of  Instagrammable memories.