Arab International Paediatric Congress Discusses Importance of Early Diagnosis and Innovation in Paediatric Care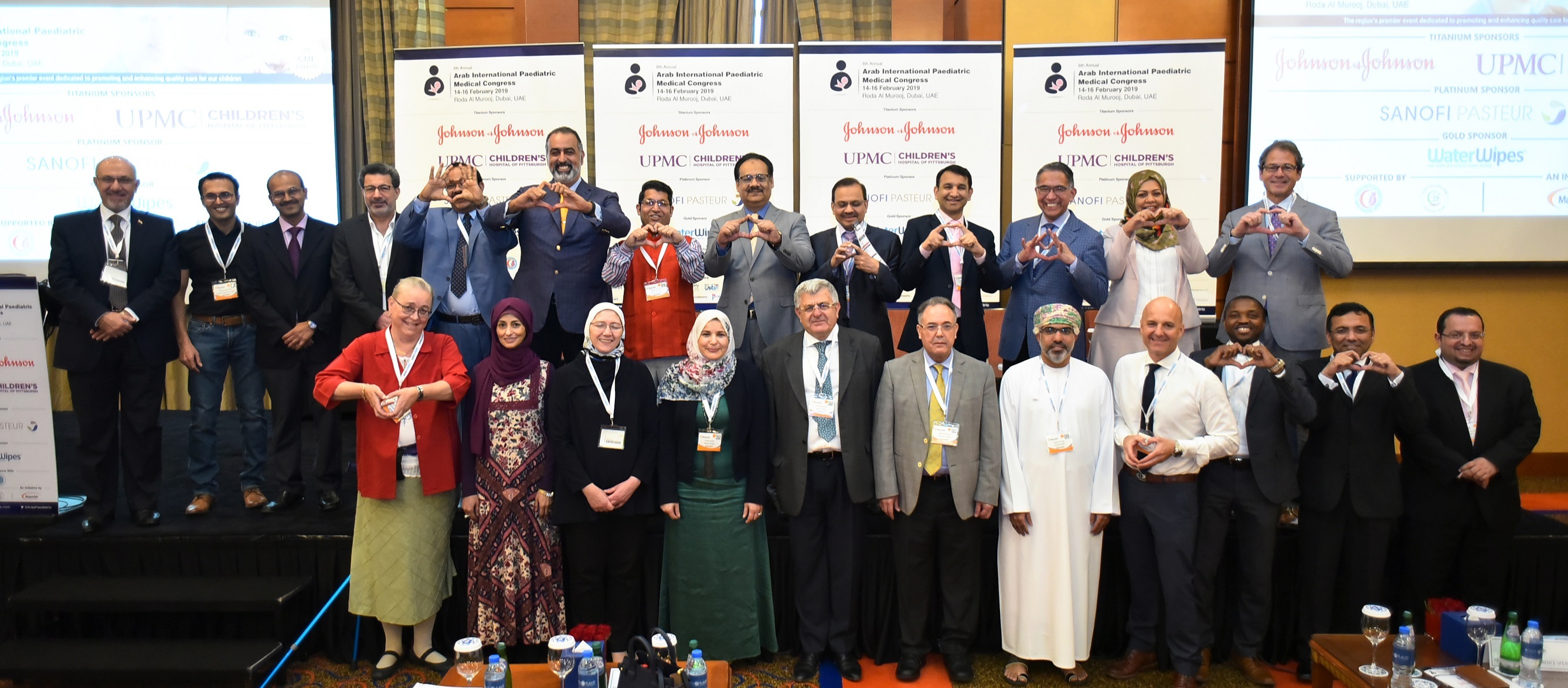 DUBAI- The sixth Arab International Paediatric Congress brought together over 800 International child healthcare professional and experts, who discussed the importance of early diagnosis, rare diseases and innovative treatments methods on 14-16 February at Roda al Murooj in Dubai.
The two-day conference followed by specialized workshops on February 16, highlighted the latest and best practices in the field of children's healthcare and shed light on treatment and management of various condition in children. Leading international experts discussed the importance of early diagnosis by the paediatricians and treatment of various conditions from common fever, to Epilepsy, ADHD, to conditions that are more chronic such as Hypoplastic left heart syndrome and Multiple sclerosis.
According to Dr. VictorMorell, MD, Co-Director of Heart Institute at UPMC Children's Hospital Pittsburgh, about one out of every 100 children born have a heart problem. In his presentation on the history and current management of hypoplastic left heart syndrome at University of Pittsburgh he noted that there is a lot of that need attention, and it is important to make notice early so that you can make the diagnosis easily. In case of hypoplastic left heart syndrome, if the diagnosis is not made prenatal or soon after birth, the baby might die. One of the biggest success in these cases is the ability to diagnose prenatal.
Rare diseases was another major topic at the event. Dr. Arif Khan, Consultant Paediatric Neurologist CEO of Neuropedia Children's Neuroscience Centre in his presentation stated that there are over 7,000 distinct rare diseases worldwide. He expressed hope that with the advancement of diagnosis technologies and wealth of research today we are at the doors of treating many conditions that had no treatment in the past.
Dr Zeinab Alloub, Consultant Paediatrician – Neurodevelopment, Al Jalila Children's Specialty Hospital in her presentation noted that typically, in child and adolescent clinics around 80% of ADHD cases are male, as well as around 50% of patients are preschoolers. According to her, unmanaged childhood ADHD may give rise to increasing complications as the child grows and result in a adulthood with underemployment, Drug dependence, as well mental issues such as hopelessness, frustration, and depression.
The three-day event discussed other topics including vaccination strategies, non-accidental injuries, prevention of communication diseases, Food Allergies, and Smartphone tablets and Autism etc. in children.
Dr. Yasser Nakhlawi, Director of Clinical Affairs and chairman of Paediatrics and Neonatology at Al Zahra Hospital, UAE, who also chaired the Congress, opened the event, which was organised by Maarefah Management. The event was supported by renowned institutions including, Al Jalila Children's Specialty Hospital, Iraqi Paediatric Society.  And sponsored by Children's Hospital of Pittsburgh in the United States, Johnson & Johnson, Sanofi Pasteur, and WaterWipes.