Downtown Dubai Brings Mesmerising Street Fest this DSF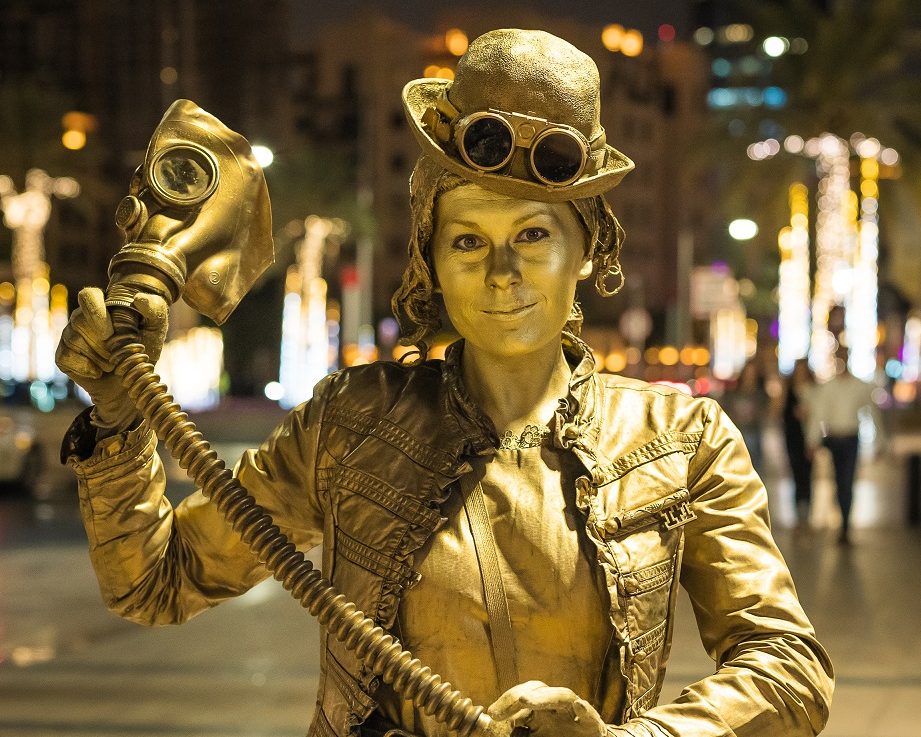 Dubai: This 25th Dubai Shopping Festival (DSF), witness an unprecedented array of street acts, performed by some of the world's leading names, including Guinness World Records holders, only at Downtown Dubai.
With 30 daily performances, including levitating human statues, mesmerising magical acts and awe-inspiring costumed set-pieces by 'live statues', Downtown Dubai Street Fest is your go-to venue for the most memorable family outings and never-before-experienced Instagrammable moments.
Until Jan. 19, the 200 plus performers, from around the world, will delight you with their acts. Headlining the 'live statue' acts are renowned performers such as the Golden Fairy, all the way from Denmark, who casts light onto people's faces and into their hearts to make sweet connections.
With five world records to his credit, Staticman is the pioneer in the art of living statues and will mystify you with his timeless stillness. Aaaaachis, the duo from Spain, will surprise you with an unusual living statue act, while Mr. Muffin and Cheery are a funny couple who have lost their heads for each other – well, literally.
He Who is Red will awestruck you with his magical manipulation of a crystal ball while the Steampunk Lady keeps watches hidden in her costume using them to steal time. The Windy Man is a fun character, the parody of a urbanite caught in the wind, creating the impression of time standing still.
Aladdin Levitation, as the name says, is a human statue that floats mid-air, and Charlie Chaplin returns to charm you. A one-man show that combines circus, theatre, comedy and music is the forte of Mauranga from Spain, and Chriss Cross presents masterful magic tricks and escapology stunts, and The Charming Jay likes classical magic and eccentric jazz – an unusual combo for a live act.
Furthermore, Light Art DXB, a breathtaking installation that combines the elements of movement and light will be on display until Feb. 13 at Burj Park Plaza. Presenting a spectacular kaleidoscope of light, it features the display of six dynamic sculptures, created through rotating mirrors complemented by strategic lighting.
Do not miss exploring the Market Outside the Box (Market OTB), a live showcase of the hottest up-and-coming local, regional and international musicians and bands, as well as fashion and food vendors, which runs until Feb 1. Discover one-of-a-kind firsts, especially by homegrown brands; discover quirky food concepts; stock up on the latest fashion; and revel in the best of music by live musicians and DJs. An enclosed experiential Game Zone will take up to 24 gamers, and a dedicated Kids Zone will make the little hearts race with adrenaline.
Further, Ice Golf by KidZania® will continue to enthrall visitors with a fun game of pitch and put golf – on ice – while bouncy castles and giant-sized games will delight the little ones.
You can start your experience at Downtown Eats, a container box park with home-grown eateries. Savour your taste buds and dance to tunes played by live musicians.
With over 2,000 parking spaces available along the Boulevard, from Burj Plaza to Dubai Opera, accessing the festivities is easy. There are additional parking slots in The Dubai Mall as well as over 3,000 new spaces at The Dubai Mall Zabeel. Follow @DowntownDubai for more details