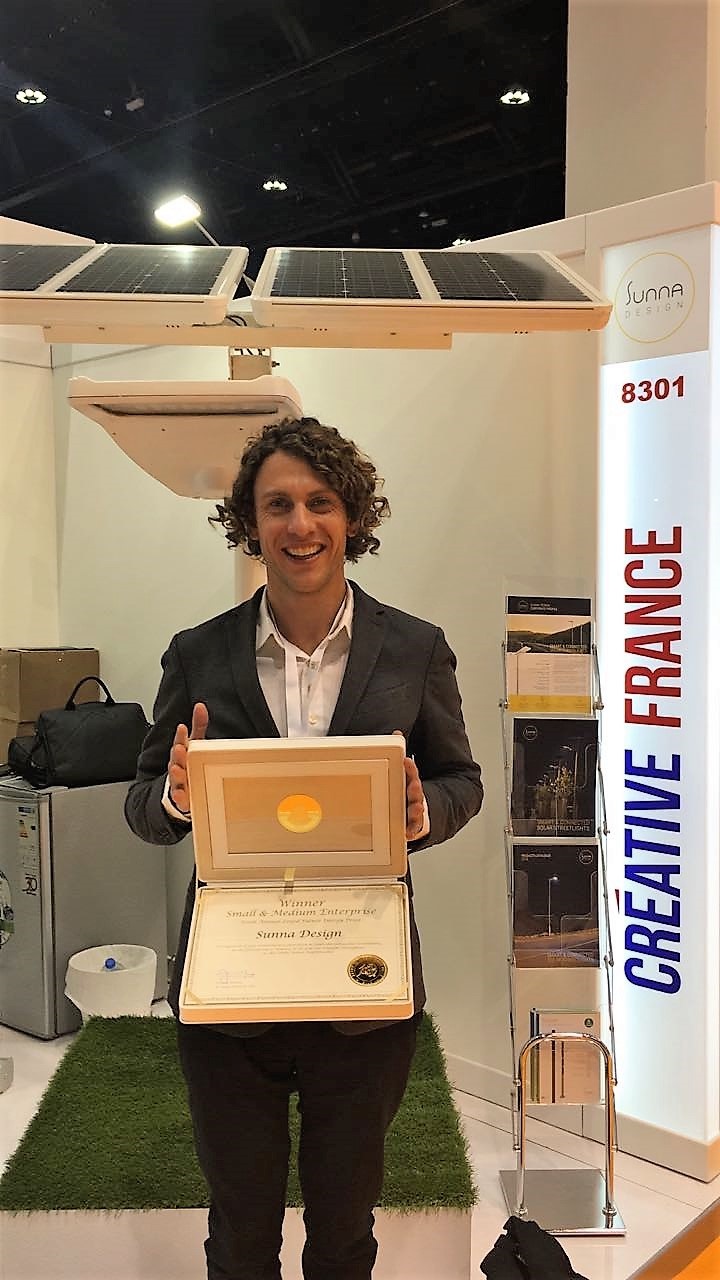 ABU DHABI – Selected from over 1,180 attendees, the French Clean Tech company Sunna Design was honored recently to win the Zayed Future Energy Prize in the "Small and Medium Enterprise" category, on the sidelines of the 11th World Future Energy Summit (WFES). The four-day event is one of the world's leading meetings in the renewable energy sector. The Zayed Future Energy Prize, as an essential part of the summit, rewards the most innovative initiatives in the field of renewable energy.
Receiving the award is, for Sunna Design, a form of recognition of the hard work of its teams, with the aim of providing the best solar street lighting solutions. The battery developed by Sunna Design is designed to last 10 years in harsh climatic conditions – whether desert or intertropical – with temperatures up to 70 °C.
"Sunna Design's technology is not only transforming the quality of life of rural communities, it is also contributing to the evolution of future smart cities," said Dr Nawal Al-Hosany, Director of the Zayed Future Energy Prize.
According to Thomas SAMUEL, founder and CEO of Sunna Design: "This award provides, once again, a proof of the reliability of our technology. Already deployed in more than 40 countries, our solar street lighting solutions are adapted to both Northern and Southern countries, developed as well as emerging markets. We now take this award as a sincere encouragement in our future projects. Thus, we fully realize the scope of our responsibilities as a winner and seek to positively impact the global economy."
With this new award, Sunna Design further strengthens its international credibility, which is no longer to prove. This award is also an opportunity to improve our positioning in the Gulf market and more particularly in the United Arab Emirates, which is a strategic and promising market for us. The country, in full energy transformation, aims at meeting 44% of its energy needs with the use of renewable energy. Significant efforts have already been made, as the UAE's expressed its intention to invest $ 150 billion in energy diversification.
As a result of their commitment and technological leadership in the renewable energy sector, the UAE is a stimulating market for us, with promises of future achievements. It is in this vein that we want today to be the key player that will push the Emirates towards this transformation. Our participation in the World Future Energy Summit is therefore an important milestone in the conquest of the UAE market, but also beyond, because we are convinced that an intelligent partnership with UAE players could put us in a good position to conquer together global markets, particularly very high-potential West African markets. 
About Sunna Design and its strategy
Sunna Design is a start-up specialist in autonomous and intelligent LED lighting. Sunna Design develops and manufactures in France a range of autonomous products resistant to extreme weather conditions.
An offer adapted to emerging countries. With technology at the crossroads of solar, energy storage, LED lighting and digital, embedded in standalone lamps and resistant to extreme environments, Sunna is meeting one of the major challenges of developing countries: providing access to street lighting and its security, as well as its social and economic benefits, to a large part of the population.
Innovative technologies at the service of smart cities and connected villages.
Streetlights 4.0. Sunna Design is positioning its autonomous solar streetlight networks as the future backbone for grafting Smart City's connected services. This infrastructure provides comfort and safety, even in the event of a power outage or climatic disaster. Sunna Design enhances a technology protected by fourteen patents and designed to guarantee a lighting service with unmatched lifespan and cost control. With a complete and recently renewed range, Sunna is now working on tailor-made solutions that meet the specific needs of its various partners, particularly in related markets such as security or street furniture.
Moon. Moon is a revolutionary offer that has been successfully tested, with 95% of customers satisfied to date on the first pilots in Senegal. It is a "pay as you go" kit that gives rural populations access to quality solar lighting and also to a smartphone opening on a multitude of adapted digital contents – educational, health or agricultural optimization programs – and financial inclusion.
First class partnerships. With over 12,000 solar streetlights sold worldwide in over 40 countries, including partnerships with companies such as Schneider Electric, Thorn Lighting, Solektra and its Akon Lighting Africa initiative, Sunna Design has become the benchmark of its sector. In particular, the company inaugurated a manufacturing unit for its products in Mali in January in partnership with Solektra, with the aim of serving the regional market estimated at more than 100,000 solar street lights over the next five years. Sunna Design aims to replicate this type of joint-venture project with local leaders in half a dozen target countries in the next two years. This business model transfers skills and creates locally qualified jobs while reducing product costs.