The New 2017 Hamilton Ventura Collection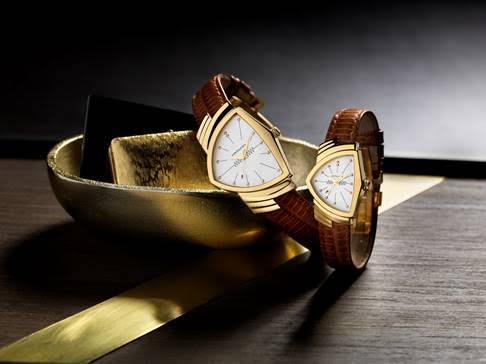 In 2017 Hamilton commemorates the 60th anniversary of its iconic Ventura watch line with the launch of three reinterpretations of the original model.Introduced on January 3rd, 1957, the Ventura was not only progressive in design, but also made watchmaking history as the world's first electrical, battery powered watch.
A revolutionary movement in a revolutionary design, the Ventura was unique in many ways and attracted some famous watch fans such as Elvis Presley himself who wore it in Blue Hawaii in 1961.
Mirroring the unconventional case design detail and distinctive features of its ancestors, in 2017, the Ventura Classic and Ventura Elvis80 Skeleton form the backbone of a magnificent trio in which each variation symbolizes the past, present and future of Ventura.  And as a remembrance of things past, each dial on the Ventura Classic bears a large electricity symbol as a reminder of the breakthrough innovation that the world's first electrical watch in 1957 represented. Now available at Rivoli and Hour Choice stores across the UAE, the watch is priced at AED 3,575.