Stopper wellness at Six Senses Zighy Bay's Alchemy Bar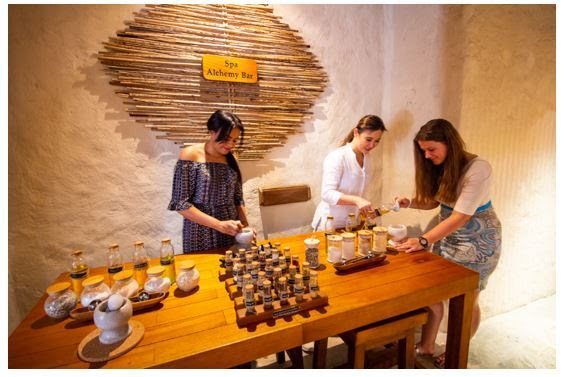 Dubai: The abundance of wellness at Six Senses Zighy Bay is constantly evolving, and the resort now offers guests the opportunity to create their very own bottle of goodness by skilfully blending ingredients to create wonderful potions and cures to enhance life. Guests will work with a variety of locally sourced aromatherapy herbs and products, feel their textures, smell the wonderful aromas and create their product for either a body scrub, body wrap, face and hair mask, and even a lip balm.
These fascinating workshops which run under expert guidance are available to all resort guests in a 60-minute hands-on session. Guests learn about the distinct properties of the herbs and how to select the right ingredients for their blends. As would be expected, the emphasis is on local, in season, 100 percent organic ingredients from the garden and surrounds. Guests can choose to make two to five potions with prices that range between US$26 to US$52.
The Alchemy Bar at Six Senses Zighy Bay's spa involves a four-step process:
1 – Guests are asked to select their base ingredient according to their skin type (Zighy Salt, Sugar, Oats, Puff Rice, Sesame Seeds)
2 – Guests learn about the herbs (antibacterial and antiseptic, antioxidant, skin toning and firming, anti-aging, relaxing)
3 – Guests blend all the ingredients using the right oil for their skin's absorbent capacity of the skin (rice bran, grapeseed, virgin coconut, castor, flaxseed)
4 – guests finish their product by adding two-three drops of their preferred essential oil for mood and aroma enhancement (Eucalyptus, Lavender, Lemongrass, Mandarin, Spearmint, Tea Tree)
Once prepared, these products can be used by the therapist in the treatment room for a fresh bespoke organic journey. Moreover, guests will have learned how to create recipes that lighten, brighten, scrub and tighten at their home.
Here's a sample recipe for a polish that helps tone and frim the body:
Grapeseed oil (base oil)
Zighy Salt (detoxifying)
Ginger (boost body circulation)
Juniper Berries (Reduce cellulite)
Coffee powder (Toning)
Lemongrass essential oil (Diuretic)