SOUGHA concludes successful participation at Liwa Date Festival 2018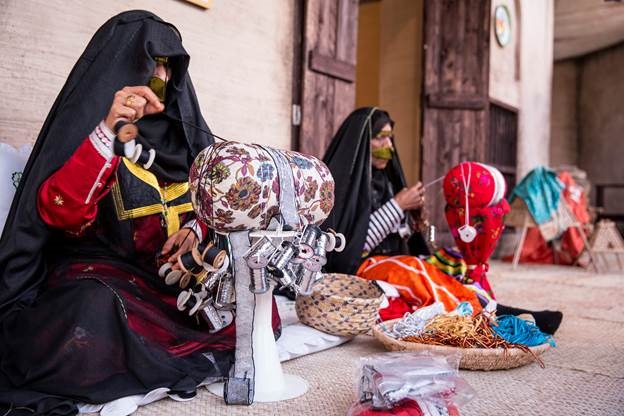 Abu Dhabi: The Khalifa Fund for Enterprise Development's 'SOUGHA' concluded on a high note its participation at the 14th 'Liwa Date Festival 2018,' which was held under the patronage of H.H. Sheikh Mansour bin Zayed Al Nahyan, Deputy Prime Minister and Minister of Presidential Affairs. SOUGHA's participation in the festival has highlighted the UAE's heritage and local traditions through a range of popular, artistic and creative competitions, was in adherence to its mission to preserve and develop traditional art and crafts. This falls in line with the Khalifa Fund's mandate to spread the culture of entrepreneurship, encourage innovation, and support the UAE's small and medium enterprises (SMEs) for national socio-economic development.
H.E. Abdulla Saeed Al Darmaki, CEO of Khalifa Fund foe Enterprise Development, commended the role of the first heritage festival in the country in raising heritage awareness and promoting the culture of entrepreneurship and SMEs in the Emirates. The event was an ideal platform to showcase the participants' products and activities at the local and regional levels.
H.E. added: "We will continue to pursue the path towards enhancing our entrepreneurial expertise and competitiveness in support of the UAE's growth and development. Additionally, we are committed to efficiently participate in the government's efforts to increase the standard of living and ensure the well-being of UAE citizens, as well as promote national identity, leadership, creativity, innovation, and excellence."
Ayesha Al Yousif, Senior Manager of Sougha, said: "Through our participation in 'Liwa Date Festival 2018,' we have achieved exceptional results in the achievement of Artisans work with a net income of nearly AED 500,000, compared to around 135,000, in Liwa 2017. This success was possible due in part to the relentless support of Khalifa Fund, which aims to increase the socio-economic contributions of the country's traditional crafts."
 During 'Liwa Date Festival 2018,' the Khalifa Fund showcased 22 handicrafts and heritage products distributed in 11 stores in the pavilion. SOUGHA gathered 260 artisans involved in creative heritage art and crafts using Khous, woven palm, leather, Al Sadou, wool, and one of the oldest crafts of the embroidery industry (Talli). The SOUGHA pavilion displayed a wide range of handcrafted household and office items, as well as heritage accessories made by Emiratis females that can be used for laptops, mobile phones, and wallets.
The Khalifa Fund will continue to launch initiatives that serve the local community through supporting artisans to move forward in providing permanent sources of income to ensure a decent life for themselves and their families. The Fund will also introduce and implement initiatives and programs aimed at shaping the future of Emirati artisans to preserve the UAE's heritage, in addition to promoting sustainable entrepreneurial opportunities across the country, supporting entrepreneurs and empowering SMEs to achieve sustainable growth, and contributing to the economic diversification goals of the UAE in preparation for a post-oil economy.