Solar Power: Our path to a sustainable future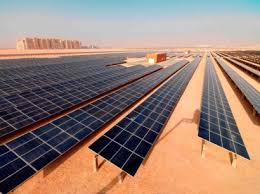 Dubai: Between 11am and 2pm on 11 March, utility-scale solar generation in the territory of the California Independent System Operator (CAISO) accounted for almost 40% of net grid power produced. On 26 May at lunchtime, solar power accounted for almost 25% of electricity generated in the UK, exceeding the combined output of the country's eight nuclear power stations. When wind, biomass and hydro were added, almost 40% of UK electricity came from renewables on that sunny spring day.
Many governments have realised the importance of making use of solar energy, especially with the low costs and major advancements in technology. The combined installed global solar power capacity is now 301 gigawatts (GW), an increase of 74GW in 2016 alone. The installed capacity is expected to reach 983GW by 2030.
Every hour the sun sends more energy onto Earth than all the world countries need in an entire year. In the Arabian Gulf region, we are blessed with sun that shines all year round. That's why, making use of this renewable clean energy to provide most of our needs has become a strategic necessity in our efforts to achieve the sustainable development. The UAE has established its global leading position in the renewable energy sector, by implementing quality solar-power projects. This is based on the vision of our wise leadership to prepare to bid farewell to the last drop of oil.
Dubai has become one of the pioneering cities in innovating new techniques and practices to improve energy efficiency while rationalising its use and finding alternative solutions for conventional energy. The Dubai Clean Energy Strategy 2050 intends to provide 7% of Dubai's total power output from clean energy by 2020. This target will increase to 25% by 2030 and 75% by 2050. Dubai is the only city in the region to have launched such a promising strategy, with set goals and timelines that map the future of energy until 2050.
DEWA is spearheading ambitious initiatives to increase the share of solar power to achieve the vision of our wise leadership, who realised early the importance of renewable energy in achieving a balance between development and the environment to protect the right of future generations to enjoy a clean, healthy, and safe environment. We continue to build renewable and clean energy projects in Dubai, most notably the Mohammed bin Rashid Al Maktoum Solar Park, which will generate 5,000MW by 2030. The 200MW second phase was inaugurated last March by HH Sheikh Mohammed bin Rashid Al Maktoum, Vice President and Prime Minister of the UAE and Ruler of Dubai. It provides clean energy to about 50,000 residences in Dubai, contributing to the reduction of 214,000 tonnes of carbon emissions annually. DEWA also launched Shams Dubai initiative to install solar panels on buildings to produce electricity and connect them to DEWA's grid. The generated electricity is used onsite and surplus is then exported to DEWA's network. Eventually, Dubai will have solar panels installed on all building roofs by 2030.
DEWA pays great attention to research and development to develop the next generation of photovoltaic solar panels. We collaborate with the biggest research institutions in the world to develop innovative solutions and technologies to mitigate the effect of dust on photovoltaic equipment and enhance the efficiency and performance of photovoltaic panels. With the rapid growth of the solar sector in the region and the success of the first Dubai Solar Show, DEWA is organising the second Dubai Solar Show from 23-25 October, in conjunction with the 19th Water, Energy, Technology, and Environment Exhibition (WETEX). Dubai Solar Show will be a key platform for the public and private sectors to make deals, build partnerships, review the latest solar-energy technologies, learn about current and future projects in the region and market needs, and explore opportunities to take part in solar-energy projects and programmes. As the government of the UAE and the region, in general, seek to increase their use of renewable and clean energy, the exhibition will be the region's leading regional trading platform for solar-energy production and storage products, solutions, and technologies.
I invite companies and organisations working in the solar sector to take part in the Dubai Solar Show and explore the various investment opportunities offered by this promising sector. I also invite everyone who is interested and members of society to visit the exhibition and learn about the latest solar technologies to achieve our objective of transforming energy consumers to producers, and maintain a balance between development and the environment to protect the rights of future generations to live in a clean, healthy, and safe environment, and ensure a sustainable future for us, and for generations to come.