SIBF: The 'I' And The 'Me' In An Author's Work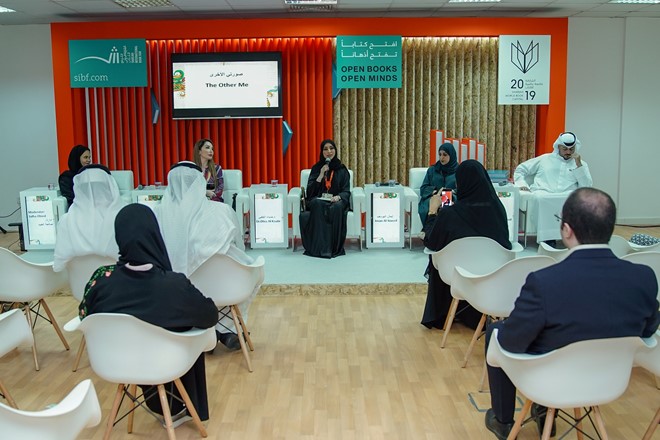 People often write to express anger, frustration, grief, joy or love. What better way to do that than by writing anything and everything? Writers, after all, are artists, and artists are compelled to express themselves. This was the nature of the discussion titled The Other Me, at the 38th Sharjah International Book Fair.
The panel discussion was led by Amru Saleh, Dr. Dheya Al Kaabi, Iman Al Yousef and Mishaal Hamad, moderated by Salha Obeid.
"Writings are a reflection of the author's soul", says Amru Saleh. Citing examples of the famous authors Oscar Wilde and Henrik Ibsen, Saleh feels a writer's voice is the deepest possible reflection of who one is. In a writer's voice, the readers should be able to hear the contents of the author's mind, his heart and soul.
Some characters are a reflection of people the author knows personally. Ibsen did this for the character Nora Helmer in his play, A Doll's House, in order to tribute a woman who he thought was treated unfairly by society.
"Our identities are tied to where we came from and who we are and that gets reflected in our works", says Dr Dheya Al Kaabi who is a critic and lecturer in modern Literary Criticism at the College of Arts, University of Bahrain.
This tactic is called 'reflective writing'. It does not only refer to an author reflecting a person, but also history and memories, elaborates Al Kaabi.
He adds: "While famous writers like JK Rowling has put herself into Hermione Granger, Stephen King and Dante Alighieri too have supposedly done the same."
Iman Al Yousef, an Emirati writer who has published a collection of storybooks including Human Faces says: "We are all story tellers. Some people chose to write, others don't. But everybody has a story to tell".
While the panelists agreed an author breathes life into a character, they also breathe souls in them. Sometimes, it could result in lightening their own burden and finding an outlet through these characters or they'll create a character that closely resembles themselves. At other times, authors also make characters better than themselves.
Shedding light on this idea Mishaal Hamad, author of Baqaya Madina and Larubama Khaira says, "writing is like an ocean, once you start swimming, you'll keep going deeper and will eventually learn more".
The session concluded with panelists agreeing to the notion that the process of writing itself can prove to be therapeutic. It enables authors to express themselves through words and is a continuous study of the struggle to understand oneself and others.