Sheikh Ahmed bin Saeed Al Maktoum Launches Dubai Smart City Accelerator at Dubai Silicon Oasis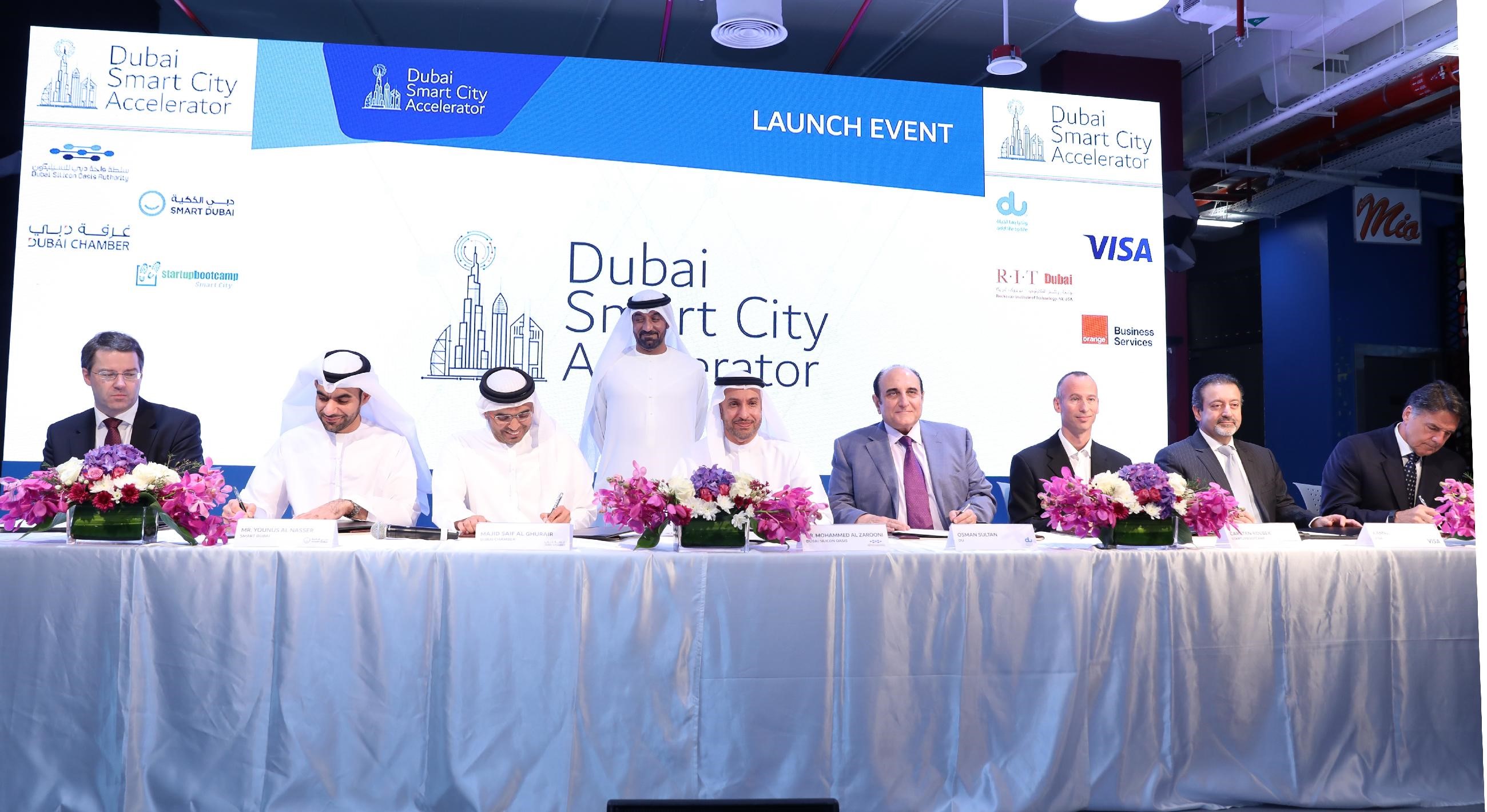 DUBAI –  Sheikh Ahmed bin Saeed Al Maktoum, Chairman of Dubai Silicon Oasis Authority (DSOA), today launched Dubai Smart City Accelerator – the first of its kind in the MENA region – within DSOA's wholly owned Dubai Technology Entrepreneur Centre (Dtec), the largest hub of its kind in the Middle East.  Sheikh Ahmed bin Saeed also launched the accelerator's portal to enable interested startups and entrepreneurs to apply for the program.
To be operated by Startupbootcamp, the global network of industry-focused startup accelerators, the Dubai Smart City Accelerator has been launched by the Dubai Silicon Oasis Authority in collaboration with six strategic partners: Emirates Integrated Telecommunications Company PJSC (du), Smart Dubai Office (SDO), Dubai Chamber of Commerce and Industry (Dubai Chamber), Rochester Institute of Technology New York, Orange Business Services, and Visa, injecting a total investment of AED18.4 million into setting up the program.
The agreement was signed by Dr Mohammed Alzarooni, Vice Chairman and CEO of DSOA; Majid Saif Al Ghurair, Chairman, Dubai Chamber of Commerce and Industry; Osman Sultan CEO du ; Younus Al Nasser, Assistant Director General of the Smart Dubai Office; Kamran Siddiqi, Visa Group Executive for Central and Eastern Europe, Middle East and Africa; Luc Serviant, Senior Vice President, Middle East & Africa, Orange Business Services; Dr. James H. Watters, Senior Vice President of Finance and Treasurer at RIT New York and RIT Dubai board member; and Carsten Kølbek, CEO and Founder of  Startupbootcamp.
The accelerator program, based on smart city technology, is targeting startups that are developing innovative solutions to help make cities smarter and overcome significant challenges due to congestion, waste, and energy. Furthermore, in a bid to improve life for citizens, the program will aim to identify solutions within smart homes and buildings, smart transportation and logistics, smart living, as well as smart urban planning and maintenance. Several local and regional startups are anticipated to leverage the know-how within the Internet of Things (IoT), sensor technology, big data, and virtual reality spheres to develop disruptive solutions.
Headlining a press conference to announce the launch, Dr Mohammed Alzarooni, said: "As a strategic partner of Dubai's smart city initiative and under the guidance and patronage of His Highness Sheikh Mohammed bin Rashid Al Maktoum, Vice President and Prime Minister of the UAE and Ruler of Dubai, DSOA is successfully positioned as a reputable and much sought-after testing ground for several smart city solutions, applications and products in Dubai. We are committed to advancing our contribution through several initiatives, including the Happiest People strategy that is a core pillar of DSOA's 2021 Strategy and a stand-alone concept in itself."
He added: "Public-private partnerships play a strong role in the country's development and translate a positive impact on its economic landscape. As a Dubai government entity, we are keen to respond proactively to the UAE leadership's directive to enhance our partnership with the private sector, and more specifically with entrepreneurs and startups due to our focus on supporting such businesses. Given the existing synergy, we are delighted to venture into one more collaboration with these partners for the Dubai Smart City Accelerator program at Dtec."
To run over a period of three years with a total of 40 startups, those accepted into the program will receive the world renowned and powerful Startupbootcamp acceleration package benefits including office space in Dtec, consultation and advisory support, as well as access to Startupbootcamp and its partner organizations and US$20,000 in cash – all for a 6% equity stake in the venture. Once completed, the startups will join Startupbootcamp's global alumni network consisting of some 400 enterprises from more than 50 countries worldwide.
Dr Aisha bint Butti bin Bishr, said: "We are focused on providing Dubai's residents with a distinct and delightful living experience that will ensure they enjoy the highest quality of life with a sense of security, efficiency, and happiness. The SDO is working with partners from both the public and private sectors to fulfil the ambitious vision of His Highness Sheikh Mohammed bin Rashid Al Maktoum, Vice President and Prime Minister of the UAE and Ruler of Dubai, aimed at improving living conditions and ensuring the happiness of Dubai's citizens through harnessing technology. We are therefore committed to supporting the Dubai Smart City Accelerator program in partnership with DSOA and other stakeholders, given its enabling benefits to startups seeking to develop innovative solutions that promote smart cities."
Osman Sultan, Chief Executive Officer, du said: "As the strategic partner for the Smart Dubai Platform, the digital backbone of the Dubai Smart City, we continue to invest in initiatives that will drive the UAE agenda by enhancing digital investments in the region. Today, the UAE is the region's tech startup hub hosting around a third of all MENA investors – hence, this collective collaboration for the Smart City Accelerator initiative enables us to further strengthen our contribution to digital innovation through working with innovators from across the world."
He added: "We continue to advocate the importance of public private partnerships throughout the UAE, and look forward to witnessing the incredible impact that the Smart City Accelerator has on galvanizing action from the information and communications technology community, and enhancing the happiness of the entire nation as a result."
Majid Saif Al Ghurair, said: "Dubai Chamber is proud to support the Dubai Smart City Accelerator that provides an important platform to nurture emerging entrepreneurs who have the potential to make a major impact on the emirate's business community. By investing in high-potential startups and innovative ideas, we can better facilitate businesses' adoption of smart solutions that will ultimately enhance the competitiveness of Dubai's private sector."
Kamran Siddiqi, said: "The smart cities era is opening up countless opportunities for ambitious entrepreneurs in the UAE and across the globe. Smart cities need smart commerce, and Visa sees its role not only as a mentor to help entrepreneurs take a fantastic idea to a functioning business, but also a platform for secure, connected commerce. We are proud to add our support to the Smart City Accelerator program, which will help to clear a path to success for selected start-ups aspiring to shape smart cities of today and tomorrow."
Dr. James H. Watters, said: "Our University is delighted to participate in the launch of this valuable resource that will enable our highly talented students and alumni to contribute proactively to strengthening the economic vitality of Dubai through developing new business ventures. RIT Dubai looks forward to a long and successful partnership with all stakeholders in this cutting-edge initiative. Our aim with this accelerator is to support the ambitious smart city mandate of the UAE leadership for years to come.
Luc Serviant, said: "Orange Business Services is committed to supporting the Smart Dubai initiative. Our unique collaboration is designed to accelerate innovation within this creative cluster, and serves an extraordinary opportunity to contribute to the world's most exciting large-scale smart city program, through nurturing talented people and startups – a commitment we have demonstrated around the world."
He added: "Innovation and talent are central to the sustainability of a city, and as one of the world's leading partners in digital transformation, Orange brings to this partnership our global experience and R&D resources and a distinct startup approach.
For his part, Todd O'Brien from Startupbootcamp, said: "We are thrilled to announce our first Dubai Smart City Accelerator program in the region that is a collaborative venture with the Dubai government and other partners. Startupbootcamp is privileged to support the target of making Dubai the happiest city by 2021 through embracing cutting-edge technology and innovation. Startupbootcamp ensures worldwide momentum and has accelerated more than 340 startups across 14 different programs globally since 2010. We are working with startups who are truly focused on making the future better and we know Dubai will support our efforts and help us grow our business to a whole new level."