OPPO launches Reno2 Series with latest photography technologies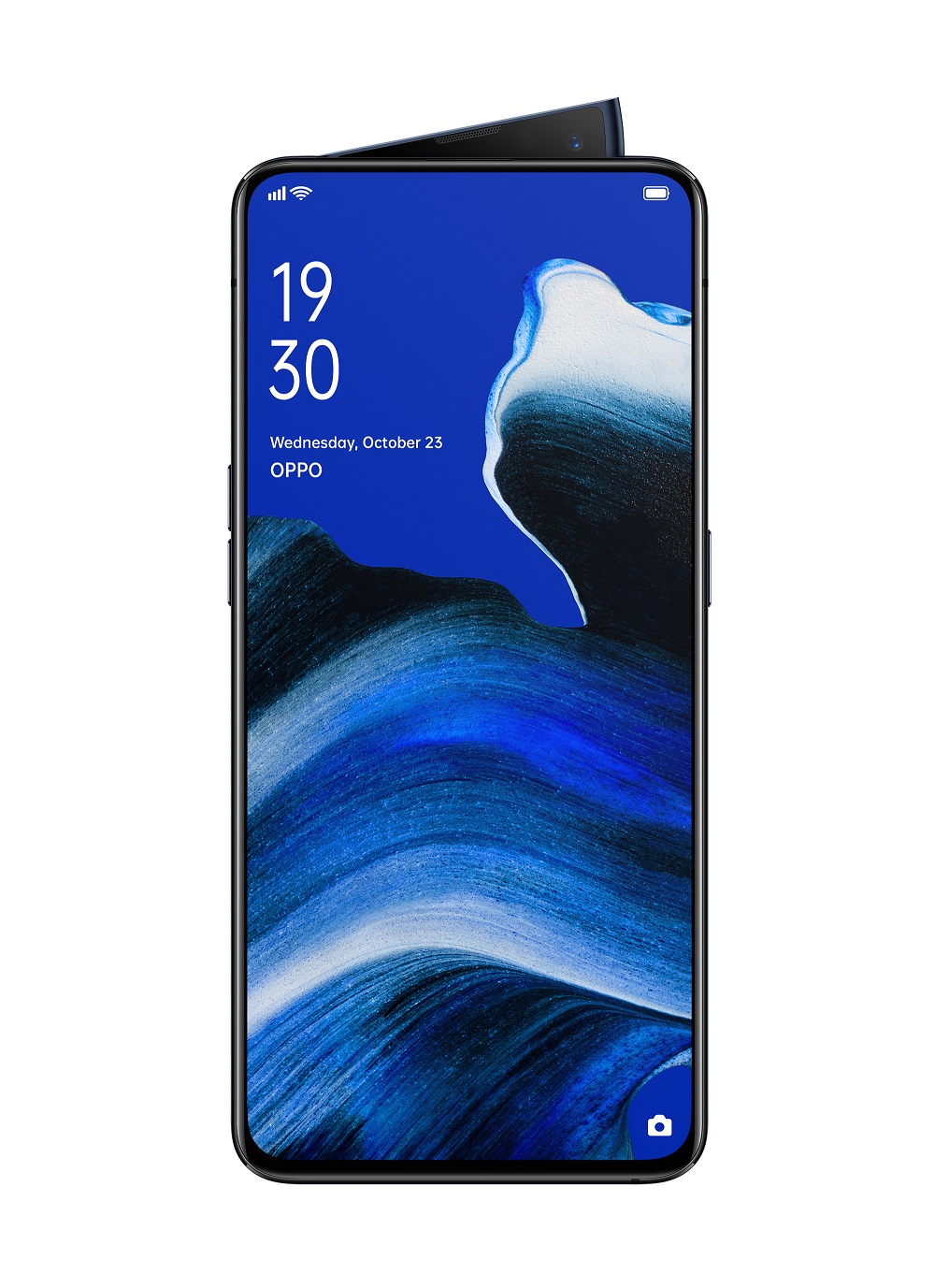 DUBAI – OPPO has announced the launch of its new     Reno2 Series in the UAE at Armani Hotel Dubai. The Reno2 and Reno2F models are the latest iteration of OPPO's popular Reno series, packed with photography-enhancing features that will redraw the boundaries of users' creativity. The announcement comes right after the Reno2 Series was highlighted in a teaser campaign projected onto the iconic Burj Khalifa, wowing audiences that gathered to watch the impressive show.
The Reno2 series' unique multi-perspective capabilities are enabled by its quad-camera setup, which includes super-stable video shooting on the go thanks to Ultra Steady Video feature, ultra-clear night shots even under a nearly-no-light condition in Ultra Dark Mode and 5x Hybrid Zoom allowing users to get much closer to a subject. These enable creators to boldly defy conventional photography by capturing new, fresh perspectives behind the lens.
Ethan Xue, President, OPPO MEA, said: "The Reno2 series is the second range of premium products we have launched in the region in line with our strategy to build a high-end brand. As a series that focuses on photography, Reno2 represents OPPO's latest technologies that have been created keeping the young trendy consumers' needs in mind. This latest iteration of Reno series empowers consumers with access to premium technology to discover new perspectives of the world around them."
Innovative Photography Technologies to empower users: OPPO is dedicated to pushing the boundaries of smartphone photography. The Reno2 is equipped with four cameras that provide a full focal length imaging system, offering a 5x Hybrid Zoom, Ultra-Wide Angle lens and more. Three lenses of varying focal lengths work in harmony to create a unique 5x Hybrid Zoom effect from the ultra-wide-angle to telephoto, which also fuses image technology to ensure a smooth, seamless zoom transition. The Ultra-Wide Angle lens feature provides an impressive 116° angle for photography, enabling users to shoot vast and boundless landscapes.
Smooth videos on the move with ultra steady video: With social media users increasingly shooting videos, OPPO is paying more attention to videography capabilities than ever before. Users can capture steady videos while running, skiing, skateboarding, cycling, and more, through an IMU measuring device with a high sampling rate and a hull sensor, equipped with Electronic Image Stabilization and Optical Image Stabilization. Ultra Steady Video brings you exceptionally clear and smooth videos matching the quality of purpose-built action camera.
See in the Dark with Ultra Dark Mode: With a 48MP primary lens equipped with Optical Image Stabilization, F1.7 aperture, and a 1/2-inch sensor along with Quad Bayer technology, Reno2 can achieve better performance in low light. The Reno2 Series provides an impressive range of different night scenes via a powerful NPU, and OPPO's fine-tuned algorithms. Even if light levels measure below 1 lux, it elevates your photos beyond the capabilities of the naked eye through hardware network-optimized AI noise reduction. While the naked human eye can't penetrate darkness, with Reno2 now users can capture stunning scenes such as fireflies at night and candlelight dinners.
 User-centric design and elegant look from all angles: The Reno2 series features seamless, one-piece curved bodies, and with the use of three-layer stripping technology, OPPO has achieved a glossier, multi-toned look that shows off different color shades from different angles. This creation of a varying and dynamic aesthetics contrasts the Reno series, which conveyed a more reserved, static design. They feature rear cameras that remain hidden under the back cover, which itself is made from durable 5th Generation Corning® Gorilla® Glass.
The OPPO Reno2 Series' Twilight Mist body-color takes influence from the mesmerizing beauty of nature. Using sophisticated manufacturing techniques, deep hues combine with dream-like neon detail for a graceful, iridescent color that moves in a different light. For Luminous Black, the light-emitting area employs a roll-processed uneven nano-texture, which achieves an illuminating effect when viewed from a specific angle. The use of the Ribbon Transfer 2.0 process produces a unique color gradient effect which is superimposed over the illuminated texture, which is exclusive to the OPPO Reno2 series.
 Panoramic screen and unbeatable visibility in Bright Light: The Reno2 is equipped with a 6.5"AMOLED screen, 2400×1080 resolution, and a screen-to-body ratio of 93.1%, made from durable 6th Generation Corning® Gorilla® Glass. While the Reno2 F features a slightly smaller screen-to-body ratio of 93.1%, made from durable 5th Generation Corning Optical Gorilla® Glass. The Reno2 comes with the improved Sunlight AMOLED Screen, which offers sufficient brightness even in bright outdoor environments while extending screen service life by 50% and reducing power consumption by 6%.
Shark Fin Pop up Camera (Reno2): The Reno2 comes with a shark fin pop-up camera, which supports ultra-clear backlit shots and all-new AI Beauty Mode, while and Reno2 F features a 16MP pop-up front camera featuring an Atmosphere Light.
New Upgrade of Usage Experience : The Reno2 Series is powered by ColorOS 6.1, running on the latest version of Android Pie 9.0, featuring a smoother and more enjoyable user experience.
More immersive and smoother gaming experience: The Reno2 series offers a complete gaming experience, with optimized features like Touch Boost 2.0, Frame Boost 2.0 and Game Space. Touch Boost 2.0 helps users avoid the common pitfalls of running hardcore titles, while Frame Boost 2.0 analyses the status of mobile performance so that frame rate and stability will be adjusted to prioritize a first-class gaming experience. Frame Boost 2.0 also allocates resources to avoid the consumption of too much power and the heating of the phone. Overall, the Reno2 Series has five-star gaming performance certification from TUV Rheinland, which tests the overall gaming performance of the phone from the screen, battery life, performance, and signal strength.
Also, OPPO has been concentrating on video content to deliver a more immersive experience together with the Reno2's series' high-quality screen, Dolby Atmos®, and Hi-Res Audio.
Long duration and fast speed with VOOC Flash Charge 3.0 technology : The OPPO Reno2 series features fast and safe VOOC Flash Charge 3.0 technology. This uses a new VFC algorithm, significantly shortening the final 10% of charging time by doubling the trickle charging speed. VOOC Flash Charge 3.0 combines with the Reno2 battery to provide users with a much longer-lasting battery.
OPPO's first wireless noise-canceling headphones for a brand-new audio experience: With the Reno2 Series, OPPO has introduced its brand-new neckband headphones: the OPPO Enco Q1 Wireless Noise Cancelling Headphones. The OPPO Enco Q1 is OPPO's first wireless noise-canceling headphones, and the product of OPPO's years of experience in audio technology.
The OPPO Enco Q1 headphones use hybrid active noise cancellation, in which feed-forward and feedback microphones work together with a noise-canceling algorithm to maximally block out surrounding noise. Through these features, users can enjoy music, games, and video more fully in any environment.
The headphones are ergonomically designed, with earbuds that match the shape of the ear and a neckband that aligns with the contour of the neck to maximize comfort and stability The headphones use a USB-C charging port, and can continuously play audio for 15 hours with noise canceling on, or 22 hours with noise canceling off.
For the last 10 years, OPPO has been focusing on manufacturing camera phones, while innovating mobile photography technology breakthroughs. OPPO started the era of Selfie beautification, and was the first brand to launch smartphones with 5MP and 16MP front cameras. OPPO was also the first brand to introduce the motorized rotating camera, the Ultra HD feature and the 5x Dual Camera Zoom technology. OPPO's Selfie Expert F series launched in 2016 drove a Selfie trend in the smartphone industry.
In 2017, OPPO was ranked as the number 4 smartphone brand globally, according to IDC. Today OPPO's business covers 40 countries and regions, and has 10 R&D Institutes and centers around the world, as well as an International Design Center in London, providing excellent smartphone photography experience to more and more young people around the world.
In 2015, OPPO entered the Egyptian market. In 2016, OPPO set up its Middle East & Africa Sales Center in Cairo. The markets OPPO has entered in the Middle East and Africa include: Egypt, Algeria, Tunisia, Morocco, the UAE, Saudi Arabia, Qatar, Oman, Kenya and Nigeria.
Price and Availability in UAE  : 
The OPPO Reno2 in Luminous Black and Ocean Blue with 8GB RAM and 256GB ROM will be available from October 30th in UAE, starting at AED 1,999.
The OPPO Reno2 F in Lake Green and Sky White with 8GB RAM and 128GB ROM will be initially available from October 30th in UAE, starting at AED 1,499.
The OPPO Enco Q1 Wireless Noise Cancelling Headphones in Midnight Black and Sunny Orange will be available from October 30th in UAE, starting at AED 499.
OPPO Care after-sales service:  Smartphones in the Reno2 series are the first to be supported by OPPO Care after-sales service, offering customers a free one-time screen replacement in the first six months after purchase, plus either an extended warranty or back cover replacement.