Moscow builds on record tourism year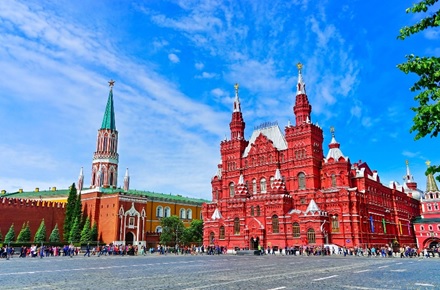 DUBAI –  Moscow saw tourism numbers jump to a record 23.5 million visitors and total volume of tourist consumption and turnover of festivals in Moscow has reached US$13 billion in 2018.
The Russian capital's unique blend of heritage sites and modern attractions is proving an irresistible combination; compared to 2010 with 12.8 million visitors, the number of tourists to the city has increased by 84 per cent.
The successful hosting of the FIFA World Cup last year – which attracted 4.5 million tourists and recognised as the best ever by the FIFA Council – is part of the city's long-term strategy to increase tourist numbers.
The Moscow City Tourism Committee – the official body promoting the city as a tourist destination – will be out in force at this month's Arabian Travel Market (April 28-May 1).
Moscow City Tourism Committee see tremendous interest in Moscow from international markets – and boosted in the Middle East including by reciprocal visa-free travel between Russia and UAE and Gulf airlines' capacity. Moscow attracts tourists today with a wide palette of festivals, sports and cultural life, new public spaces, safe environment and unique atmosphere enjoyed by millions.
Alongside its broad range of cultural attractions, Committee will be promoting its established yet dynamic hotel industry – and this year it is scheduled to put 17 new hotels into service, four times more than in 2018.
Gastronomy is becoming a new key driver with international visitors finding traditional and contemporary dishes to remind them of home. Today in Moscow there are about 12,000 cafés and restaurants, twice more than 10 years ago.
The city is covered with food halls, both in the centre and the outskirts, and foodies flock to Danilovskiy and Central Markets and Depo, the biggest food hall in Europe. Located on Belorusskaya train station, the 11,000sqm facility contains a wealth of independent restaurants and street food-style eateries.
Beside that, Moscow is proud to be home to a new and unique format of city leisure – a cycle of urban street events such as festivals, exhibitions, public holidays and celebrations as well as other cultural, sporting and gastronomic events called 'Moscow Seasons'. Every day and whatever the weather, whole array of entertaining activities awaits Muscovites and tourists – and about 65 million people attended the Moscow Seasons festivals in 2018.
Moscow's World Heritage and iconic sites don't need introduction: The Kremlin, Bolshoi Theater, Red Square and Novodevichy Convent among the most popular attractions. Landscapes parks, gardens, squares and other public spaces are the new hallmarks of the city. Among them, 'Zaryadye' – the most modern park of the capital and one of the main attractions of the renewed Moscow.