L&T leads India's presence at Saudi festival Janadriyah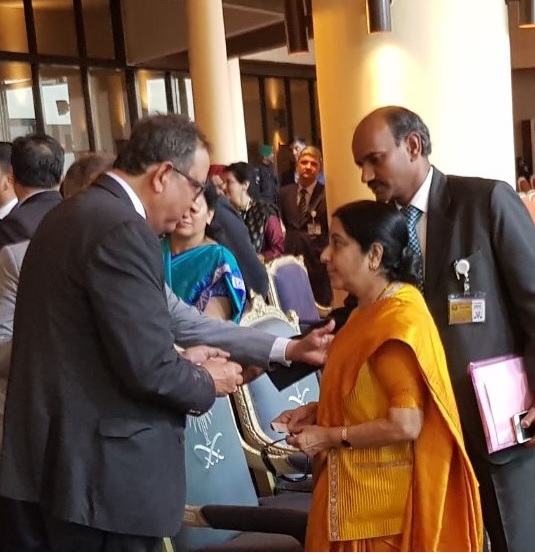 Riyadh (Kingdom of Saudi Arabia): 10-02-18 Larsen & Toubro, India's leading technology, engineering and construction conglomerate, led India's impressive show at Janadriyah 2018 that was inaugurated on Wednesday (7/2/2018). Aimed at further strengthening the close ties between the Kingdom of Saudi Arabia and India, Janadriyah 2018 showcases a range of India's arts, culture, tradition and capabilities over the coming fortnight.
"We are delighted to be participating in Janadriyah 2018 and are confident that this festival will prove to be a wonderful platform for us to showcase to the people of Saudi Arabia the width and breadth of our capabilities," said Mr. D K Sen, Whole Time Director & Senior Executive Vice President (Infrastructure), Larsen & Toubro. "Such collaborative efforts will go a long way in strengthening the bonds between Saudi Arabia and India and, as L&T, we look forward to executing more vital infrastructure projects in Saudi Arabia and partnering the country on its high road to progress," he added.
Saudi Arabia & L&T
L&T's association with Saudi Arabia began in 1999 with the formation of L&T Saudi Arabia LLC thus commencing a rich legacy of building vital infrastructure and industrial projects over the past two decades.
Presently, among some mega projects that are being executed by L&T in KSA includes  Riyadh Metro, the package under L&T consortium is the longest and fastest is in progress. Various substation and transmission line projects for SEC and Saudi Aramco, Normal Paraffin & Derivative Complex for Farabi Petrochemcials at Yanbu, development of Hasbah offshore gas field and Midyan gas processing facilities are some other projects.
Other significant projects executed by L&T include 100- and 200-bed hospitals for the Ministry of Health, Schools for the Ministry of Education, expansion of the Qassim Cement Plant, Methanol & CO Plant for Chemanol, gas processing facilities for Saudi Aramco and polyethylene trains for SADARA Chemical Company.
As Saudi Arabia seeks to redefine the future with a vision for new age smart cities and infrastructure, L&T is well-equipped and well-placed to partner the country on this new trajectory of growth.