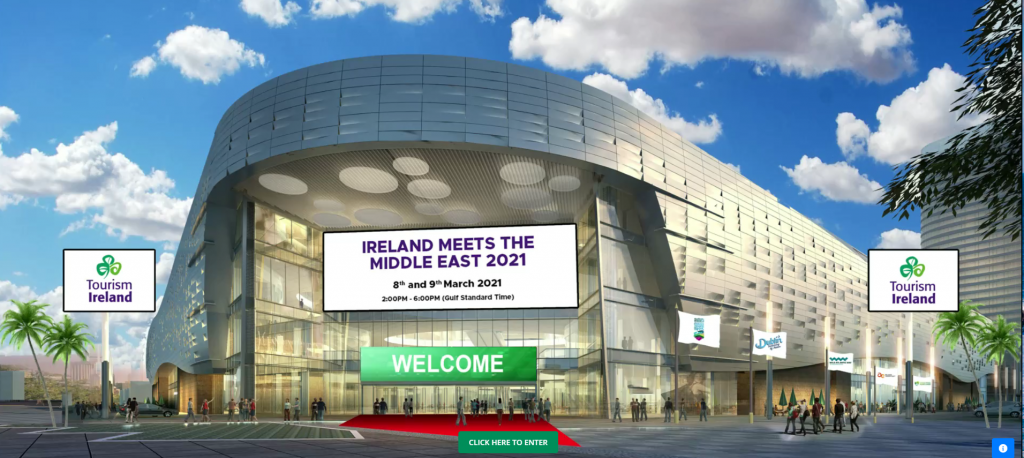 UAE, Dubai, 9th March 2021: Tourism Ireland's annual GCC Sales Mission event turned virtual this year, with Virtual Ireland Meets the Middle East 2021. The aim of the event was to connect the island of Ireland's industry experts with high-end travel agents and tour operators from across the Middle East (including UAE, Qatar, Kuwait, Saudi Arabia and Turkey), with workshops providing an opportunity for the island to share key updates and information to market the destination in the Middle East for 2021 and beyond.
 The event took place on 8th and 9th March with over 300 travel agents and tour operators attending and joining the one-to-one video appointments and networking sessions as well as auditorium panel discussions and webinars. The intention of which was to further strengthen relations and business opportunities in the region, especially given travel agents and tours operators are the primary booking channel in the Middle East for long-haul destinations.
In combination, the workshops and one-to-one appointments across the two days highlighted the luxury, outdoor and adventure offerings on the island as well as Ireland's overall culture and exceptional culinary offerings.
Siobhan McManamy, Director of Markets Tourism Ireland, highlighted: "Our aim with this event was to further strengthen our strong relationships with the travel industry and agencies to showcase the very best of Ireland. We're confident 2021 will see the restart of international travel and Tourism Ireland have been actively planning for this restart and working hard on the ground to ensure we're ready to welcome back visitors. With this in mind, we are focusing on our luxury offerings, with more emphasis on the private experiences, personalised services and outdoor activities, to showcase Ireland as a must-visit destination for residents in the Middle East."
Nasir Khan, CEO Al Naboodah Travel, commented; "It's been very informative to hear about Ireland's offerings to encourage tourists from the Middle East over these past two days. It's clear to see that the island of Ireland offers something totally unique to the Middle East as well as having implemented all the newly required health and safety measures, without compromising the holiday experience that makes Ireland so special. By hosting these fascinating talks, workshops and one-to-ones, we were able to get some real insight and information which will help us when it comes to helping residents plan their perfect trip to Ireland, once restrictions start to ease."
This year, 27 of the island of Ireland's suppliers participated in the event, including: Adare Manor Hotel & Golf Resort, Adams & Butler, Andras House Hotels, Ashford Castle Hotel, Belfast Travel Services, Dalriada Kingdom Tours, Dream Escapes, Dromoland Castle, Emerald VIP Services, G Golf Ireland, Galgorm Spa & Golf Resort, Giant Tours Ireland, Hastings Hotels, Irish National Stud & Japanese Gardens, Ireland's Blue Book, Kildare Village Retail, Killarney Hotels Limited, Luxurious Ireland, MHL Hotel Collection, Mount Juliet Estate, Trump Doonbeg, Sheen Falls Lodge, Secret Ireland Escapes, The Savoy Hotel, The Merrion Hotel, Titanic Belfast and House of Waterford Crystal.