International Fashion Designer Anna Chybisova Draws Major Investments Worth $9Million for her Brand Maison d'Angelann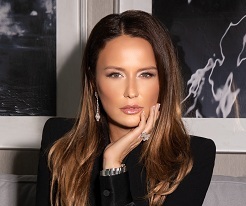 Dubai, United Arab Emirates, March 04, 2021: Following a series of successful market takeovers, Anna Chybisova takes another step towards success by securing another major investment for MaisonD'angelann. The Gate Business Service, a private family office based out of the United Arab Emirates has been announced as the latest investor to back Anna's brand globally. After having invested $7million late last year, Gate Business Service secures an additional $2 million worth of investment against a majority stake in Maison d'Angelann fashion brand.
Anna Chybisova's designs and business acumen are the foremost reasons behind such heavy investments by the new partner. Reporting sales over $2 million within UAE alone and a sold-out Spring/Summer 2021 collection has strengthened the investor confidence. This growing success and customer demand has also resulted in signing of a concept project that aims to open five Maisond'Angelann mono-brand boutiques across five European cities.
Commenting on the successful announcement, Anna Chybisova international fashion designer and owner of Maisond'Angelann, "I'm excited to partner with Gate Business Service to continue to reach even more fashion enthusiast around the world. I look forward to continuing the trendy designs and ingenuity for each collection that our consumers have come to expect and engaging with my fans across social media. This partnership will allow me and my team to continue creation and development of each design while building the brand into an international fashion powerhouse."
Anna Chybisova, a native of Ukraine, launched Maisond'Angelann with another partner in 2014, and swiftly led to become one of her country's leading fashion designer in a matter of just three years, with the brand expanding to the Middle East in 2017 and other market simultaneously. In 2019, MaisonD'Angelann launched the globally known collection "diamond dresses" that were decorated with Swarovski crystals under Anna's brand name, SolAngelann. Both MaisonD'AngelAnn and SolAngelAnn have seen exponential growth and success in popular markets such as Paris, Wiesbaden, Dusseldorf, Frankfurt, Munchen, Dubai, Doha, Kuwait, Abu Dhabi, Moscow, Tashkent, Los Angeles, and New York