Indian Shop Owners Protest Against Amazon Expansion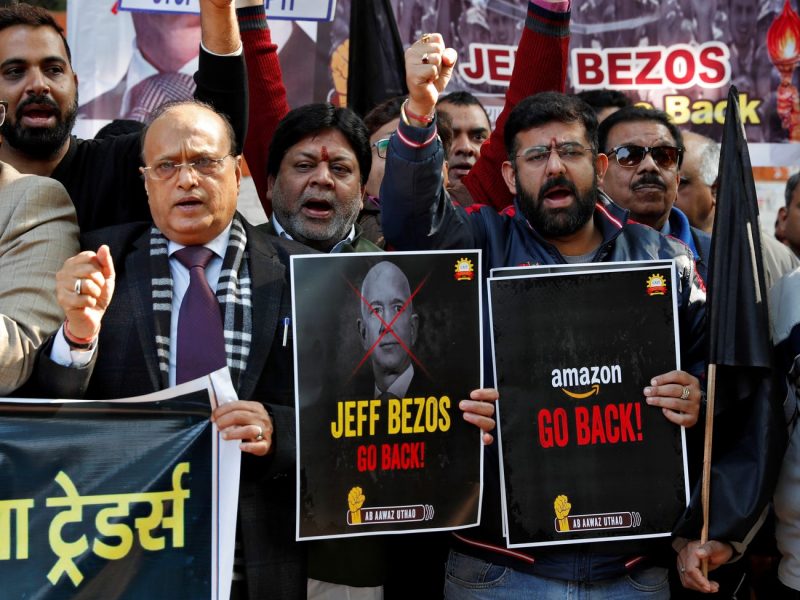 India: According to Business Insider, the planned $1 billion expansion plans by Amazon in India has been garnering some resentment from small business owners.
On Wednesday, CEO Jeff Bezos announced that the e-commerce giant wants to put money into "digitizing small and medium businesses" and said that, in the 21st century, "the most important alliance is going to be the alliance between India and the United States."
However, small business owners in India don't seem to think that alliance should involve Amazon, and thousands took to the streets this week in protest. Sumit Agarwal of the Confederation of All India Traders (CAIT) said demonstrations were planned in as many as 300 cities across the country.
Enough of tolerance! @TEAMCAIT @AimraIndia will fight this battle against foreign economic terrorists & invaders till the very end and bring back peace & prosperity for our 70 million retailers. @narendramodi @rajnathsingh @PiyushGoyal @nsitharaman It's now time for action! https://t.co/aHpsJJNGt1

— SUMIT AGARWAL (@sumitagarwal_82) January 12, 2020
The protesters are concerned that Amazon has used its enormous size to undercut small businesses on price, saying those businesses are unable to compete with the steep discounts that Amazon offers larger sellers.
Amazon has faced similar criticism in Europe and other parts of the world too.