Gulf Craft Majesty 100 Makes its European Debut at the Prestigious Cannes Yachting Festival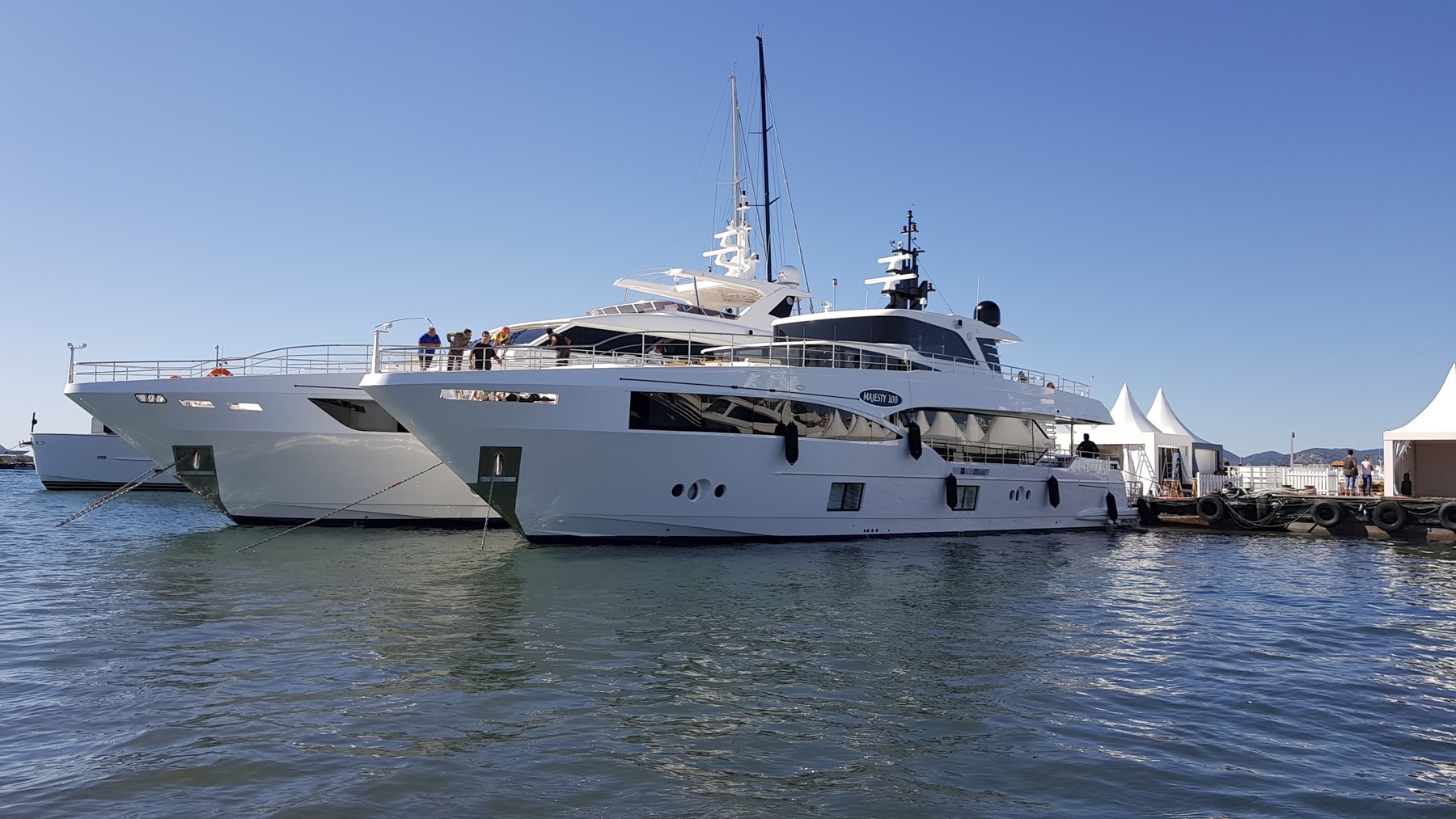 CANNES, FRANCE: As it celebrates its 35th anniversary, Gulf Craft made its European debut of the impressive Majesty 100, the newest addition to its line of Majesty Yachts – Superyacht Collection, at the 40th Cannes Yachting Festival this morning. Also on display at the event for the second time is the latest and youngest tri-deck in the Majesty Yachts portfolio, the Majesty 110.
Participation in the esteemed European shows reinforces Gulf Craft's positioning as a builder for a global audience. A worldwide leader in quality, the brand has become synonymous with enduring value and an uncompromising commitment to safety and reliability.
"We are constantly innovating, constantly challenging ourselves to build more intelligently for an increasingly knowledgeable, and discerning, superyacht buyer," says Erwin Bamps, CEO of Gulf Craft.
"So, when the time comes for Gulf Craft to debut its latest models in Europe, the culmination of countless hours of research, design, and construction, we look to Cannes as one of the largest and most prestigious global stages for the unveilings of our newest launches, our largest opportunity to make the biggest and most lasting impressions on the people who matter most," Erwin Bamps added.
Gulf Craft, the world's innovative builder of luxury yachts and leisure boats, has served the aspirations of passionate seafarers for more than three decades. The award-winning manufacturer is one of the world's leading superyacht shipyards, a merit it has achieved through continuous investment in research and development.
Functionality, performance, world-class standards and luxurious amenities of the Majesty 100 enables the UAE-based builder to keep its promise of getting people on the water, and giving them great enjoyment. The model has already been well received by buyers in the Middle East and Asia, supported by a significant number of orders (Majesty 100 pictured below)
Unique to Gulf Craft's entry superyacht is its innovative sky-lounge – a more comfortable version of the traditional fly-bridge. With multiple seating areas in which to relax and unwind, the Majesty 100 enables guests sitting in the inside lounge to experience fabulous views outside, as they reconnect with one another. Boasting two rear balconies, one on each side of the rear seating area, and a huge raised wheelhouse where guests can comfortably watch the captain at work, the Majesty 100 is a superyacht for those who want to make the most of their time on the water.
Cruising at a speed of 12knots, the Majesty 100's fuel consumption is impressively economical, allowing a cruising range of 1,000 nautical miles, while maintaining a top speed of 23 knots thanks to its two powerful 1,900 horsepower MAN engines.
Smoother and quieter on water, simpler to dock, and easier to deploy tenders and other pleasure craft, the Majesty 100 is a thoughtfully conceived and meticulously constructed superyacht.
The Majesty 110 made its European debut at the 2016 Cannes Yachting Festival, and boasts generous interior space, several outdoor entertainment features, and many practical amenities, including a spacious garage that is large enough to store a dinghy and a Jet Ski. With meticulous design consideration and an unswerving commitment to the luxury user experience, Gulf Craft continues to be known as much as a sought-after lifestyle brand as it is a manufacturer of robust ocean-going yachts.
In 2016 Gulf Craft strongly signaled its intention to design and manufacture megayachts, those longer than 50 meters in length, with the announcement of plans for a Majesty 175 and Majesty 200, at more than 53 and 60 meters in length, respectively.