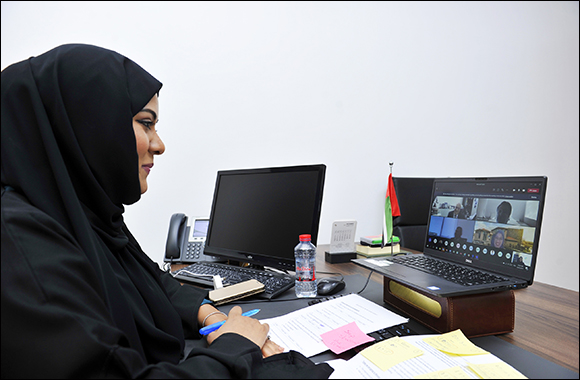 Dubai, United Arab Emirates, March 8, 2021: Have you challenged yourself recently to learn something new? Do you read often?  According to research, challenging the brain by learning new skills as well as reading are activities that enhance brain health.
"Just like exercise, learning new skills as well as regular reading are both good for your brain," said Prof. Janusz Antoni Jankowski.
He is a doctor, educationalist and scientist.  He is currently the dean of College of Medicine at United Arab Emirates University, in Al Ain, UAE.
He was speaking at a webinar organized by the DHA to celebrate Book Reading Month, which takes place in the UAE in March every year.
The webinar was held under the title "The Role of Reading to Serve the Scientific Research and Scholars for the future".
The webinar was moderated by Dr Wafa Al Nakhi, researcher at DHA's Data Analysis Research and Studies Department and Adjunct Clinical Assistant Professor at Mohammed Bin Rashid University of Medicine and Health Science.
Prof. Jankowski said: "Once you become good at your work and create a niche for yourself, it is important to challenge yourself and learn new skills. Learning new skills, challenging yourself and getting out of your comfort zone helps improve brain health. Reading is a lifelong learning process and a growing body of research indicates that reading changes your mind, for the better."
A study known as Short- and Long-Term Effects of a Novel on Connectivity in the Brain, that was conducted in 2013 found that reading increased brain connectivity, especially in the somatosensory cortex, the part of the brain that responds to physical sensations like movement and pain. Researchers used functional MRI scans to measure the effect of reading a novel on the brain for this study.
Prof. Jankowski highlighted that for medical professionals in particular ongoing medical education and research is of vital importance and medical professionals should focus on the quality of research papers.
Prof.  Jankowski  has over 200 publications of which 150 are peer reviewed papers including in Gastroenterology, The Lancet, Nature, Nature Genetics, and many other elite journals.
Dr Reem Al Gurg is the Director of Strategy and Institutional Excellence, a member of the Health Policy faculty at Mohammed Bin Rashid University of Medicine and Health Sciences (MBRU) and an accomplished author.
She holds two master's degrees — one in Nutrigenomics and the other in health care management and leadership.
Al Gurg said: "The benefits of reading on brain health as well as personal growth and providing various perspectives is invaluable. I recommend community members to take part in reading clubs, which can be held virtually, so that members with similar interest can choose a book and discuss it every month. Mothers could be part of a parenting and self-care book club for instance."
"In the healthcare field, in particular, undoubtedly, medical research and ongoing reading is essential," she added.
Professor Samer Hamidi, the dean of School of Health and Environmental Studies at Hamdan Bin Mohammed Smart University, in Dubai, UAE highlighted the importance of self-based learning and the continuously accessing one's growth and development in order to keep challenging oneself.
Professor Nabil Sulaiman, head of Department of Family and Community Medicine and Behavioral sciences at the college of medicine at Sharjah University, in Sharjah, UAE said people across all field should think of training and upscaling which will not only help them in their professional fields but also has health benefits.
Al Nakhi encouraged community members to use the reading month to set reading goals for themselves. "Learning is a lifelong process and reading is a tool to facilitate that. Besides, reading is not only good for gaining knowledge and newer perspectives but also good for your brain. I would encourage adding some time for reading in your daily routine, small habits go a long way in developing health and wellbeing."