DEWA Signs MoU with Expo 2020 Dubai and Siemens to Kick- off Region's First Solar-Driven Hydrogen Electrolysis Facility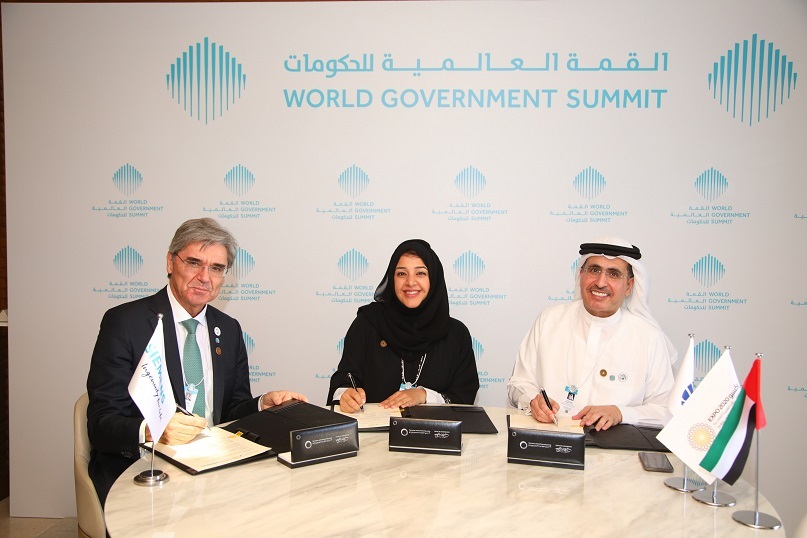 DUBAI-  During 6th World Government Summit in Dubai, HE Reem Al Hashimy, UAE Minister of State for International Cooperation and Director General, Dubai Expo 2020 Bureau,   Saeed Mohammed Al Tayer, MD & CEO of Dubai Electricity and Water Authority (DEWA), and Joe Kaeser, President and CEO of Siemens, signed an MoU to kick- off a pilot project for the region's first solar-driven hydrogen electrolysis facility at DEWA's outdoor testing facilities at the Mohammed bin Rashid Al Maktoum Solar Park.
The facility aims at testing and showcasing an integrated MW-scale plant to produce hydrogen using renewable energy from solar photovoltaic at the Mohammed bin Rashid Al Maktoum Solar Park, store the gas, and then deploy for either re-electrification, transportation or other industrial uses. Hydrogen technologies will accelerate renewable energy integration and deployment in the region and pave the way for the transition to a sustainable and green economy in the UAE. DEWA and Expo 2020 Dubai intend to use fuel-cell vehicles powered by the green hydrogen generated at the facility.
"This project will not only result in the development of the region's first solar-driven hydrogen electrolysis facility, but is an example of what can be achieved through collaboration between Expo 2020 Dubai and our partners, truly embodying the Expo theme of 'Connecting Minds, Creating the Future'," said Al Hashimy.
"The MoU is in line with the vision of His Highness Sheikh Mohammed bin Rashid Al Maktoum, Vice President and Prime Minister of the UAE and Ruler of Dubai, to increase the share of Dubai's total power output from clean energy sources to 75% by 2050 through the Dubai Clean Energy Strategy 2050," said Al Tayer.
"This is truly a landmark project for Dubai and the world, and a great step forward in building a secure supply of sustainable energy for the region's economic development. Green hydrogen can be a fuel of the future. It will accelerate the adoption of renewable energy in the Middle East through sector coupling, offering new use cases, such as e-Mobility and other environmentally-friendly industries," said Kaeser.