Crystal Lagoons signs 12th Egypt project in US$117m development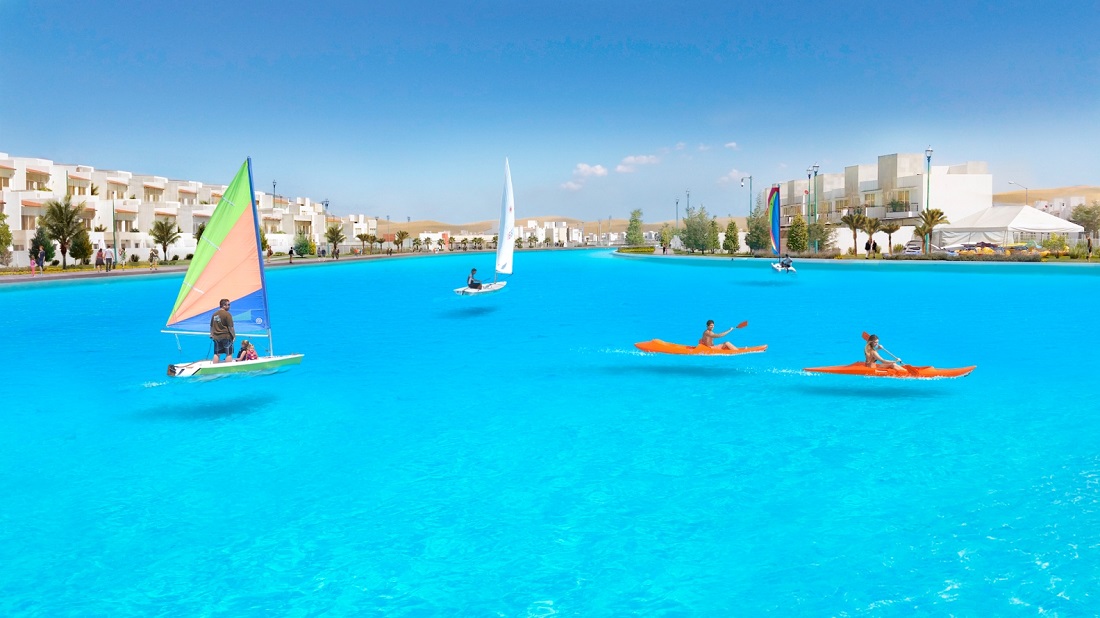 Crystal Lagoons, the multinational water innovation company and developer of crystal clear lagoons, has signed a contract with Egyptian real estate developer, Tatweer Misr, to bring idyllic beachfront living to the US$117 million Fouka Bay development in Ras Al Hekmah.
This is the second contract Crystal Lagoons has signed with Tatweer Misir, the first was for the ground-breaking project in Tatweer Misr's flagship project Il Monte Galala in Sokhna, which will see the development of the first mountain lagoon in the world. The move brings the 'world's top amenity' to the heart of the Fouka Bay project effectively turning each house into a waterfront home. In addition to enhancing the aesthetic appeal of the destination, the crystal-clear lagoon will add significant value to the development by offering a range of USPs, including ample space for non-motorised watersports, such as sailing, kayaking, paddle boarding and swimming, all in a safe environment.
The lagoons are developed using 30 times less water than a golf course, half the water required of a park of the same size, 100% less chemicals than a traditional filtration system and 98% less energy required by conventional water treatments systems. The low construction and maintenance costs, teamed with unmatched sustainable credentials, offer a substantial return-on-investment for TatweerMisr.
"Our latest venture with TatweerMisr is further testament to the vital role Crystal Lagoons plays in the successful introduction of new and existing real estate and hospitality projects to the market" said Carlos Salas, the Middle East Regional Director of Crystal Lagoons. "Our hi-tech, energy efficient lagoons are an increasingly popular amenity choice for forward thinking developers in Egypt seeking an affordable, long-term solution for sustainable development."
Fouka Bay has been designed in collaboration with world-renowned Italian architects 5+1AA and enjoys a prime position along the pristine coastline of Ras El Hekma. The development features a variety of luxurious and architecturally stunning residences with panoramic views of the coastline and 800-metre-long stretch of white sandy beach. The resort is a two-hour drive from Cairo and is easily accessible via the newly constructed Fouka Road. It is expected to be completed by 2022.
"Our partnership with crystal lagoons has allowed us to provide added value that is based on innovation for our guests and residents. The development of those projects has resulted in a unique value proposition that has provided each of our residents the dream beach house be it on the Mountains in Sokhna or the North Coast resort of Fouka." said Ahmad Shalaby, Managing Director, TatweerMisr. 
Crystal Lagoons currently has 600 projects at various stages of development worldwide. The company has experienced incredible growth in Egypt over the past two years – the country is currently its fifth largest market.
"We are now present in three of the country's main second home destinations – namely the north coast, Sharm el Sheikh and the Red Sea coast. Many of our 12 projects are currently in the design stage, although we will start to see some of the first ones coming online in the North Coast later this year," said Salas.
"Our proposition is particularly appealing to our business partners in Egypt – especially considering we can use any kind of water including brackish from underground aquifers that has no other use, eliminating the need to consume valuable fresh water resources," he added.
Crystal Lagoons is involved in projects in Egypt worth over US$5 billion, including the 38-hectare lagoon situated in the US$400 million phase two of REMCO Group's vast Stella Di Mare project in Ain Sokhna, the US$400 million Azha resort developed by Madaar, the 2.7-hectares lagoon within the US$1 billion Mousa Coast community and a 32-hectare lagoon at the $1.8 billion Bo Islands development with Maxim Real Estate. All of these build on its current Guinness World Record for the 12.2-hectare lagoon in Sharm El Sheikh.
"Preserving natural resources and taking a mindful approach to developing land to improve the quality of life is a key part of the Sustainable Development Strategy: Egypt Vision 2030. The smart way the country is evolving goes hand in hand with our rapidly growing presence there, as we strive to collaborate with leading real estate developers to bring the idyllic beach lifestyle to any destination in a sustainable, green and cost-effective way," added Salas.